Heart's Desire
Whether you're into light flogging or heavy, masochistic flogging, this whip will prove to be useful. For a smaller, travel-friendly flogger, this one sacrifices no quality to bring you the best of its kind. Made of real leather, it is unfortunately not vegan-friendly. However, for those who don't mind leather, this is sure to bring a wicked smile to your face.
Published:
Pros:
* Versatile.
* Gorgeous.
* Travel-Friendly.
Cons:
* Not vegan-friendly.
This product was one of the first things on EdenFantasys that I wish-listed. When I had money, it was always out of stock, and when it was in stock, I had no money. Eventually, I went on to other floggers and got accustomed to a bigger and heavier whip. However, I finally snagged this one, just to see if it was any good. My expectations weren't too high, seeing as the desire for it came before my real knowledge of quality. However, upon receiving this product, I'm very pleased to share that my attraction to this was spot on!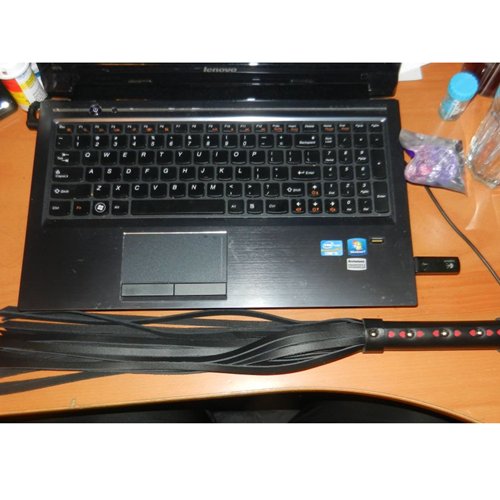 With a length of just over 20", this is one of the smaller floggers I own. My smaller floggers are notorious for being weak and ineffective at achieving an actual pain-response, and are used for warming up, if used at all. However, this whip's size only makes this flogger great for travel, and doesn't take away from its abilities!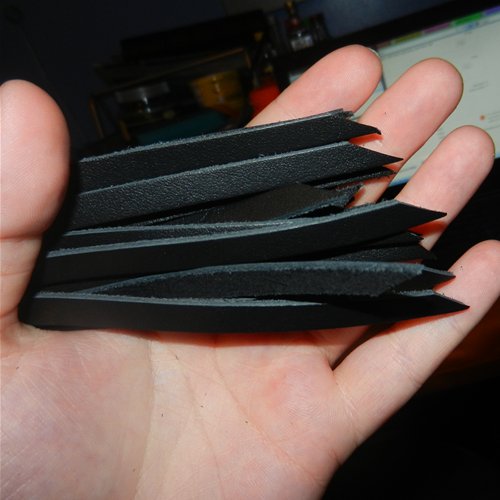 Because of the angled cut on the leather, this flogger has a great sting when using the ends of the tails. The large number of tails also makes this effective, even when the tips don't hit. For a lighter flogger, this surprised me, greatly. There are many high-quality leather tails attached to the handle, and they work beautifully together.
This flogger is quite versatile, dishing out as much force as the Dominant uses. Because of this, beginners can enjoy this as a lighter flogger if they are willing to invest in it. Experienced users will not be disappointed with this one, though. The angled tails really add to the effect of this product. Don't let its small size deceive you--it has a lot of potential.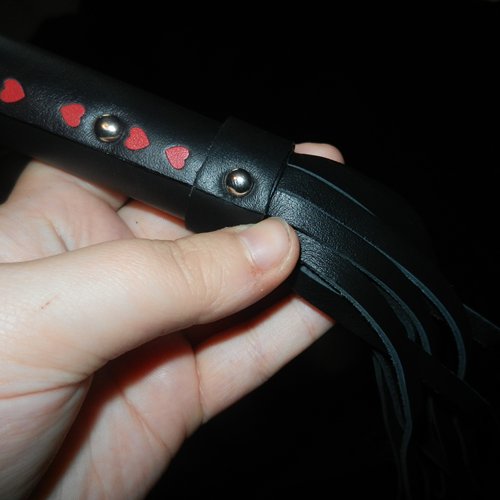 The handle is also impressive. Wrapped in the same quality leather, it is sturdy and long enough to hold comfortably. Red hearts are printed on the black leather, which is held together with metal studs. There is also a metal D-ring attached to the end of the handle, for convenient hanging, if preferred.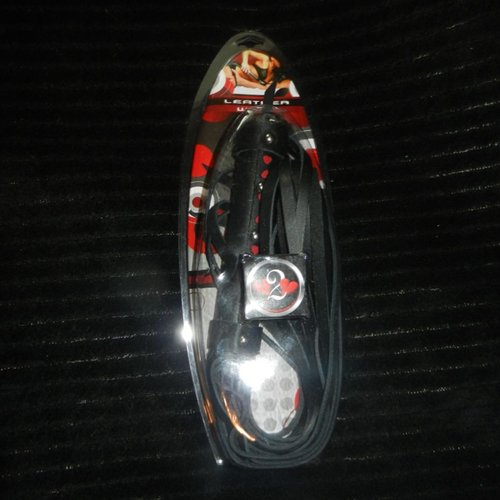 Packaging is simple and can be thrown away upon opening or kept for storing. The package is made of plastic and has some product information on the back, but not a whole lot. There are photos of other floggers that the company makes on the back, as well.
I store this flogger by hanging it or by putting it in my toy trunk. I would advise they you keep this product away from moisture when storing, as it could damage the leather. Simply store this somewhere clean and dry.
There are no cleaning instructions, but a deep-cleaning should not be necessary with typical use. Avoid contact with bodily fluids. If you need to, you can wipe down the leather with a damp cloth and dry before storing. If you own a leather conditioner or cleaner, you can follow the instructions for that and use it with this product. However, there should be no real need for cleaning, as this is an external-use-only toy.
Experience
As a masochist, I was very pleased with the power behind this smaller flogger. With the right force and technique, it has potential for all kinds of use. If used lightly, beginners can enjoy this product, or experienced users can get a decent warm-up. With higher amounts of force, it can produce pleasurable amounts of pain. Be sure to work with your Dominant/submissive to establish a level of intensity.
This product was provided at a discounted price in exchange for an unbiased review. This review is in compliance with the FTC guidelines.

Thank you for viewing
Hearts leather whip
– flogging toy review page!