Whipping My Heart and It Hurts So Good!
I think this flogger is alot of fun. It is light and easy to wield without wearing the giver out. It is so pretty, it could be seen by your guests as a decoration rather than an actual play toy. I am glad we added it to our collection!
Published:
Pros:
Small, Light-Weight, Beautifully Crafted, Leather
Cons:
More for beginners than advanced players
This Hearts Leather Whip is 20.5" with 22 falls all made of leather. The width of the flogger is about 1". Each fall is about 1/4" thin and cut at an angle at the bottom to create a bit of a sting when it strikes the skin. It is made of leather with a light piece of wood covered by leather to give stability to the handle. The leather is attached to the handle by bolts and it has a small "D" ring at the top which makes it easy to hang. This flogger(it is not a whip at all), is great for beginners! More advanced players will find this item to be more for light play. At 8 oz. it is very light. If you had two you could sport the easiest florentine, (a flashy flogging technique involving the use of a flogger in each hand. The floggers are swung in a figure-8 pattern), ever!
Being a light flogger makes this harder to control, I think. It really does whip more than fall when being used. Depending on how much of a snap you give your wrist when wielding it, you can control weather it is a thud or a sting for the receiver. As with any new item you will need to play around with this, especially since it is so light.
Being made of leather this flogger has the smell of leather to go along with it. It was not overpowering out of the box or anything thought. Getting close to it I can smell the leather. Leather toys do not need much maintenance, just keep it clean by wiping it down with a damp cloth and soap if needed. I recommend storing this toy by the "D" ring attached to the top. If the "D" ring is too small for you, consider tying a bit of string or something to hang it from. If you store it all crinkled up and folded it will retain that shape for a little while and may not be ready for play when you are. I was surprised when it came in a box kind of folded up, but it did not stay that way for long. The straps are pretty thin, so they will straighten after a short time of hanging. The straps are very secure in the handle. The straps have shown no sign of slipping and are all the same length even after extended use. Being small means this flogger can travel with me too. It is small enough to put in my purse, (albeit, my purse is more like small luggage than a "handbag").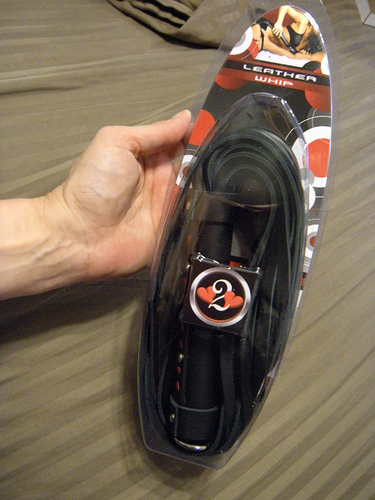 I think this flogger is a pretty good buy. It is real leather and the design of the handle make it asthetically more pleasing than some floggers we own. We keep ours hung by the bed for spontaneity! The manufacturer, PHS International, has a whole line of leather restraints and a blindfold to match this. The whole set looks really fun!
Experience
We used this toy in conjunction with bed straps for extra fun! At first my lover was afraid to hit me too hard, but he eventually got the feeling of it. Depending on how hard he went it was either a light thud or a nice sting. It was hard to produce the slapping thud that I like the most but this toy is fun and easier for him to use then our heavier floggers. We mostly use it to warm up or cool down after a good flogging session.
This product was provided at a discounted price in exchange for an unbiased review. This review is in compliance with the FTC guidelines.

Thank you for viewing
Hearts leather whip
review page!