Up to Snuff Cuffs
The Jaguar cuffs are well made, attractive, extended-wear friendly, and overall incredibly versatile pieces of gear. They are an excellent choice for beginners and advanced players alike. As long as you treat them well and know their limitations, they will give you a lifetime of bondage fun.
Published:
Pros:
High quality leather, attractive colors, comfortable, steel hardware, locking buckles
Cons:
None
A basic pair of cuffs is a starting point for many kinky adventures and a standard in any well rounded toy bag. They are relatively simple compared to other gear, but they are one of those foundational items that speak volumes about their owner. What do you want your cuffs to say about you? These Jaguar cuffs have quite the lovely story to tell.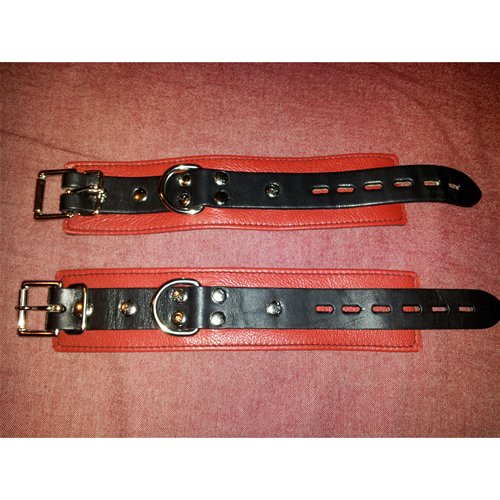 It starts with the leather. Hold them up to your nose and you will get that wonderful leather smell. Two different types of leather went into making these cuffs. The narrow buckling strap is made of thick and heavy bridle leather. It is riveted to the wide wrist strap, which is made of two layers of soft garment leather sewn together, red on top and black underneath. The bridle leather gives the cuffs their strength and the garment leather is comfortable against the skin. Both layers are slightly stiff at first, but with a little use they will begin to loosen up. Around the edges on each end, I can see that the leather is fully tanned all the way through. It is excellent quality and will last a lifetime with proper care.
Next, we have the hardware. Nickel plated steel, which is strong, super functional, and very aesthetically pleasing. There is a 1" D-ring centered on each cuff as an attachment point, rivets to hold the layers together (double rivets at the stress points around the D-ring), and a locking buckle (the tongue has a loop on the end to fit a small lock through). Best of all, only one piece of metal goes all the way through to the inner wrist strap. It is a shallow indented rivet that holds a fabric Aslan Leather tag, and it's on the end closest to the buckle (which means it's the first thing to get covered when the cuff wraps around itself). Unless the person being cuffed is near the upper size limit for the cuffs, it probably won't even touch them, but I removed it anyhow.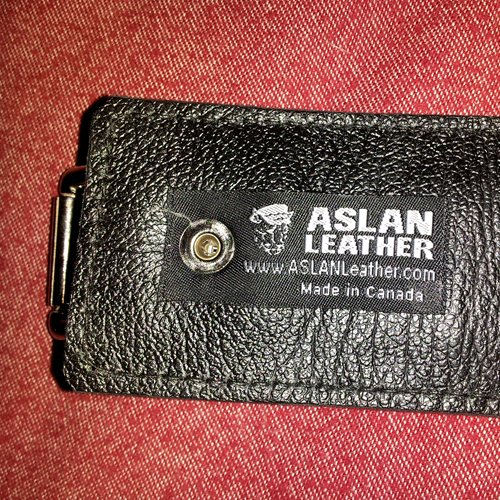 Overall the look is very sexy and sophisticated. I am very happy with the color combination, although I am sad to say that it does not match the color of the Cherry Jaguar harness. The red on the cuffs is significantly brighter than the deep red on the harness, but both are very appealing in their own right. They look solid, but not bulky. Each wrist strap is 2" wide and 9" long. The bridle strap extends another 2.5" past the wrist strap, for a total length of 11.5". It is listed as fitting wrists 6.5-8.5" circumference but I would estimate it's more like 6-9".
These cuffs are extremely comfortable to wear. There is nothing quite like the feel of leather against your skin, and it's miles ahead of cuffs made of metal or nylon. They are great cuffs for extended wear, especially if restrained on a bed or a spanking bench. The two layers of garment leather are very thick but they aren't as cushy as padded cuffs, so they've got that raw edge rather than extra luxury.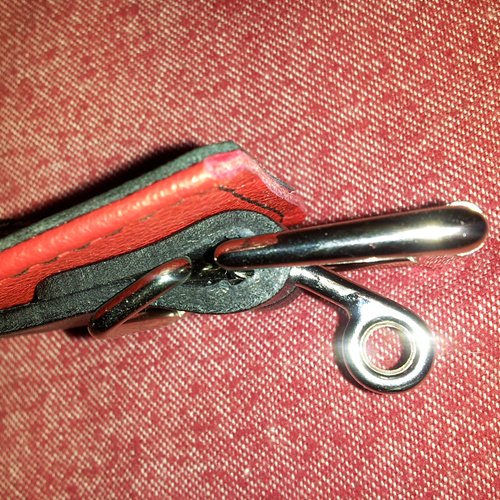 There is not a link provided, but you can connect them handcuff style with a double ended snap hook, easily found at any hardware store. You can secure them to the ends of a bed or bondage furniture, or use them as attachment points for rope or chain bondage. They would also make a nice cuff bracelet to just wear out if that's your style. They aren't suspension cuffs, so if you are restraining a standing person's arms above their head for any length of time, the pressure will be on their wrists. Anytime you are doing bondage, be mindful of pressure points and circulation. There are plenty of websites dedicated to bondage safety, so make sure to do your research.
Aslan uses exceptional leather and such leather deserves exceptional care. Very few people want to jump up immediately after play and start cleaning, but a quick wipe around the inside of the cuffs with a slightly damp paper towel after use will remove damaging sweat residue. Clean them with glycerin saddle soap and a damp cloth, using as little water as possible. Never submerge the cuffs in water. Dry them immediately after cleaning and lay flat to dry completely before storage. Store them away from mold and mildew. If they show signs of stiffness, give them a light coat of leather conditioner. A pre-emptive coat of wax-based conditioner (like Feibing's Aussie) around the inside layer of the cuffs will help them from absorbing sweat. Aslan recommends coating the rivets with clear nail polish to prevent rusting.
Follow-up commentary
4 months after original review
As expected, these cuffs have softened up considerably with use and are even more comfortable than they were when I first got them. The bridle leather strap around the outside remains the same, but the garment leather that makes up the majority of the cuff has only gotten better with wear.
This product was provided at a discounted price in exchange for an unbiased review. This review is in compliance with the FTC guidelines.

Thank you for viewing
Jaguar cuffs
– wrist cuffs review page!