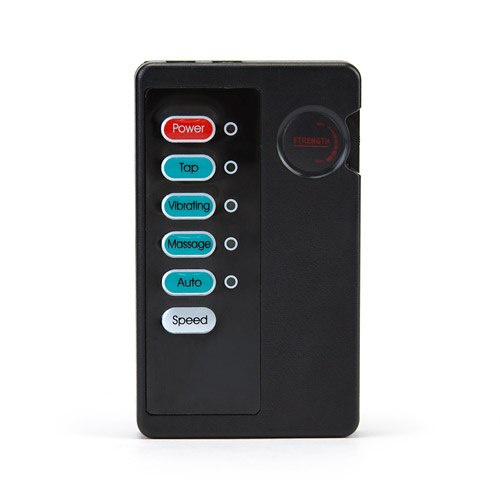 ePlay electro-stim controller
E-stim control pack
by EdenFantasys
Jolts
This control box seems to have everything a beginner would need to get into the world of electrical stimulation. It is simple to operate and handle, with everything clearly labeled. I've given it a hive Vroom level, for the simple fact that at the higher settings it has quite a bite to it. Likewise, no bees, for the simple fact that it makes no noise other than a "click" when pressing buttons.
Published:
Pros
*Can handle two devices at once
*Multiple patterns, speeds, and power levels
Cons
*Buttons are a bit slow to respond
This control box came with the e-stim pack I reviewed previously. It is a small design, somewhat rectangular in shape and rather easy to hold onto. The pack requires a pair of AAA batteries, though it is a bit difficult snapping the cover back into place after inserting them.

There are two ports for electrical attachments, so I believe this box can handle up to two toys at once, meaning this is great for a couple who enjoys this sort of thing or maybe a single person that just wants extra stimulation on various body parts.

The different features are somewhat nice, depending on your preferences. "Tap" is a single stabbing jolt of electricity, while "Vibrate" is more of a pulsing jolt. "Massage" is a near steady jolt. You can increase the speed for them by pressing the "Speed" button.

An "Auto" button is included, but I couldn't quite figure out what it was trying to do. Whether it was cycling automatically between the three, or if it was doing something else.

Care for this item shouldn't be difficult. Simply wipe it clean with a sanitizing wipe if any fluids get on it, or a tissue or paper towel if it is something as simple as dust. If you are not going to be using it for extended periods of time, remove the batteries and store them with it, rather than inside it.

At times the power button seems to stick or not function, unless you press down on it more firmly than the click would suggest. You can tell which mode is currently running by the series of lights running down the center of the box.

Lastly, before you use this, check the dial on the upper right part of the box. Push it all the way up at the start, so it is at the lowest setting. Then slowly slide down to increase the power. Trust me, a pair of AAA batteries can deliver more of a "bite" than you might realize. Especially in sensitive areas.

When in doubt, always start small and work your way up with your thumb on the dial. That way if it becomes painful, you can force it back up quickly. The same can be said for partner play, in that you should let your partner set it at a comfortable level for them, before you take over with speed and button control. Unless of course you are playing with a safe word.
This product was provided free of charge to the reviewer. This review is in compliance with the FTC guidelines.
Thank you for viewing
ePlay electro-stim controller
– e-stim control pack review page!