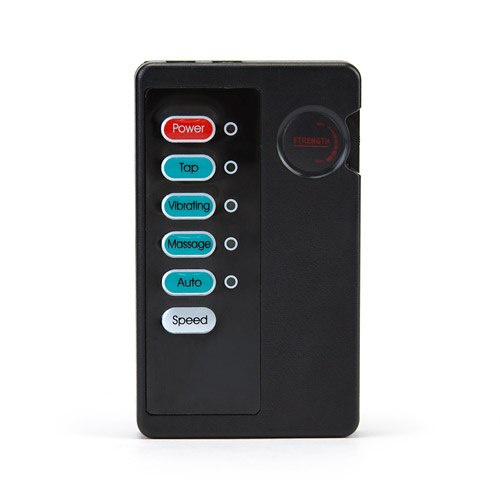 ePlay electro-stim controller
E-stim control pack
by EdenFantasys
Pleasure and pain at your finger tips.
Overall, I enjoyed this toy. It was my first foray into e-stim and enough to keep me interested. It was a good entry-level price. The device is easy to use. Stimulation is pretty good for just running on two AAA batteries. Directions would be a welcome addition. Good for beginners. Totally silent operation is great.
Published:
Pros
Inexpensive, easy to use, variable sensations, 2 input jacks for using multiple devices/partners
This was my first time using an e-stim device. I had read about them, but was still on the fence and a little apprehensive, tempered with a little excitement knowing it might bring new pleasures too. You plug in which ever device you chose to purchase as this device is modular. There is something for everyone: penis rings, anal plugs/probes, nipple stims, patches, etc. The operation is very straightforward with buttons for power, type of stim and a volume dial. Runs on two AAA batteries.

There was no packaging. Just a zip lock bag. NO instructions or manual. Really? This is an electrical device. That just blows my mind. It's fairly intuitive to figure out, but even an experienced user like myself was a little apprehensive using something like this on my private areas without directions.

Just make sure when you start using this, you turn the power to the lowest level before turning on the power and work your way up. It can come as quite a "shock" if you just turn it on full blast and cause some pain.

Overall, I enjoyed the combination of the products. It will take more experimenting to find what works best, but I'd say I'm sold on the idea of E-stim.

I'm dinging one star just for not having instructions. That's pretty poor.

I like that it has two input jacks, so you can use it on two or more different areas at once or alongside your partner**(see experience). E-stim products should be used with water-based lube or conductive gel in order for the signals to conduct with your skin. Silicone is an insulator, so they say not to use it. Be sure the patches are secured to your skin too. I find that if the patch raises away from the skin, there is more of a shock/bite sensation. You might like that, but just a warning.

It will be interesting to see if any of the attachments can cause a hands-free orgasm, but if nothing else they provide good foreplay and teasing sensations and can be therapeutic if used correctly.
Experience
Overall I enjoyed the e-stim. I tried the patch in several areas in conjunction with the anal plug. Here is a summary.

Perineum. Nice, mild to intense. Vibration and massage are the most enjoyable sensations. Yes, vibration actually kinda feels like a vibrator, even though it's just a little patch. Massage is more like massage...gradual end to end sensation. Ping is like a thumping or water drop falling on you...or more like being pinged with a finger at higher intensities...actually I find it painful if it's attached directly to the testes (think being pinged with a flicking finger..guys you know what I mean). Automatic is like ping, but random intervals and mixes in the other types of stimulation randomly. You can adjust the speed too, though the range of speed variation seems minimal.

The cord for the patch only reaches so far (assume by design). The electricity can probably only have a connection at certain distances apart. It was pleasurable at the base of the penis and on my balls. It wasn't long enough to reach the penis fully. I guess I'll have to wait for the loops to arrive and try that out. Looking forward to that.

I attached to the buttocks, lower back, inner thigh and bikini area. Each was like a massage/tingling feeling and mild contraction. Interesting but not for sexual stimulation. I tried the pubic bone area very briefly but this was more of a shocking sensation and hair might have some interference. I quickly ditched that idea.

**When trying to use penis lasso w/ the plug/patch combo, I only got sensation at one location. I'm not sure why that is.
Follow-up commentary
11 days after original review
I've tried this with several devices and overall it's pretty good, though I was unable to get stimulation with two devices at once. I'm sure there are better, more expensive control boxes, but I have nothing to compare it to. Seems good enough for casual/beginner use.
This product was provided free of charge to the reviewer. This review is in compliance with the FTC guidelines.
Thank you for viewing
ePlay electro-stim controller
– e-stim control pack review page!