Sexy Pink Fun!
These plush sexy cuffs are ideal for light sensual bondage. Ideal as an introductory set, these cuffs are non-intimidating and classy. Not only are these cuffs great for bondage they are also perfect to wear as an accessory to your club wear or fetish wear.
Published:
Pros:
Sexy, Stylish, Plush Lining, and Sturdy.
Cons:
May not hold up for years to come.
The Naughty Grrl Toyz Pink Plush Wrist Cuffs is a sexy pair of cuffs to introduce bondage into your playtime. These cuffs are stylish, plush, and non-intimidating making them a great addition to your sensual bondage play. They are designed to look and feel great while providing secure bondage of your lover.
When considering wrist cuffs, the first area of concern is how securely they are able to hold your partner's wrists. With these cuffs, the faux leather and buckles are sturdy and hold up well to moderate pulling and tugging. Furthermore, you can be sure your lover's hands will remain right where you want them with these cuffs. The hardware allows you to tether the wrist individually or you can utilize the chain for a classy aternitive to handcuffs.
These plush wrist cuffs are pink baby pink on both sides. Also, they feature a metal buckle and strap, d-ring, two snap swivels attached to a 2 inch chain, plush lining, and rivets for a touch of style.
Here's the Facts:
Measurements:
Cuffs – 7 ¾ inches long and 2 ¼ inches wide.
Strap – 10 inches long and 1 inch wide.
D-Ring- inch
Curved Buckle – 1 ½ inch long and 1 inch wide.
Snap swivels – 1 ¾ inches long
Chain- 2 inches long, chain with snap swivels 5 ¼ inches long
Material:
Cuffs –
Leatherette
. This is a type of artificial leather with is normally produced by covering a fabric base with plastic. This plastic is normally PVC. Although, with this product it is unknown PVC is utilized.
NOTE: During a fire, leatherette burns more vigorously than leather and can melt causing serious skin damage.
Lining –
Faux Fur
. Usually, an acrylic fiber is used to make this fabric, but it not stated on the packaging what material is used to create the fur.
Hardware-
Metal
. It is not stated on the package if it is nickel free.
Craftsmanship:
These cuffs are well made and seem to be sturdy with pulling against them moderately. Unfortunately, I have noticed that the strap is a hair too wide for the buckle. Therefore, it tends to bunch up and crinkle making the strap limning crack and split open.
Care:
These cuffs can be cleaned with a damp soapy cloth.
Do not store while damp.
To protect the hardware, it may be covered with clear nail polish. This will prevent tarnishing or rusting.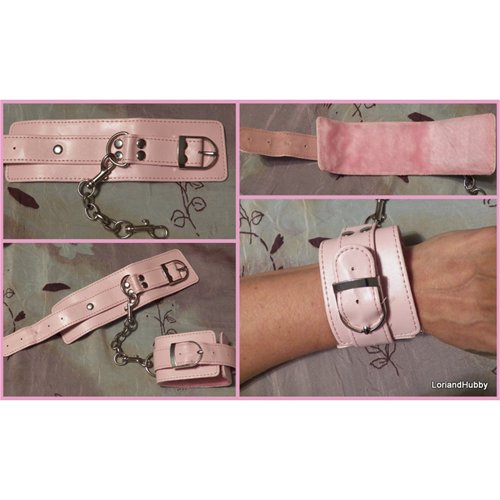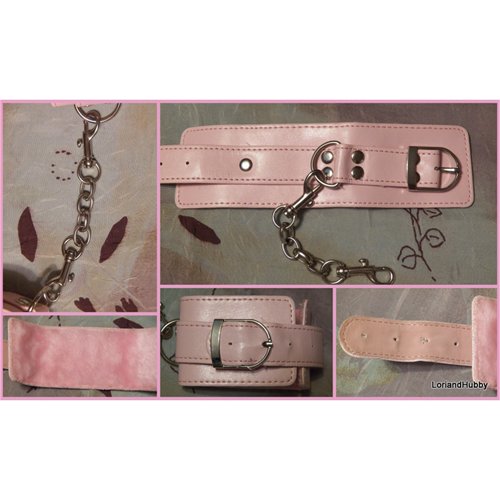 Experience
Since I have been thoroughly enjoying our grand experiment with bondage, I have been considering heavier wrist cuffs but have been intimidated by the leather buckle style. On the other hand, when I saw these cute cuffs for the price, I decided to give the style a whirl and see if I enjoyed them before investing in a high end pair.

When I received my cuffs, I was surprised at how light weight they feel. When seeing other buckle style cuffs on EdenFantasys, I somehow always believed they have a fair amount of weight. I am glad to know that this is not necessarily true.

The cuffs are very sexy and dainty on my wrist. Also, I enjoy how soft they feel against my skin. They really don't feel overly powerful or bulky. Instead, they feel cute and erotic. Although these cuffs have the strap quality issue, I am very pleased with the look and overall quality. They are great to wear for a night on the town or to a gathering. I am sure the style and color will add a bit of pizzazz to any fetish attire. Since I would never wear a color, I have found that I can also show my submissiveness by wearing cuffs around the house. Being daring one night, I decided to wear one cuff with a nice casual summer dress when we visited went over to a friend's. They looked great! To my delight, no one there had a clue that they were fetish wear. Hence, they thought my bracelet looked cute.

When Hubby and I tried out our new cuffs, I was impressed by how sturdy they felt against my wrist as I tugged and pulled trying to get away. Although I did not pull with my full force, I could not break free. Also, the edges did not cut into my skin or cause marks of any kind. In addition, when I inspected the cuffs latter, the d-ring and rivets were not damaged or wear. The only noticeable wear was at the strap where it rubs on the buckle.

These cuffs are a great buy for the price; therefore, I highly recommend them to anyone who is looking to try heavier style cuffs or introduce light bondage play. They are also great to wear as a clothing accessory. Over all, we rate these cuffs at 5 stars. Although they have a small issue of the strap lining cracking, they are a decent quality and superior style for the price.
Follow-up commentary
3 months after original review
These cuffs were great. Unfortunately, they have not held up very well. For our grand experiment the price was perfect. Since I gave these a try, I have found out I really like cuffs. Therefore, I am not disappointed at all. I just upgraded.
This content is the opinion of the submitting contributor and is not endorsed by EdenFantasys.com

Thank you for viewing
Pink plush wrist cuffs
review page!