Shhhhhhhhh!
To pony play or not to pony play that was the question. We went sort of in the middle! The locking feature of the buckle was probably the best part of the gag for us. Overall the bit fits, works for smaller mouths as well as larger ones and once the smell fades it's a really great addition to an already crowded toy box!
Published:
Pros:
Locking buckle
Small barrel size
Fits a large variety of head
Cons:
Bit could be removeable
Rubber has a strong smell
We are just starting to really get into harder hardcore bondage but I have a bit of a problem with restricted breathing. It's more of a phobia really and it really kills the scene when I am worrying about getting fresh air because my nose is stuffy and my mouth is full up with a gag. Nothing gives the same look as a nice leather gag though. I persuaded Sigel to try a bit type gag that wouldn't have silky sash material falling all over the place and ruining the "feel" for him.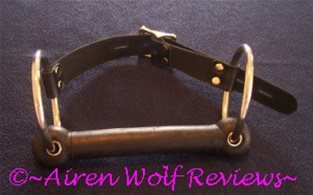 The Rubber Bit Gag from Kinklab looked like it would fit the bill perfectly, and it does! The gag comes packaged in a clear plastic tube with a black plastic slide lid. It is recyclable and perfect for storing the gag. The paper insert is rather graphic but can be easily removed. The plastic canister isn't all that large, if space is an issue for you.
I would recommend letting the leather dry fully before storing the gag just to prevent any molding or mildewing.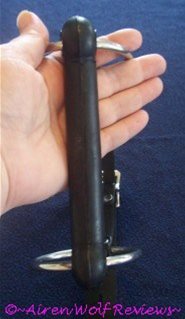 The bit portion of the gag is composed of rubber and the scent is strong at first. I recommend letting the gag sit out on a windowsill on a sunny day for a few hours to bake out that new rubber smell. After a few washes in warm water and soap the smell is easily manageable even for really sensitive noses. The rubber is very firm and you can chew on it without leaving impressions. This will help build up the saliva and relieve the jaw pressure...and some ponies like to chew at the bit! If the rubber bit could be removed for cleaning the gag would be almost perfect.
The bit is about 6 inches long but is relatively thin (2 and a half inches around roughly)so if your jaws tire easily or you have TMJ you should be able to wear this big quite comfortably.
The bit can be cleaned with hot water and soap, carefully to avoid soaking the leather. You could also use a commercial toy cleaner or even toothpaste and a tooth brush. Hey, it's good enough for your teeth, right? Let the whole thing dry completely before storing.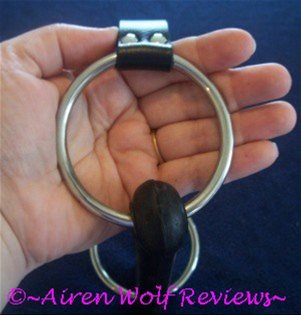 The rings are quite striking when worn and they are also large measuring in at nearly 3 inches across. They provide some heft to the bit and help keep the bit between the teeth. You can attach a nice lead or even walking reins to the rings and really give your pony a work out. They look to be stainless and shouldn't oxidise but I dry them off with a soft cloth after washing just to be certain.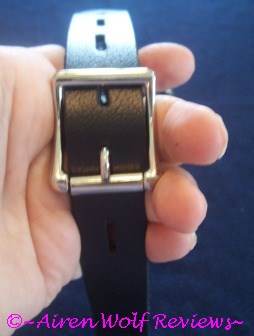 The leather straps are actually leather though not latigo. It has the musky smell but it's thin. It should hold up very well so long as it is allowed to dry between cleaning. The "holes" are slitted to provide more customization to the strap and to not stress a round hole. The hole will not wear and tear with use. The straps will fit a 17 to 23 inch neck roughly. There is room to use a leather punch to make the straps smaller but not much room for larger. This shouldn't be necessary for the vast majority of players either male or female.
The hardware may not be nickle free but it looks like it's stainless steel as well as the rings. Either way it is sturdy and can take some abuse.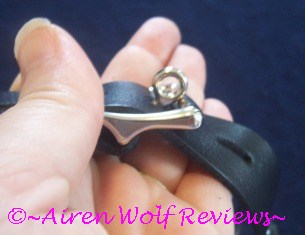 There is a loop on the tongue of the buckle that allows for a small lock if you are into complete bondage. Something about this tiny loop of metal captured all three of our imaginations...it was very erotic, is what I'm saying.
For the price this was probably the best recieved piece of bondage gear I have bought recently despite the smell!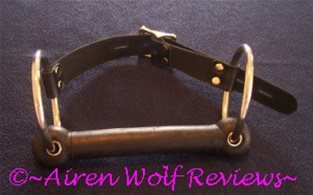 Follow-up commentary
2 days after original review
Not much to report except this is one of the best gags we currently own despite the rubber smell which has quickly faded with use. I totally recommend this bit for people with smaller mouths or jaws easily irritated by larger barrel gags. We recently used this with a friend who has serious problems with TMJ and she was very comfortable. No pain or headache after play!

This product was provided at a discounted price in exchange for an unbiased review. This review is in compliance with the FTC guidelines.

Thank you for viewing
Rubber bit gag
– headgear review page!