Nothing special. Common disadvantages of condoms included.
These condoms are not as thick as some, but you cannot really call them ultra thin. Having pretty average measurements and 0.0027" thickness, Playboy condoms are just those ordinary ones to grab whenever you don't want to experiment and just need protection.
Published:
Pros:
* strong
* easy to roll down
Cons:
* average thickness
* poorly lubricated
* not for large guys
Product features
:
regular size and shape, claimed to be thinner
These Playboy brand condoms are claimed to be made from premium quality latex and well-lubricated for comfort and sensitivity. They are 2.12 inches wide, 7.5 inches long and have a standard straight-shafted form with a resevoir tip for additional safety.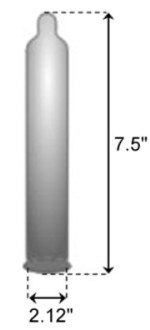 In terms of size and shape, these condoms are totally average. Also, they are transparent and have no texture. Their key advantage is being thinner than ordinary condoms and thus providing a more natural sensation during sex. However, the claimed 0.0027" thickness is pretty standard for condoms, so I'd not expect anything special.
Of course, as any other condoms, if used correctly, these will help to reduce the risk of STIs and pregnancy. For additional safety, each Playboy condom is electronically tested.
Packaging
:
quite informative, with a famous logo
Playboy Ultra Thin condoms come in volumes of 3, 12 and 36. I got a chance to test a smaller package of 3. The cardboard box is nice and compact, all-black with white typing and shiny bronze bunny logo. Can't help but notice how similar their design is to that of Lifestyles Skyn and Trojan Thin condoms.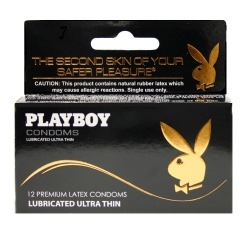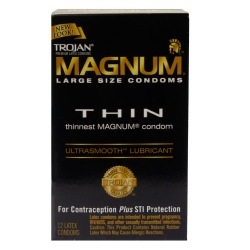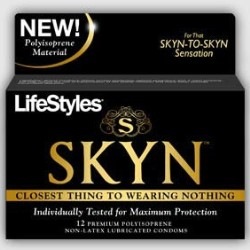 The front has some typical safety information which is explained in more details on the back. Inside the box, you will find a pamphlet with more directions and some statistics on various birth control methods and three condoms, each one wrapped in an individually sealed plastic package.
Condom use
As long as a condom's performance largely depends on the user, here are some basic rules I have to mention:
- Don't use latex condoms if either you or your partner has latex allergy.
- Condoms can deteriorate if not stored properly (at room temperature) and exposed to direct sunlight or excessive heat. It also shouldn't be used after the expiration date. If a condom feels sticky or very dry you shouldn't use it.
- Oil-based lubricants are not compatible with latex. Use only silicone or water-based ones.
Experience
Experience and fit
:
nice fit, but poor lubrication
And finally for the most interesting and important part. My experience with Playboy Ultra Thin wasn't quite pleasurable, because they were very poorly lubricated and even with some aid they continued to get dry really quickly. However, I was surprised that they weren't too small for my partner, didn't slip off or cause any discomfort.
I've never actually measured my guy, but he is bigger than average, and out of all condoms he feels like
Trojan Ultra Ribbed Ecstasy
and
Trojan stimulations twisted
are the most comfortable.
Kimono
condoms are normally too small for him in terms of both length and girth. Playboy Ultra Thin fits more like most Durex condoms do: not ideal, sure, but tolerable.
Conclusion
Playboy Ultra Thin is hardly the best choice for a thinner condom, especially for the guys over 7.5". These condoms are rather average with some common faults such as weak lubrication and straight, not body-friendly, shape. Thus I give them an average rating of 3 stars, but I'd like to mention that my partner actually voted for giving them 4. Well, sure, the problem of them being too dry cased him less discomfort than me after all.
This product was provided free of charge to the reviewer. This review is in compliance with the FTC guidelines.

Thank you for viewing
Ultra thin lubricated condoms
– male condom review page!