Strawberry Dam!
Rubber latex dental dams such as this TRUST dam are very important in your sexual safety. These dams, while awful tasting, work wonderfully. They keep harmful bacteria, diseases and bodily fluids at bay while allowing you to have the full amount of good, clean fun! These should be a must in every sexually active persons toy box.
Published:
Pros:
Price; Thin; Smooth; Informative Packaging; Nice Scent; Pretty Color; Effective
Cons:
Taste
I'm all for some good, clean (dirty) fun, so when my partner suggested a little oral/anal play for him, I tossed these in my cart and headed to checkout. It arrived in a clear, plastic, zippered baggie with a paper insert listing all the intended use of the dam, instructions for use and disposal and general precautions. It lists a website for further information and an expiration date on the back of the packaging. Do not use this product after the expiration date or it will not be effective. I have to say, this was some of the most informative packaging that I've ever come across.
Moving along to the TRUST dam. Inside the paper insert lies the neatly folded rubber latex dam. It looks a bit like those stretchy exercise ribbons, although much smaller and for sexual purposes. It's thin and stretchy, although the instructions recommend that you shouldn't stretch this product. It's light pink in color, mostly see-through and feels like a balloon or a latex exam glove, but much, much thinner. I was expecting this to feel thick like a condom, but really, it's just a hair thicker than saran wrap. This dam is actually thinner than every latex condom that I've ever tried. It's velvety and smooth to the touch. There is no texture to speak of, no gritty feeling and it leaves nothing lingering on your fingers after touching it.
The taste of the TRUST dam definitely leaves something to be desired. I ordered this in strawberry and I was pleasantly surprised when I opened the baggie that it did, in fact, smell like strawberries. That's where the pleasantness stops, I'm afraid. I had to lick it, before we ever got to the action because I'm a curious person. I'm sorry that I licked it because it tastes like a strawberry-scented exam glove. There is no flavor to this, other than the obvious overwhelming latex taste, just scent. While scent can take me places, this was going nowhere fast. Rubber latex is one of the worst tasting materials that there is and I'm still not sure how we haven't improved on this yet as a civilization, but I digress. While this dam tastes awful, it is easy to use. It's smooth beneath your tongue and it doesn't leave any residue behind on your tongue.
My partner was still keen on the oral to anal play, so I set my girly whining aside and just went ahead and used the dam on him. Aside from the taste, I have no complaints about this product. It held up well, no bodily fluids were exchanged during the use of this product, which is great since that's exactly what it's designed to prevent. In the grand scheme of things, licking on a latex dental dam for a little while is far better than the alternative to going about this sort of activity with no shield whatsoever. The dam stays in place pretty well if you have a decent hold on it. Be careful not to stretch it too much or you could risk ripping it in half. My tongue didn't drag against or stick to the material making it much easier to hold it in place steadily.
The intended use of this product is to provide a barrier during oral/vaginal or oral/anal activities and should not be used for any sort of protection during penetration. If used properly, it should be very effective in reducing the transmission of bodily fluids, harmful bacteria and sexually transmitted infections/diseases. It's ten inches wide and six inches high, so using this product properly and holding it in place should be no problem.
If lubricant is desired when using the TRUST dam, opt for water-based lubes. Silicone and oil-based lubes will degrade the product rendering it ineffective in safeguarding you or your partner. If lubricant gets on your fingers during application, take care to wipe it all away before holding the dam in place or it can get slick and slip right out of your grip.
The TRUST dam is a single-use only dam. Do not try to wash and reuse. Do not share this with anyone as it's only safe for one-time use. Dispose of the dam after use in the original package. Heat and light degrade rubber latex, so store it in a cool, dry place until you're ready to use it.
Front of package: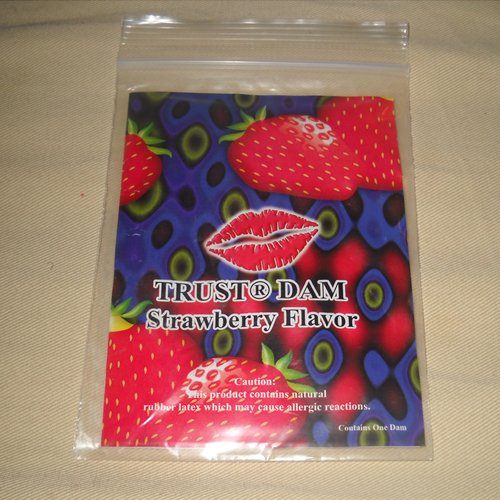 Back of package: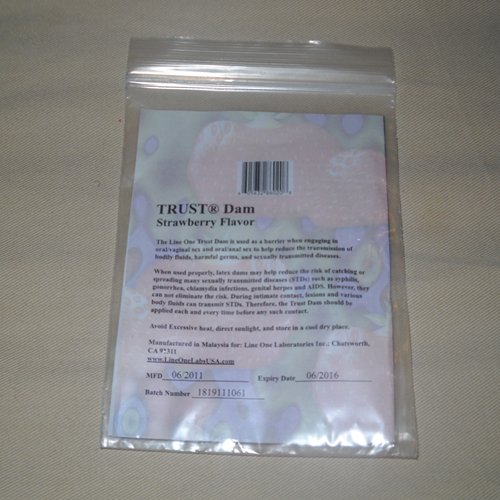 Informational insert inside: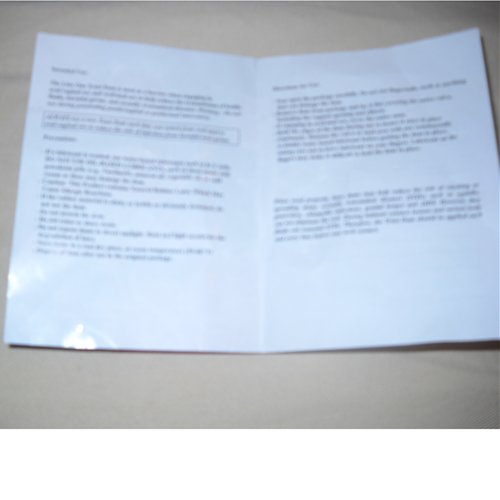 Rubber latex dam: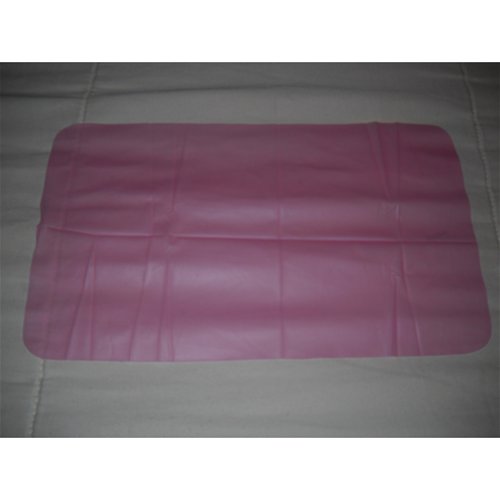 This product contains natural rubber latex which may cause allergic reactions. Steer clear of these dams if you have or have had an allergic reaction to this material.
Experience
I have pretty well explained my experience with these dams, but I just wanted to say that I really do enjoy these. I bought two strawberry flavored TRUST dams and intend to hunt down some other flavors. They might not be great, but they probably won't be any worse than what I have already tried. These will be a staple in my toy box for the rest of my sexually active life and should have been there all along. I can't believe I didn't try these dams sooner. I had no idea what I was missing.
Follow-up commentary
1 month after original review
Since I've written this review, we've used two more of these dams just as successfully as the first! I still really like these and my only complaint is the taste, but really, it's far better than the alternative!
This content is the opinion of the submitting contributor and is not endorsed by EdenFantasys.com

Thank you for viewing
Latex dental dam
– condoms review page!