Lover's Super Strap Harness & Probe perfect for those larger ladies needing bigger waist sizes.
For the price this is a pretty nice set. If you can get past the unusual look of the dildo and the material not being pure silicone it makes for a great starter set. It is perfect for woman such as myself that won't fit in a lot of the other harnesses out there do to our large size. If you want something cheap that should hold up and will actually fit I definitely recommend giving it a try!
Published:
Pros:
reasonably priced, comfortable, girthy
Cons:
material could have been better
Today I will be reviewing the Lover's super strap harness and silicone probe. This particular item is made by California Exotics. It comes in your choice of two colors, red probe and black harness or purple probe and harness. I elected to go with the red and black. This item is meant for partner play if used with the harness and solo play if using the probe dildo on its own. The probe dildo is waterproof so feel free to use in the water. I am sure your could wear the harness in the shower as well but I choose not to go that route with it. Since the dildo has a curved tip it is great for g-spot play. It can also be used for anal play since it has a flared base on it. Men beware it is quite large with a circumference of 5".
When opening the box and then the plastic bag the dildo was in I did notice a rubbery smell. Within a few minutes I could barely smell it anymore. I didn't really feel comfortable with tasting this item so I can't speak as to the taste. I did find the material was smooth to the touch. The dildo is latex free, phthalates free and hypo-allergenic. I believe it to be somewhat porous since it isn't pure silicone, but don't quote me on it. I recommend using a condom especially if planning on sharing with a partner.
Speaking as to the looks of these items, well the dildo looked similar to that of a penis with melting wax all over it. It definitely was different then most toys out there I have seen, but I kind of liked that fact. The dildo was approximately 7 inches long and as stated earlier is about 5" in circumference. I believe for men and woman both interested in anal this toy may be a bit much for it is pretty thick. In my opinion most beginners would probably be intimidated by the size. The harness is made of a nylon blend material, it is super stretchy and was very comfortable to wear. It seemed to hold in place without any problems. Being a very big lady with a 50 inch waist, I was very careful to make sure I purchased something with a huge amount of room in it. This harness claims to adjust up to 64 inches and I believe that is true since it still had plenty of room when I put it on. It is a 2 strap harness that straps around each leg and also around the waist. There is a removable felt backing which allows for a bullet to be inserted for extra intensity while playing. This is an -ring style harness and comes with a 2" o-ring only. Additional sized o-rings can be purchased though to allow use with other sized dildos.
The harness can be washed in the washing machine, however I highly recommend a delicate cycle to avoid causing any damage to it. It can also be hand washed of course. I recommend allowing to air dry. The dildo can be cleaned with your basic soapy water and again allow to air dry. I do recommend storing in a plastic bag once cleaned and dry. This will help to avoid contact with hair and dust in the air since it is a lint magnet. As far as lubes go since this is silicone based I would only used water based lubes.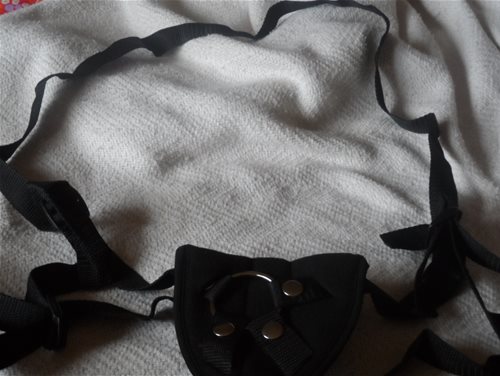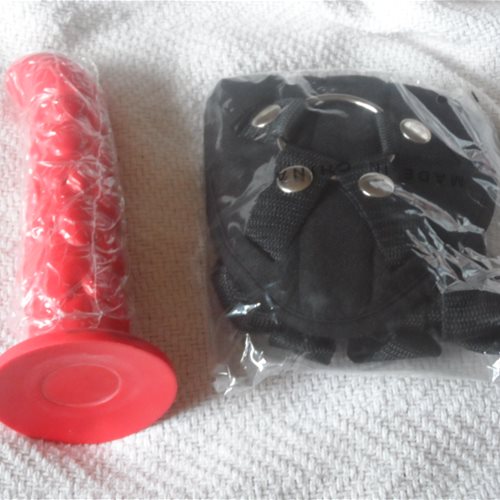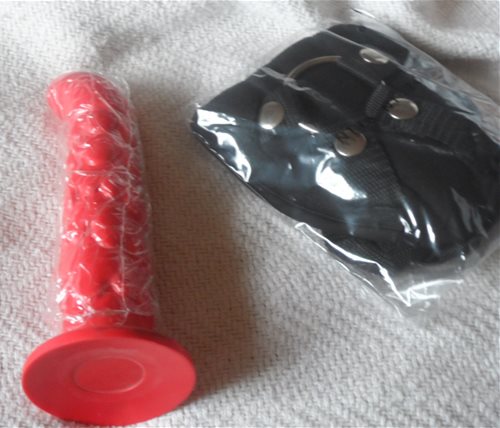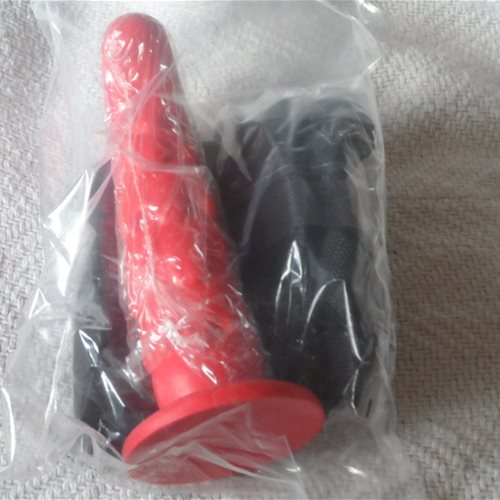 Experience
I was pretty happy with my decision to purchase this set. Since I did a buy out I saved an additional 30% off the cost which made it even cheaper for myself to purchase. I found for the $25 price tag I couldn't get just the harness elsewhere, much less a harness that would fit myself. I am not sure about the boyfriend ever letting me try this on him but only time will tell on that one. I did find it makes a perfect dildo though for me to use on myself though and makes up for those times when the boyfriend just cant get it up. :(
This product was provided at a discounted price in exchange for an unbiased review. This review is in compliance with the FTC guidelines.

Thank you for viewing
Lover's super strap harness and silicone probe
– harness and dildo set review page!