Luke, come to the dark side!
Need a new "light saber"? This toy is sure to please anyone who is looking for a firm, girthy, but not to long silicone toy. Priced right, this is one who holds his own among his contenders.
Published:
Pros:
Very firm, yet soft.
Cons:
Total lint magnet, packaging.
Shiny head or helmet? It looks like Luke has gone to the dark side! Luke is one of Tantus' toys newest 100% silicone creations. It's available in black, carmel or cream. Why silicone? Because it's a fantastic, body safe, easy to clean material. I was super excited when I got him, because the only silicone dildos that we have had, have been Vixen's. So when pulling Luke out of the box for the first time, I was stuck by how similar to Vixen's Lone Star he looks like. Now we will come back to that later. Luke is part of Tantus' O2 line, which is a dual density, 100% silicone with a firm core and a softer layer, which is supposed to mimic skin. Now I do say "supposed to", because the qualities of the silicone make it slightly tacky and a major lint trap, which is not like real skin. The other thing that surprised me right away was that he has a shinny head but a matte shaft and balls. Also,this toy is harness compatible. Just be sure that you have a 2" O-ring or a harness that can take a two inch toy. All and all, out of the box, I'm pretty impressed. It seems like a very very nice toy.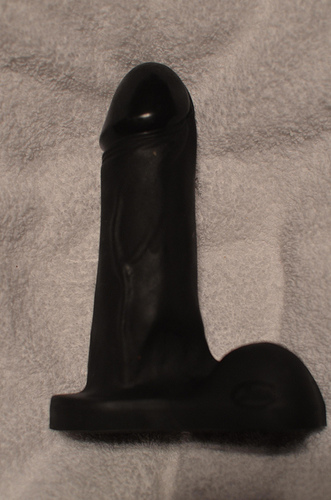 Now the packaging seems well designed graphically, but lacks any long term usefulness. One of the things that I appreciate, especially with the silicone lint magnet toys, is that they come in containers that you can store the toys in. Luke comes in a clear plastic clamshell that is in a plastic exterior box. Though it seemed like the packaging might hold up, after a couple of uses it started to fall apart. The other thing that struck me, is that there was no care instructions, just a line at the bottom on the back instructing you to go to Tantus' website.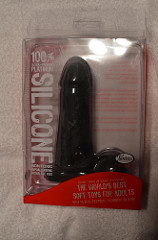 Size and Shape
As I do with all my dildo reviews, I went through and measured Luke with a measuring tape and a caliper, for two reasons. One, to make sure that what the manufacture and the vendor are honest about them. Two, it's pretty hard to really see the changes in girth in pictures.
Total Length - 7"
Insertable Length - 5 3/4""
Circumference Head - 5 3/4"
Circumference Mid-shaft - 5 3/4"
Circumference Base - 6"
Diameter Max Head Side to Side - 1 13/16"
Diameter Max Head Top to bottom - 1 3/4"
Diameter Mid Side to Side - 1 13/16"
Diameter Mid Top to Bottom - 1 3/4"
Diameter Base Side to Side - 1 13/16"
Diameter Base Top to Bottom - 2 1/16"
Firmness and Texture
Now Luke, struck me with how firm he actually it. He is soft, but he does not have a lot of give. Though at the very tip of the head, he lacks the firm inner core, so it's squishy up there, as well as in the balls. Also, he isn't super flexible, so I would be a little wary of trying to use him as a packing toy, unless you want to walk around looking like you have an erection. As far as texture goes, he is a little tacky when dry, but I am hoping that will fade with time. He's got fairly pronounced veins, and the foreskin is definitely has some ridge, but nothing overly pronounced.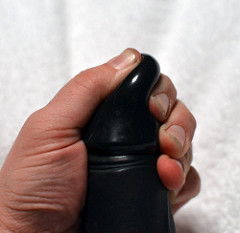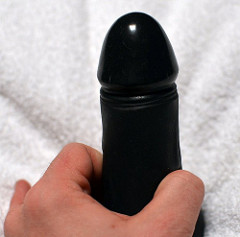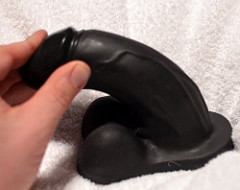 Cleaning and Care
Now with all silicone dildos, you have a number of care options. You can use hot water and soap. You can use a toy cleaner (spray, liquid or wipes), you can boil them (about 3 minuets) or you can use a mild, 10% bleach solution. The other thing to note, is that you probably should use water-based lubes only. Silicone ones could damage the toy. If you really must use silicone lubes, there are some "higher end" ones that may work, but you definitely want to spot test on the toy. We have been using the Sliquid Organics Silk, a hybrid silicone/water based lube, and have seen no deterioration of Luke.
Experience
Now, clearly someone at Tantus has got to have watched the movie Spaceballs. Lone Star in the movie is the parody equivalent to Luke Skywalker. So, if Tantus was creating an answer to Lone Star, they have been very clever about the name. As I said previously, I was struck on how similar the two are in both size shape and appearance.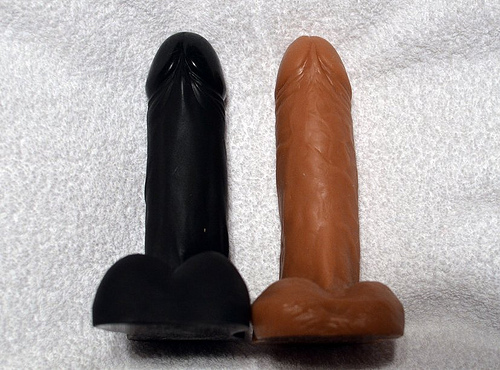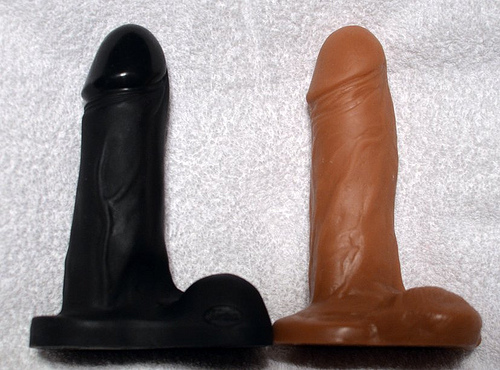 Which brings me to our experience. We can't help but notice these similarities, and because Lone Star is the misses favorite, we were eager to find out which one she likes. Her reaction was that the two are very close, but Luke feels much firmer, and hence, a bit more filling. Her thoughts are that this isn't a bad thing, but it just depends on her mood, and not an every day sort of thing. She really liked the length. I think the 5 3/4 insertable for her is just about the ideal. Luke also provides a bit more sensation because he has a more pronounced coronal ridge than Lone Star, but nothing that caused any popping against the pubic bone. When I tried it anally, I have to say that I didn't feel like I could totally tell a huge ton of a difference between Lone Star and Luke. They seemed almost identical, though because Luke is a little more rigid, it made it easier for initial insertion. Also, I felt like Luke's balls were easier to hang on to, which makes any sort of thrusting a whole lot easier. We also tried Luke in our Deuce harness which worked "ok" but I had to flip Luke upside down so the balls were tucked into the waist band, because there was no way to get him and me in there at the same time when it was right side up. But it fit and worked relatively well, though Luke's firmness made it a little tough to negotiate with ease.
So in summary, we really liked Luke. I would highly recommend him if you are wanting a toy which is relatively girthy, that isn't super long, and is nice and firm.
This product was provided free of charge to the reviewer. This review is in compliance with the FTC guidelines.

Thank you for viewing
O2 Luke
– realistic dildo review page!