Oh, How I love thee.
Luke O2 is a lovely dual density dildo by Tantus. Luke's hard shaft and soft head make it almost feel as though it is the real thing. Luke leaves you with a wonderful, full feeling, and Luke does keep you back coming for more. Luke is perfect for men and women.
Published:
Pros:
Girth, Texture, Silicone, Perfect for men and women, Dual Density silicone,
Cons:
Could be too large for some.
When I first layed eyes on Luke I knew I needed to have him in my life. When I was able to try it, I was extremely excited. I could not wait. When it arrived, I ripped open the box. I did not get to try it out that day like I hand plan too. Luke sat around for a couple of weeks before I had the chance to give him ago. When I was able to use it, it did not let me down at all.
When you first receive Luke he comes in a plastic casing. It comes in the normal case that the Tantus package. The package is not discreet at all. You can see the toy in full view, so it may not be perfect for gift giving in a public setting. If you are in an adult setting, or privet setting then giving this would be perfectly okay. The package does not actually have any information on it. You can use the plastic casing for storage if you please, but you can also toss it if you have a storage pouch. The plastic case does take up more room than it needs.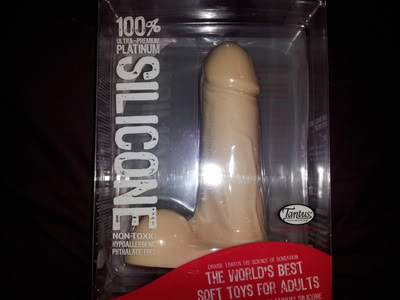 .
When you open up Luke the first thing you notice is the texture, before we get into the texture, I want to say that the Luke does not have any type of smell or taste. Which is perfect, because I've smelled some awful toys. Now for the texture, Luke is made out of Tantus Dual Density O2 line which was created to deliver maximum satisfaction through a Super SoftT outside and a hard muscle core, both made of Tantus premium grade silicone. When Luke is in your hands, the silicone that Tantus created makes it feel as if your holding the real thing. If you were to close your eyes and someone put your hand on it, you would swear it was the real thing. Luke has a supersoft almost squishy head, and a solid core. The core makes Luke a little harder to bend, but it is not impossible.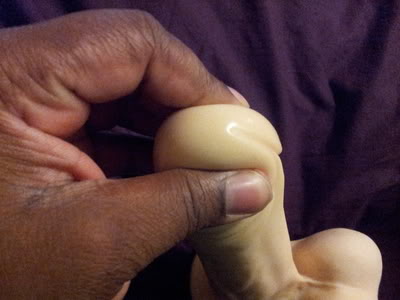 .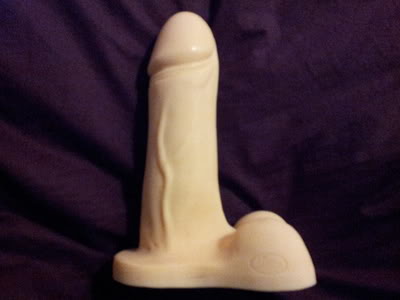 .
Luke does have veins running up and down the shaft, but when you are using it you do not notice them at all. You do notice them when your touching them, but internally you do not feel it. Luke also has some texture under the head, but it's also something you don't notice. Another thing that you will notice is the size of Luke. Luke is not that very long, hes about 7 inches long, but what it lacks in length Luke makes up in girth. Luke has a circumference of 6 inches, and a diameter of 2 inches. Luke is not for the weak of heart. I would not recommend Luke to people who are just starting out with dildos. Luke gives you a secure full feeling when you are using him. I personally would not use Luke for anal play, but for people who are more advanced in anal play would most likely enjoy Luke.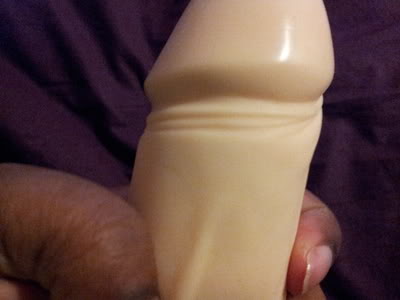 .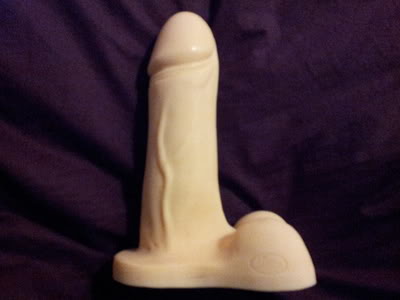 .
Luke does have a very realistic look, and I know some men, and women do not care for the realistic look. Luke does have a pronounced set of balls. The balls on Luke make thrusting very easy, and almost relaxing. The balls in Luke make holding on to him easier. Luke has a large flat base which is perfect for harness use and when needing a flat base to stand your Luke up. Luke does have some weight to him, but he is not heavy enough to weigh the harness down.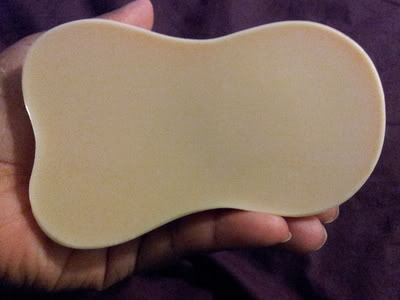 .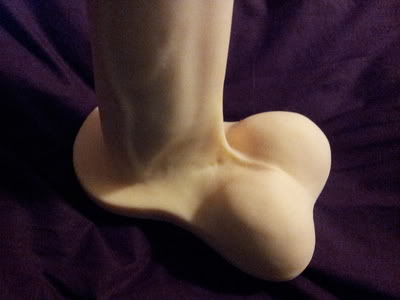 .
Experience
Continued...

When traveling with Luke, you will need to make some accommodations. Luke is not small enough for you to carry around in your purse. If you are going to travel with Luke you are going to need s decent sized bag, but it is not impossible. When you are using Luke you should use water based lube only. The texture of Luke my require you to use extra lube.

When needing to clean Luke you can boil him, because Luke is made of silicone you can boil him for about three minutes. If you do not want to boil him, you can clean him with 10% bleach solution and water. You can also use mild soap and water. Luke does tend to attract lent and hair, so you should wash him before and after every use. When sharing Luke you do not need to use a condom, but when sharing it with someone you are not fluid bonded with, I'd recommend using a condom.

Experience...

When I used Luke for the first time, it did take some working up too. Luke is one of my larger dildos. I did not just jump into Luke. I used a vibrator and a smaller dildo before playing with Luke. Inserting Luke I had to take it slow, I could not just push him in, but when I finally had Luke in. It was heaven. I love the feel of Luke. I love how it left me feeling full. I was scared of Luke at first, but now Luke is one of my favorite dildos.
Follow-up commentary
5 months after original review
O2 Luke was my first large dildo, which meaning he was my first dildo with a 2 inch girth! I was not let down by him although I had to work up to him. He's a beautiful dildo and still is to this day. I just think I've become spoiled because of my vixskin collection. The Luke is a little harder than I would personally like him to be, but he is my number one go to dildo when I'm looking for something a little stiffer.
This product was provided free of charge to the reviewer. This review is in compliance with the FTC guidelines.

Thank you for viewing
O2 Luke
– realistic dildo review page!