Number 1 Is right!
Having already tried the Pack 'N' Play 2, I luckily had no real expectation that this would be as soft as a packer but just like its brother 'No 2', in every other way this dildo has surpassed expectations. Luxurious to the feel, I just love its smooth shiny head which begs to be touched and squeezed.
Published:
Pros:
Soft luxurious feeling Silicone, realistic look and feel when squeezed, ideal for gender play.
Cons:
Not soft enough to really be a packer.
Being a huge fan of Tantus toys and a big fan of packing, I was excited when Tantus released two new packing toys. Seeing as the Tantus Pack 'N' Play No 1 strongly resembles the Tantus Vamp which I already own, I decided on the Pack 'N' Play No 2 first. Having been quite impressed with the Pack 'N' Play No 2 though, it wasn't long before I gave in and invested in the No 1 aswell.
Packaging:
The packaging of the Pack 'N' Play No 1 is Tantus' usual style of packaging, a clear plastic box which is free of any sexual imagery. On the back and sides of the packaging you will find plenty of information about the silicone used in Tantus toys. He arrived in what I know as the slightly smaller size of Tantus box, fitting nicely in it with no excess packaging. As the clear plastic box is so transparent, it gives the advantage of being able to see the toy from every angle while it still sits in the packaging.
The only difference between this packaging and other Tantus packaging I own is the addition of a sticker which says Pack 'N' Play. This reminds me of Tantus' O2 range which features a similar sticker.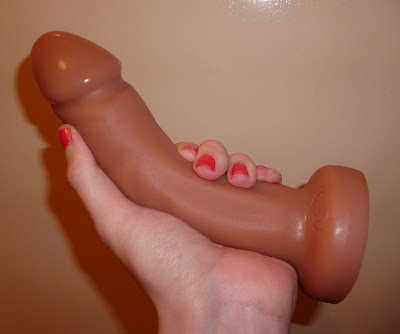 First Impression:
Seeing the Pack 'N' Play No 1 in person it has a beautifully warm tone to it. Unlike other realistic Tantus toys, it only comes in one colour option but seeing the warmth of the caramel colouring in person this didn't bother me.
Instantly the shape of the Pack 'N' Play No 1 reminded of the Tantus Vamp which I already own, but in person it appears to be both smaller and slimmer than the Vamp so luckily I hadn't just invested in too similar a toy. When comparing them to each other the Pack 'N' Play is only slightly slimmer in the shaft but is quite noticeably smaller in the head. Obviously being made of the softer Pack 'N' Play silicone, it has a much different feel to the Vamps very firm build.
Measurements:
Total length: 7 ¾ Inches
Insertable Length: 6 3/4 Inches
Circumference: 5 ¼ Inches
Base Diameter: 2.6 Inches
In Use/ Experience:
Being quite average in size I don't find any need for a warm up toy first. The smooth head of the toy works well with lube and with just a drop added the smooth head makes for a great clit rubbing warm up before insertion.
The slightly larger head of the Pack 'N' Play 1 is still comfortable to insert as it has such a smooth shiny finish and the change to a matte finish after the shiny head gives you extra stimulation. Extra lube may be needed as the texture of the matte material can be more intense. After inserting the larger head, the shaft then slowly lessens in girth.
The shiny head of the Pack 'N' Play 1 makes insertion easy and the pronounced head ridge feels fantastically stimulating. There are slight veins on the front and sides of the dildo but in use these don't feel too raised. They do provide a feeling of extra texture to the toy and this mixed with the soft fleshy feeling matte finish gives the toy an incredibly realistic feel at times. The back of the shaft is matte but so smooth that it still offers an interesting texture.
While some people find particularly raised head ridges like this to be uncomfortable, I can't imagine this being too much of a problem here, this actually reminded of a VixSkin toy during use and is comfortably squishy and flexible feeling.
The base of the Pack 'N' Play 1 is perfect for use with an O-ring harness and this looks particularly impressive when placed in Boxer style harnesses like Rodeohs. The base feels very solid and sturdy and stays in place well when in a harness. Being modest in size and harness compatible, it makes a great toy for anal play/pegging.
While there is no way I would call this a packer in the sense that packers are usually flaccid, the feel of the Pack 'N' Play 1 is pretty realistic feeling for a toy of this price. The shape and look of the dildo is more realistic to me than the Pack 'N' Play 2 and the different shape seems to give it a much more flexible feel making this much easier to bend. The lower part of the shaft in particular has a good deal of malleability to it. Again as I found with my first Pack 'N' Play dido, I can't stop feeling and squeezing this whenever it's next to me.
Experience
Overall this is still a great gender play dildo but it is much more suited to being a hard penis in gender play scenarios. When worn under clothes it does feel quite realistic to the squeeze.
-Compared with the Pack 'N' Play No 2-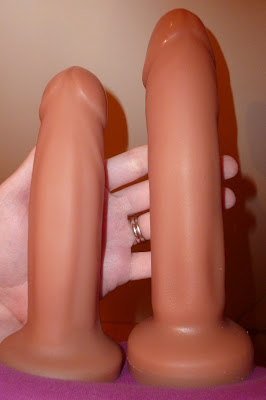 Material/Care:
Made of Tantus' high quality Silicone, the Pack 'N' Play No 1 is scentless, tasteless and is completely free from latex and phthalates. It is generally recommended that you don't use silicone lubricants with silicone toys; I would recommend using a water-based lubricant. While it is modest in size, it matte shaft means that lube is needed.
The Pack 'N' Play is incredibly easy to wash after use with soap and warm water. Specialised toy cleaner or cleaning wipes can be used instead or if you want to sterilize it after use it can be boiled for 3 minutes. I keep mine in a zip-sealed bag after use to keep it dust and lint free as like most silicone toys it can attract alot of lint particularly on its shiny head.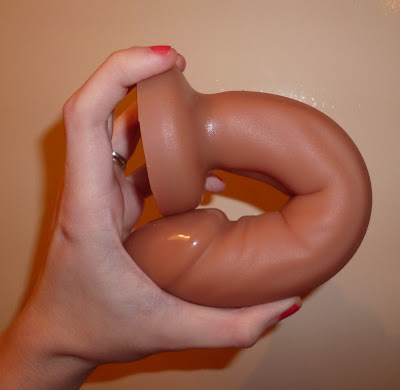 This content is the opinion of the submitting contributor and is not endorsed by EdenFantasys.com

Thank you for viewing
Pack 'n play No.1
– sex toy review page!