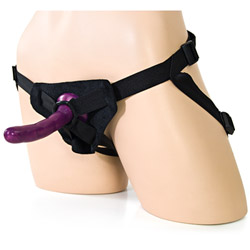 New comers strap-on kit
Beginner harness and dildo set
by Sportsheets
A perfect set for a strap-on newbie
All in all, this is probably one of the best things I've gotten from EdenFantasy. It's practically two toys in one; the harness is steady, sturdy, and can support up to a 1.5 inch dildo with its O-ring. The dildo is small but solid, has a bit of give but is still firm, and is made with the highest grade material you can buy. For anyone exploring harnesses (like me), either for vaginal or anal play, this is a great product, and I highly recommend it!
Published:
Pros:
100% silicone dildo, comfortable straps on harness, easy to care for materials, quick to get ready
Cons:
Harness has a smell out of the box, nylon flap in front of the O-ring is annoying
I must admit, I'm a bit new to the world of strap-ons, O-rings, and the lovely dildos that come with them, so I was a bit apprehensive about taking a leap of faith and just trying it. I'd been looking at strap-ons for months, and finally made the dive with the Sportsheets New Comers Strap-on kit. With my inexperience, I figured you couldn't go wrong if everything was packaged up and bundled for you, right?

Absolutely right. When the package arrived, I ripped it open and pulled out the harness and the dildo. Since the harness is made out of nylon, it doesn't exactly smell spring fresh when you get it. I put mine in the washer on a gentle cycle and let it air-dry; since the nylon is going to be touching my lady parts, I figured it's a good idea to clean it first. Same with the dildo, though this is a bit easier. Since it's 100% silicone, just stick it in a pot of boiling water for a few minutes to clean it. Don't be like me though, a bit to hasty to get started and getting burned by a hot dildo (now that's a good story to tell friends, eh?).

With the cleaning out of the way, it was time to actually put on the harness, which is trickier than it looks. Essentially, it's like pulling on a pair of underwear, but you don't know what part of your body goes in which hole. To be honest, I say try out putting on the harness before you want to use it with your partner. Once you've got the hang of it, slipping it on is quite easy, but it takes a couple of tries to get familiar with the layout (especially since I am a beginner). There are two holes for your legs, a strap that sits across your pelvis, and an anchor strap that goes right below your bum. I'm a full-figured lady, and I had no problem with the straps at all. I feel I can safely say that most women will be just fine with it.

As a tip, you should tighten the leg straps as you put the harness on, but hold out for the top strap, otherwise you'll have a hard time slipping the dildo in. You could just put the dildo in first, but then you run the risk of it trailing along the ground while you're trying to step into the harness (as a germophobe, that totally was not acceptable to me). The dildo is on the small side, which was great for me because this newbie likes small things. It's five inches long (though only 4.5 inches can be inserted when you take the O-ring in the harness into account) and about 3/4 inches in diameter. If you're using this vaginally, I can say that this might quickly become too small, but that's the beautiful thing about this harness. As long as the dildo is up to 1.5 inches in diameter, you can easily switch out the smaller dildo with a larger one (I ended up buying a Tantus medium, but that's another review for another time). It'll take a little adjusting to get the harness just right (I like mine to sit low so that the dildo's flared base hits my clit), but this is definitely a personal decision. Once it's set, it's pretty much going to stay there they entire time, no worries on that end!

Let's not forget about the nifty dildo that comes along with it. What makes this kit so great is that both pieces are pretty darn awesome on their own. One silicone dildo is the same price as this entire kit, and you can't beat that. The dildo, as I mentioned, is a bit small, but it works great for both vaginal and anal play. It's just firm enough that when it's inserted, it feels good to clinch around; at the same time, it's flexible enough that you can move and reposition it as necessary when inserting it. As with all silicone dildos, make sure to use a water-based lube (I use ID Pleasure) and not a silicone-based lube, which can damage your dildo. To clean it, I usually boil it when I'm not doing anything particularly important, and then store it in a clean bag. Give it a quick wash with soap and water before its real time to shine, and you're good. It picks up lint like crazy, so keep that in mind so you don't pat it dry with a fuzzy towel.
This product was provided at a discounted price in exchange for an unbiased review. This review is in compliance with the FTC guidelines.

Thank you for viewing
New comers strap-on kit
– beginner harness and dildo set review page!