A Personal Favorite
Although the UR3 material and lingering smell may be off putting for some, the size of this realistic dildo and the soft, realistic feel of the Blush Bulge might be worth the gamble for some, especially during a sale.
Published:
Pros:
flared base, wide, soft, comfortable
Cons:
Scent, size (for some)
I'd been eying the Blush Bulge for a couple months before I finally decided to purchase it. I've been looking into trying different materials, and in my quest for a UR3 toy, this was my pick. Since it arrived, I've barely even touched the other items that had been in my order. I fell in love
I avoided the larger model, opting for the more "beginner friendly" model with 4" insertable length. The toy came in a large clam shell package with a paper insert that described it as "phthalate free TPE", "UR3 with Sil-A-Gel", and in a square in the lower left corner, "anti-bacterial / non-toxic formula / latex-free / [and] cadmium free".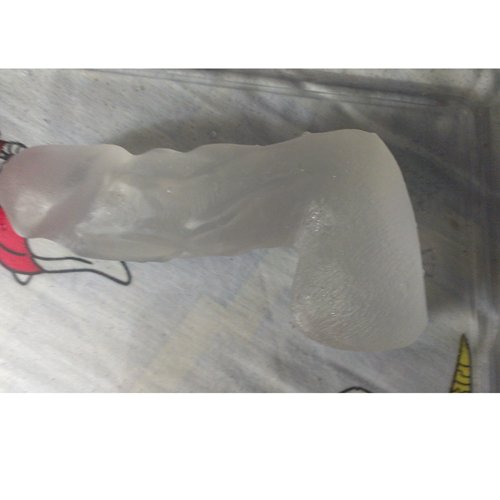 The toy itself is heavy, weighing nearly a pound. It is realistically shaped and molded, with the base being flat, and without suction; it is, however, good for gripping. The color is translucent, with a pink tint to the head that does fade with time. It does give off a faint scent, which doe linger on your hands and fingers wherever the toy was held. Although the scent fades a little over time, it isn't by much. The smell isn't disgusting unless you specifically put your nose to it and inhale. This I do not recommend.
The UR3 material is soft to the touch, and while not immediately tacky, does attract dust and lint. As such, I opted to keep the clamshell packaging for storage. Due to the nature of the material, it probably wouldn't be a good idea for it to come into contact with other toy materials on the 'lower end of the safety scale'. Although the toy is cited as anti-bacterial, it probably isn't a good idea to share this with your friend or partner, or to transfer from the vagina to the anus, and back, although with how 'flimsy' the material can be, it might be too much of a hassle to try anally to even bother with that.
Yes, UR3 is extremely flexible. Users who are neophytes to a UR3 toy may have trouble with insertion, especially with the girth this thing weighs in at. The smaller model boasts a fairly robust circumference and diameter, which is what gives the blush "bulge" its name. This toy is not for beginners. Although it is flexible, it is also slippery and can be difficult to ease in for those who are not accustomed to such a wide load.
Using a UR3 toy in the presence of water is beneficial to keep it clean before and after use. My suggestion for those unaccustomed to this material and girth is to lay in a tub or somewhere comfortable and work yourself up to being wet, and ready to accept the toy vaginally. If you choose to use lubricant (I do not, and never have), the material safety guide on EdenFantasies provides that, "[c]ontact with silicone-based lubricants, oil or petroleum based products will cause damages to the surface of the toy; use only water based lubricants."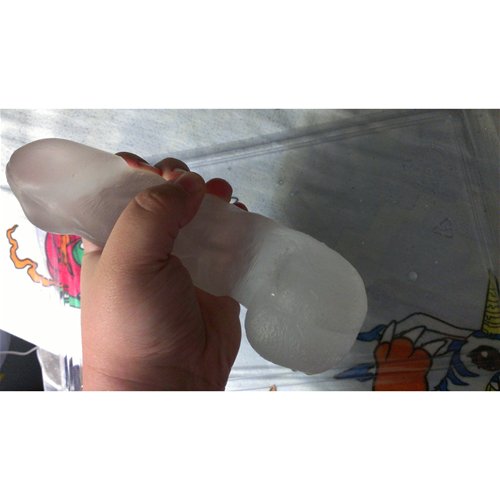 Once there is enough slickness to accommodate large sizes, grasp the toy by the top of the shaft, part your lips, and ease the head into the vagina. Then, either using another hand, or sliding your hand up to the base molded into balls, ease the toy inside at your own pace. As long as the head is inserted and set firmly enough, there shouldn't be too much difficulty to keep it steady while sliding in. Once inside, feel free to move as fast or slowly as you choose, though keep in mind that the slicker the toy, the more likely it is it might fly out of you and against the wall if your fingers slip!
Experience
My experiences with the Blush Bulge have been positive, and it has become my favorite toy in my collection. Because the toy is not as long as some (remember, my model is the 4" insertable), I do not have to worry about the tip hitting into my cervix and causing any pain during use. Because of the flexibility of the material, and the give of a vagina, sometimes a little extra length can be squeezed out of it during a particularly deep and hard thrust, which is nice when I'm in the mood for that. Although the Blush is not curved, the nature of its girth allows for some degree of gspot stimulation. It's more a matter of finding the right angle and speed that works for you.
Follow-up commentary
8 months after original review
This has become a go-to toy for me as the weeks have come and gone. It's soft and comfortable once inserted. It's a favorite to hold inside during orgasm as well, because it gives under the pressure of my walls.

One thing I have experienced, however, is some melting at a point where another toy of mine came in contact with this one inside my drawer. The toy in question was a rubber toy, and sort of smoothed out the area and left a small indent in the bulge where they were touching.

This is a lesson folks: always keep different material toys away from each other, and put them away properly when you're done using them! I have had absolutely no problems with the blush aside from this little incident, and that was entirely my fault for not putting them away properly.
This content is the opinion of the submitting contributor and is not endorsed by EdenFantasys.com

Thank you for viewing
Blush bulge UR3 cock
– sex toy review page!