If this could mow the lawn...
This is the sexiest dildo I have ever owned. The way it filled me, the way it felt against my skin, everything about it topped all the rest. They need to make an upgrade or additional package that will make it mow my lawn and I'll be set.
This may not be the best for anal play due to the size and flexibility, and it is too large circumference-wise for the basic harnesses I have seen, but for vaginal penetration, this went above and beyond expectations.
Published:
Pros:
Large and thick
Realistic / not standard toy-like
Good coloring
Cons:
Scent of the UR3 skin is a bit strong
Less ease of penetration due to material softness
I ripped the shipping box open and there it sat: a thick, beautiful, enormous dildo.
MY thick, beautiful, enormous dildo.

The plastic packaging was easy to pull open, and I did so slowly but twitching with anticipation. The scent of the UR3 material was strong and there was a coating of powdery dust (likely cornstarch since that is recommended) so the first place I took my new dildo was to the sink to wash it with just plain water. The second place I took it was to bed.

The heft was perfect - heavy enough to know I had a big dildo in my hand but not unwieldy. I moved my hand over the veiny shaft and squeezed the huge head. This toy is a bit squishier than I had anticipated, being a little closer to human flesh than my other, more solid dildos, but that added to the intrigue. I manhandled my new toy for a moment, bending it and stretching it to test its range of motion. I was able to put the balls against the shaft and then bend it back to almost touch the back of itself.

It could handle my abuse.

My hands (I had to use both) gripped the balls at the base and pushed the head between my legs. Since I am used to dildos made from harder material, I had to work with this softer one a little, adding a spot of water-based lube and maneuvering it into me. This is much less "toy" and more of "an experience" with the texture and solidness being so realistic. I also am not used to a dildo this thick (more than two inches thick!) so that added a little time to the insertion.

I felt every inch of this thing inside me; there are about six insertable inches to the 8 inch model and most of those six inches were thickly shoved into my special spot. It was as if I were treating my vagina to a surprise party - none of my other toys felt like this and it was just lovely to slide it in and out. I didn't need more lube after the first go. I stayed on my bed with this monster of a toy for as long as it took me to get exhausted and then I still lay with it inside while I rested.

Cleanup is easy - water, maybe a sprinkle of cornstarch after it air-dries. If you leave off the cornstarch you can bring it to bed with you for a snuggle; it will deserve it. After the intial wash and clean-up wash, the smell of the UR3 material is dimished but still is noticeable. I wouldn't lay this dildo on anything that might bleed color, or you risk ruining the soft paleness of the material.
Experience
I had to edit this review to add pictures.
I got both the large and the less large version of this, and the differences are dramatic.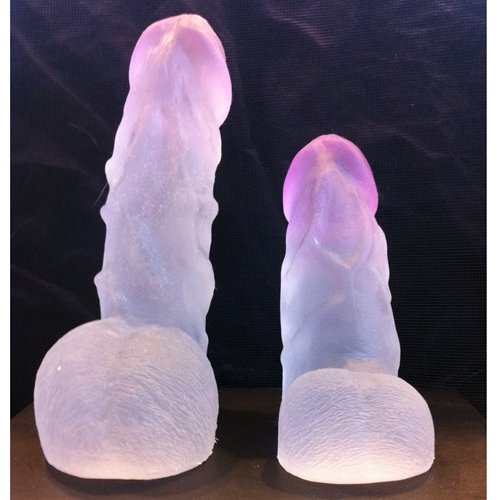 That's not just a shorter insertable cock part.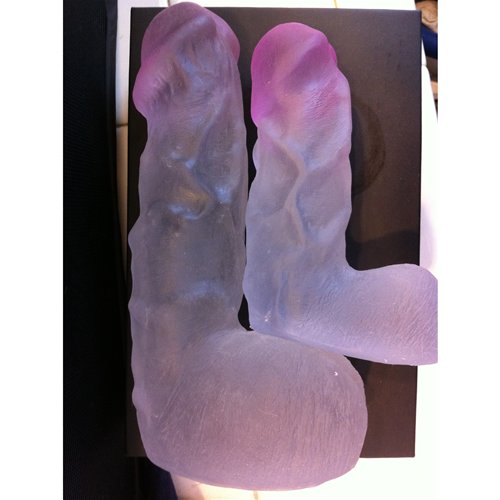 This perspective shot makes the head of the 8 incher look bigger, but they are both the same size. It's just a very angled shot. (And note the fuzz - these things pick up every stray hair in the room when not being played with.)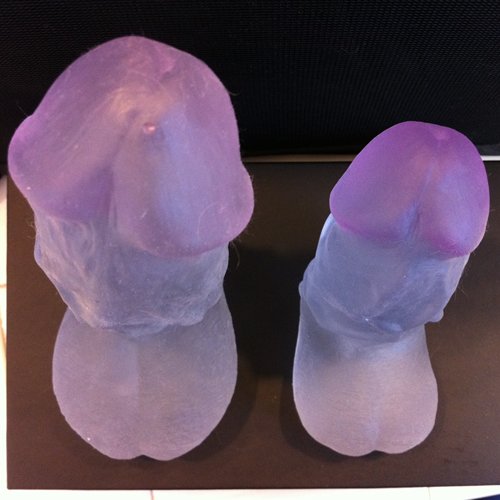 And, finally, as a bonus, the texture shot.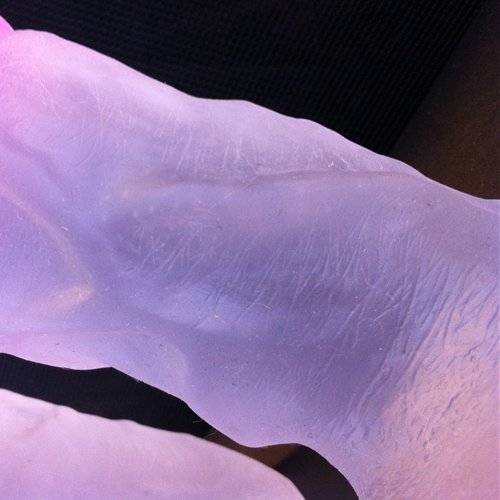 I am not disappointed by the small one versus the large one, but there are noticeable differences. I preferred the more prominent balls on the 8 inch dildo but I liked the way the 6 inch toy fit my dimensions better without any left over.
Follow-up commentary
4 months after original review
This is still an amazing piece of work. I did notice that it does irritate the skin of my ladybits every time I use it; it doesn't last more than a day but I am dry and sore on all my mucousy areas (not sore like well-used sore, but sore like sinus infection sore).

I use water-based lube with it that doesn't cause the same irritation with other toys so I don't believe it's the lube.

It still fits well and looks great and has held up to multiple uses without tearing, scuffing, scratching, discoloring, or breaking. It does still collect dust like a staticky tv, though.
This content is the opinion of the submitting contributor and is not endorsed by EdenFantasys.com

Thank you for viewing
Blush bulge UR3 cock
– sex toy review page!