Adopt a James Deen Dick
Wonderfully presented, made of quality silicone and molded from James Deen himself to include fantastically realistic detailing. After months of growing anticipation the James Deen Silicone Dildo proved to be one well made, thrilling monster of a dildo.
Published:
Pros:
Detailed recognisable James Deen cock, Silicone, decent bullet, packaging you'll want to hang on to.
Cons:
None!
After much waiting and anticipation in the lead up to the release of Doc Johnsons James Deen line of sex toys, I was delighted when the day finally came and the James Deen silicone dildo was within my reach for sale on Edenfantasys. In the week or so waiting for my order to arrive I spent my time watching a little more James Deen porn than usual, just to tease and build the anticipation for its arrival.
Packaging:
The James Deen silicone dildo arrives in what has to be one of the largest boxes that I have seen for a dildo. Measuring 10 and a half inches tall and 7 and a half inches wide. On the front of the box James Deen is shown in an almost modest post while on the back of the box he is seen smiling with his manhood in his hands. The front of the box opens up not just to reveal all the glory of the James Deen dildo but it also treats us to a side view of James Deen naked and showing off the goods. While there is plenty of useful material and care information included on the packaging, it's the imagery that makes this packaging worth hanging onto.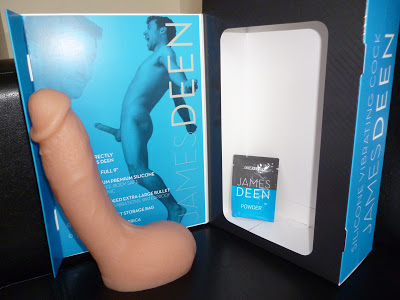 First Impression:
Removing the dildo from its sturdy plastic case, the James Deen silicone dildo does not disappoint when it comes to size to realism. Having watched so much James Deen in the lead up the toys arrival I can definitely say that I recognised this cock immediately. Examining it closely in person it has the realistic characteristics of large uneven balls, a slight bend in the shaft and that thickening that James Deens cock has in the middle length of the shaft. While the flesh colouring is all one tone, the detailing on this is impressive with the skin on the balls being particularly detailed.
Included with the dildo is a long vibrating bullet, a large drawstring storage pouch (its huge when compared to other toy pouches I own!) and a sachet of 'James Deen Powder' ("Hmm James Deen in powder form you say?") This is intended to help with the removal of the bullet from the dildos cavity. Its ingredients are listed as just being Corn starch.
Measurements:
Total Length: 9 Inches
Insertable Length: Depending on what angle you measure from it varies from 6 ¼ to 7 Inches
Circumference: Ranges from 5 to 6 ½ Inches
Length of Bullet: 5 Inches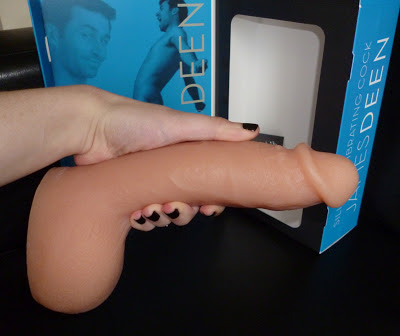 In Use/ Experience:
Bullet:
The five Inch long silver bullet included is powered by two AAA batteries, features three speeds and is waterproof. It has a single power button which switches it on, brings it through the three speeds and switches it off again. The three speeds are all quite powerful when it is used by itself but obviously are slightly weaker when used inside the dildo but still surprisingly adequate. Placing it inside the James Deen dildo is easy but when it comes to removing it again you really do need to use the 'James Deen Powder' which is included.
Dildo:
While the vibrations of the bullet included carry through the material of the dildo more than you would expect making this work well as a vibrator, the dildo itself is certainly still firm enough to use without the bullet too. To the feel you really can't even tell that there is a slim cavity in the dildos base.
Experience
With the head of the dildo being slimmer than the shaft, this beast of a dildo isn't too much of a challenge to initially insert but once past the head of the dildo, the generous girth of James Deen really kicks in. Being just over two inches wide at its thickest point this will make you thank god for lube and warm up toys! Even having added some particularly girthy toys to my collection lately I can say none of them thrill me like the feel of the James Deen dildos thick middle stretching the first few inches of the vagina while the smaller head already sits more comfortably inside me. The realistic shape and slight curve of the James Deen dildo creates interesting texture and depending on what angle you take the dildo from it can provide very light g-spot stimulation. If you look at the dildos slight curve to the right and pronounced head it's easy to figure out what ways to use the dildo to accomplish, light, g-spot stimulation. If you find yourself able to take the full length of James Deen, the quite large balls of the dildo are great for grinding on to provide clitoral stimulation especially if the vibrations are switched on. With every thrust, the varying girth of the dildos shaft creates an intensely satisfying sensation. The hard part is deciding when you've had enough James Deen for one session. The varying girth can leave you feeling delicate after use but if you're a fan of his work and fantasise about being taken by James Deen, you may well like being able to feel it afterwards.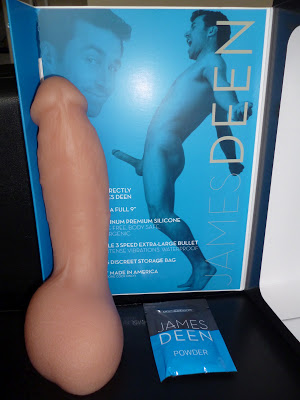 Material Information:
Made of platinum premium silicone, The James Deen silicone dildo is both scent and taste free aswell as being Latex and Phthalates free. Silicone is completely non-porous meaning that it can be fully disinfected by boiling it in a saucepan for just 3 minutes or by throwing it into the top rack of your dishwasher or it can be simply washed after use with warm soapy water or specialized toy cleaner. It is generally highly recommended that you don't use silicone based lubricants with a silicone toys so I would recommend using a water based Lube with this. Between the size of James Deen, the typical drag that silicone has and the amount of subtle realistic texturing lubricant is definitely a must. Like most silicone toys this can be a serious lint magnet. There is a generously sized 15 ½ Inch by 8 Inch drawstring satin bag provided for storage.
This content is the opinion of the submitting contributor and is not endorsed by EdenFantasys.com

Thank you for viewing
James Deen signature silicone vibrating cock
– sex toy review page!