Allured to Amore
If you are a glassaholic, or just looking for something different, this will make a delightful addition to your collection. With the texture, it might be too much for newbies to glass. The beauty of this dildo is it can be used anywhere: on the couch, in bed or in the shower. Quite frankly it is just a beautiful piece of art.
Published:
Pros:
Double-ended with different textures.
Body safe, able to sanitize.
Cons:
Storage bag provided is not padded.
Completely body safe, the Pink Allure is made of solid Pyrex glass. The dildo is clear in the middle. One end has several raised bumps that are more red than pink. On the other end, there is a raised red spiral. The body is smooth. There is no seam or bubbles inside the toy itself. When I received it, I immediately checked for any cracks or chips. I am happy to report that my Pink Allure has a clean bill of health.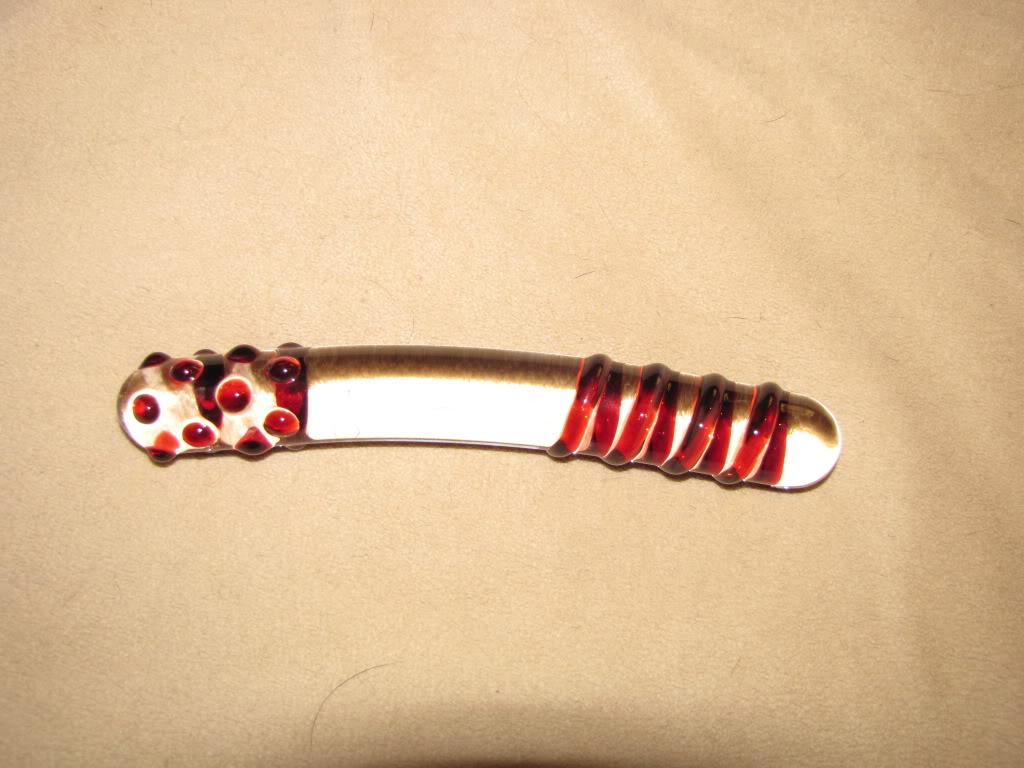 The Pink Allure has a soft curve aimed to hit the G-spot. It's double-ended and is made for vaginal use only. I would discourage using this toy for anal play as there is no flared base, large ring, or retrieval string, etc. And honestly, do you want to try and explain to the doctors why you have a glass dildo up your butt?
Like I said earlier, this is made for vaginal use only and is double-ended for double the pleasure. One end has bumps while the other end has a swirl approximately 2" long. You can pick a favorite end or mix it up. The nodules feel great when you rub it on your clit or you can twist the other end while it is inserted to get that corkscrew effect. Add temperature to the mix for a unique sensation. You can run it under either hot or cold water or put it in the freezer for a few minutes. Don't leave it too long in the freezer to avoid damaging the glass or yourself. I also don't recommend using the microwave as this can unevenly heat up the toy or over heat it. If you are a size queen, you are not going to find it here with a diameter of 1 1/4" and circumference of 3 3/4". Since it's glass, I don't feel it needs to be overly large. It is solid and unyielding, which allows for pinpoint pressure.
By far it is one of the easiest toys to care for. After sanitizing, make sure that it has cooled down before use as again you don't want to hurt yourself or your partner. It's compatible with all lubes. With glass, though you don't need a lot as things do tend to get slippery quickly.
To clean:
use warm water and mild soap or your favorite toy cleaner.
To sanitize:
Boil for a few minutes, run it through the dishwasher on the top shelf, or using a 10% bleach solution.
When I received the Pink Allure it was wrapped in bubble wrap inside the little pouch that comes with the toy. The pouch is a black fabric that feels like faux velvet and has a smooth interior almost like a faux satin.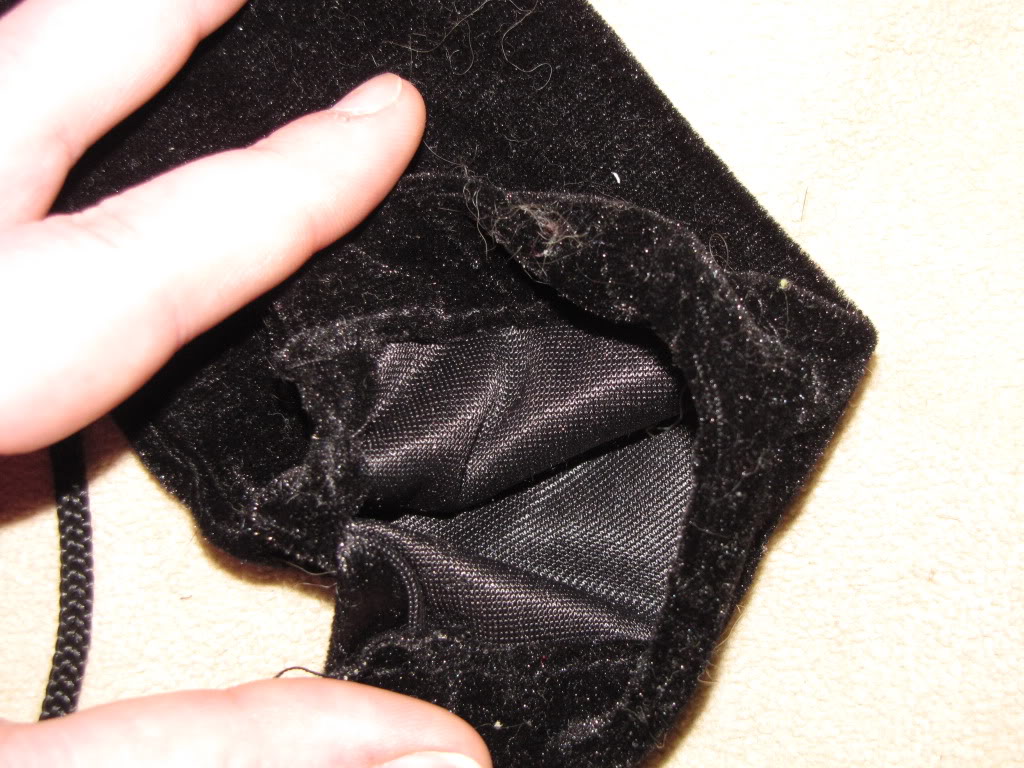 The outside is a lint magnet. There is a drawstring closure that doesn't stay closed by itself. This string is slippery so it can come unknotted easily. The bag is not padded so you might want to be careful if you drop it. It's still nice to use for storage to keep the crud off and to protect the glass from other toys, or items that could potentially of chip this beauty.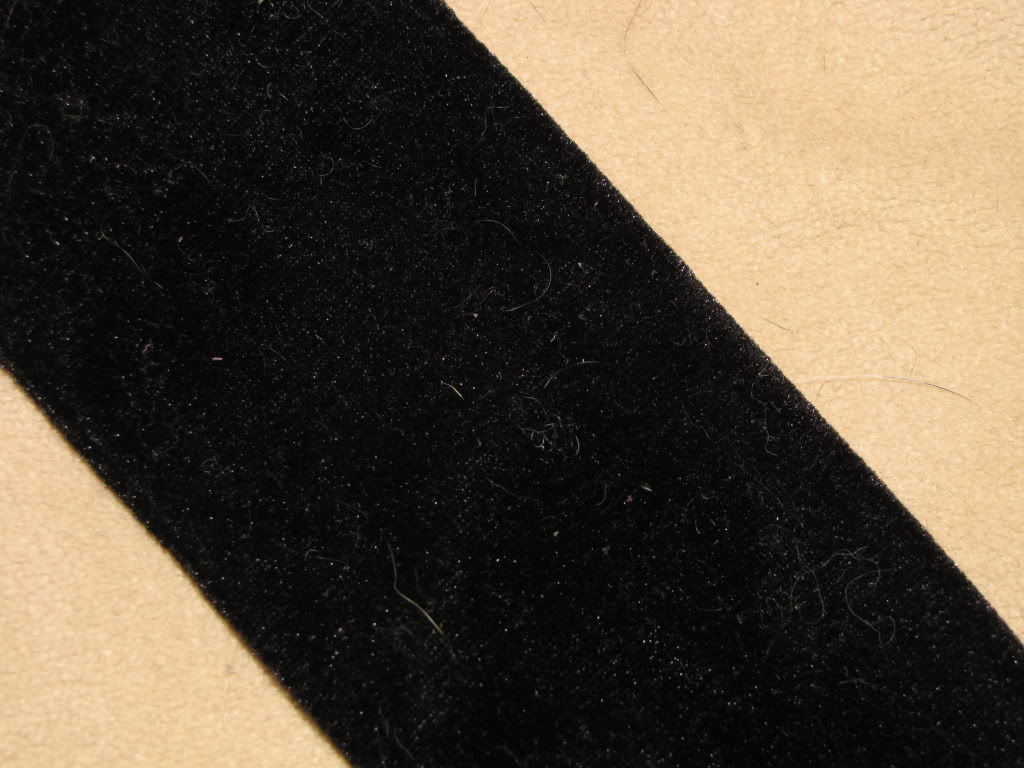 Experience
This is my first glass toy and it is even more beautiful in person. It's got a nice weight without being too heavy. I like that it comes in a pouch. I wish, however, that it was padded. I was told that the texture might be too much. For me, I didn't feel that way. It was definitely noticeable but not uncomfortable or painful. The bumpy end felt incredible on my clit and was a good warm up. Personally I am not a fan of the swirled end as I didn't feel it as much as I could with the other end. It has a nice soft curve; therefore, the Pink Allure is easy to insert. I do very much like that it is solid and does not bend ,which allows for great pressure on my G-spot. One word of caution is don't thrust too vigorously as you can bruise the inside of the vagina. Unfortunately, I found that out the hard way. I wasn't paying attention; I went a tad bit too hard. The next day I was pretty sore among other things that may be too graphic in nature for the male species. Overall I was impressed with this dildo, being my first glass toy. I know a lot of men and women love glass, sadly though, I wasn't wowed. Perhaps there is a big learning curve.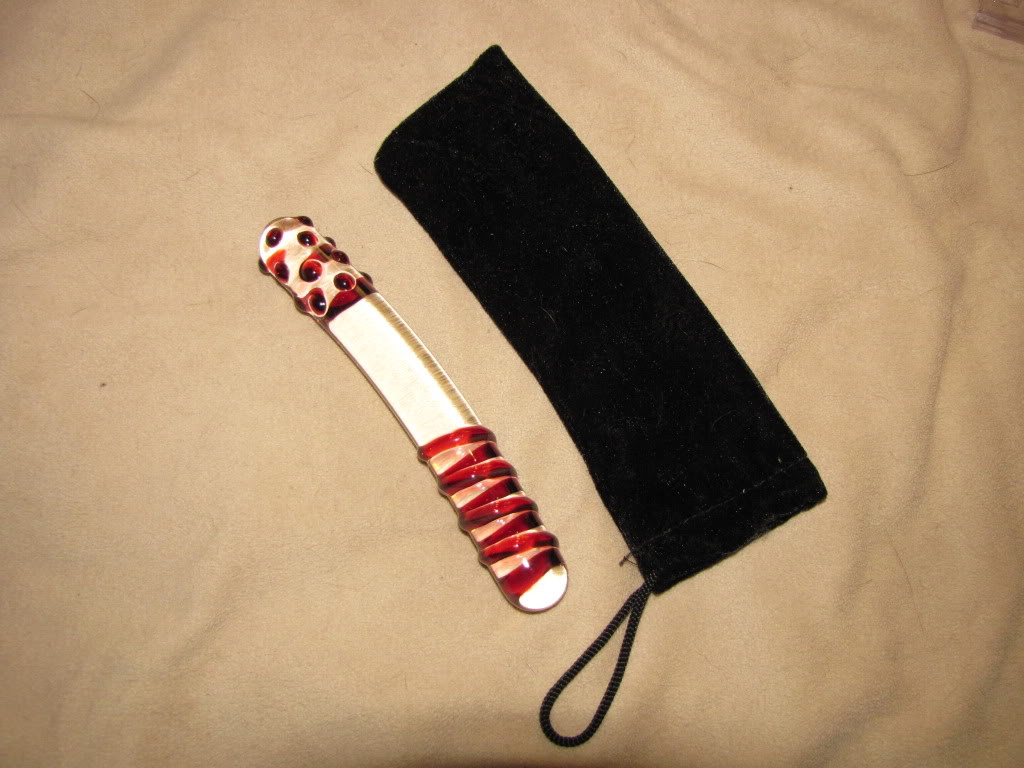 Follow-up commentary
4 months after original review
*sighs heavily* I have given this glass piece a second try. I wish, I really, truly, desperately wish that I liked, or even loved this piece. Sadly though, it just didn't spark flames of love in my....heart.

I have a hard time getting to the point of orgasm alone with non-vibrating toys. It has a bit more weight than my other toys and wore out my arms quite quickly. Also being made of glass and unforgiving, both my husband and I have to be careful to not go too hard or fast or I will just my scream out, and NOT in pleasure. I have heard that textures can be fairly intense with glass, however, I barely felt it. The nubs did feel nice when rubbed on the outside though.

I did give this 4 starts. If only we could do half stars I would actually give this dildo 3.5 stars. It really is quite a beautiful toy. There are also so many different ways to play with this toy. Unfortunately, it seems that I am not a big fan of glass. But, if you are, please do give the Pink Allure a try. She is a beauty.
This content is the opinion of the submitting contributor and is not endorsed by EdenFantasys.com

Thank you for viewing
Pink allure
– double ended dildo review page!