Delicious Kisses
What was fabulous about this dildo is its nubs and ridges. I've never had anything like it and I'm super pleased to have it in my collection! It also cam with a velvet drawstring bag, and bubble wrap to keep it in. Did you know you could use this for G-spot stimulation and that it was even safe for anal use? Me either, but now we do! This toy is smaller than I expected but as gorgeous as anything. I'm not a tentacle lover, but this is amazing and I am officially in love with it!
Published:
Pros
-Beautiful & pleasurable design
-Safe vaginally & anally
-Easy to clean, Use any lubes you want
Cons
-Knock-off of the Icicles 24
-Included bag is thin, but it does also include bubble wrap
When I first brought this out of its beautiful red velvet bag and unwrapped it from the bubble wrap encasing it, I was instantly astonished at how much more lavish and unique it looks than expected. The pictures on the product page in no way do it justice. I had already known it was beautiful, but seeing it up close is different. Though this is a knock-off of the Icicles 24, you would never know the difference. Aside from that, my main observation was that its size was smaller than I had anticipated. Of course, one can read the product page descriptions, but until they see an item in person, they still may not have the full picture. This is a clear light pink glass toy with a tapered end for smooth entry, and too many whimsical details to count. I loved holding it in my hands as I took photographs of how pretty it was reflected in the sunlight.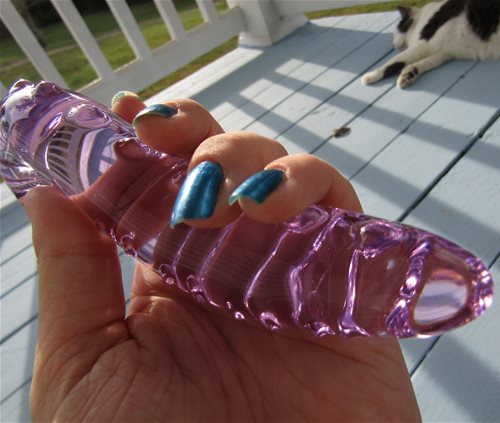 I put it back in its bag as I was still going through the huge box of toys I had received from EF. At first when I put it back, I did not re-wrap it in bubble wrap, but instead only pulled the drawstring closed on the bag it came in. Upon realizing how thin the bag is, it occurred to me that it is essentially just for looks and easy organization and cleanliness, not necessarily protection for glass toys. So I re-wrapped the tentacle dildo in the bubble wrap before putting it back in the red velvet bag. To store this dildo safely, I recommend keeping the bubble wrap that comes with it, to keep it stored in. This will keep it fully protected from breakage while it's being stored in your collection.
You've got to try this, if you haven't already considered it as a gorgeous tentacle paperweight for your desk at work, wink wink. I'm sure not many people would even know it was a dildo, and would be entirely fascinated if you left it out. So potentially, it could be discreet, if you're willing to take the risk.
Just as a note, I made sure to be gentle not to thrust with this too hard, in either nook of my body. Glass toys have no flex or give, and if you're thrusting hard with this vaginally, you could cause your cervix some pain. I recommend that you always be gentle. Don't test your limits too far, okay? Also, another note, please only insert this from the tapered end. That's the only end that can (or should) be inserted. I'm sure no one would try this anyway, but I just want to make it clear, just in case any of you are super-kinksters.
This dildo is boilable, and sterilizable, as most glass toys are. Unless they have additional accessories or parts on them, they should be easy to go ahead and put in the dishwasher or boiling pot on the stove for quick sanitation. I wouldn't put my dildos in the dishwasher with any cookware or plates though. I wouldn't feel like that would be sanitary for me, but that's my personal opinion. As I do not own a dishwasher and never intend to, I always hand wash my toys. This means using a good amount of anti-bacterial hand soap to scrub away any "grime." When I washed this, it was slippery to hold (as it was wet), but I was able to hold onto the spiraled end, or base, of the dildo. I have one of those old cast iron white farmhouse sinks, and it breaks dishes all the time so we have to keep a plastic pan in it. Needless to say, I was afraid of that happening to this dildo, so I held onto it for dear life. Luckily, unlike other glass toys, I wasn't as afraid to drop it while cleaning, because I had a firm grip on the end of it - the spiral. I didn't hold it too tightly though, as I'm always paranoid of glass breaking. I doubt that would happen with this toy, ever though, because boro-silicate glass, aka pyrex glass, is very tough.
You can use any lubricant with this dildo that you want. Water-based, silicone-based, it doesn't matter. No type of lube can hurt your new beautiful tentacle dildo. Isn't that great? Leaves you with less to worry about and more options to derive pleasure from.
Experience
Later on that evening, I was feeling ready to try this guy out, as well as a couple of other new toys I had just gotten that day. I pulled out my new Royal Intruder butt plug, my new Eden Velvet G, and this. I had been laying in my room thinking and literally fantasizing about my new toys, waiting for the baby to go to sleep, so I was so wet by the time I was able to go test things out! That evening I learned that big pleasures can come in small packages. Sure I had expected this dildo to be bigger, but its size was never an issue in its ability to get me off (in conjunction with my other new toys).

Let's talk about its size for a minute. Its total length from tip to end is 6 1/4 inches, not counting the part that is spiraled. If I had measured it out literally from tip to tip, it would be a few more inches, but that would be hard to do and kind of pointless so for my intentions and purposes, I didn't bother. The insertable length isn't much at 4 1/2 inches, and its circumference of (also) 4 1/2 inches, with a diameter of 1 1/2 inches, isnt either. But for me, the size ends up being perfect, not just for vaginal but even anal. I'll explain.

I inserted this vaginally to start, and tried a few thrusts. It was amazing! The texture was so different and like nothing I had ever tried before. All of the nubs on the sides and ridges on the bottom are quite an experience. I orgasmed easily (and almost instantly) with this and future efforts could probably give me a g-spot orgasm. I was so impressed with how the texture felt! And in that horny moment I was having, I just had an urge to try this anally. Because it has a "base" it is safe for anal, so I gave it a go. I was so wet, surprisingly I didn't need any lube (But don't do what I did, okay? Always use lube when you're about to have any kind of anal exploration), so I went ahead and put the toy in, slowly. Oh my god it was amazing. Not only had I never felt anything like this vaginally, but anally it was a dream come true. I'm in love! I came again, also using my Eden Velvet G vibrator. The kind of orgasms this toy can bring have the potential to be earth shattering.
This content is the opinion of the submitting contributor and is not endorsed by EdenFantasys.com
Thank you for viewing
French kiss
– textured glass g-spot dildo review page!