Dual Density Debates---The Hottest Rod Down Under.
This Austrailian-made dual density silicone dildo should not be overlooked---especially by those who don't want to give up delicious texture in their quest for a squeezable dual-density toy. Hot Rod's veins are a massaging dream for vaginal and anal walls alike, and the firm-but-kind curve will help you hone in on your spots. They stylized realism can be played up with a flesh tone, or played down with a swirly chocolate-batter pattern. This sweet Hot Rod will make you smile Down Under.
Published:
Pros:
Subtle but not-too-subtly veiny texturing, lots of squishy silicone at base to grip with kegels.
Cons:
Coronal ridge could be more defined, base could be a little bigger to stand more easily.
USE
If you're looking for a silicone dildo for its wonderful sterilizable, body-safe and odor-free properties, and you want to find one that's at the same time strong enough to hold its own weight, but at the same time soft and squishable enough to give your muscles something to clench around, the realistic feeling of a dual-density dildo is going to be your best bet.
VixSkin, from Vixen, and O2, from Tantus, are two well-known dual density families, but Sensa-Feel silicone from Australia's Downunder Toys is talked about less often. I had been pretty deeply interested in sex toys for almost nine months before I even realized that the Hot Rod was dual density---and that's a darn shame! I should have gotten my hands on this stiff-in-the-center, soft-in-the-skin, harness-compatible, anal-safe, wonderfully veined dildo a long time ago!
CONSTRUCTION
Outlaw's Sensa-Feel offering that Eden stocks is the Hot Rod. It's a stylized realistic cock, following a banana-like curve so your g-spot or p-spot is not neglected, with a delicious raised texture on the concave side of the curve which smoothes out across the back. It has a visible but not exceptionally felt coronal ridge, so the vein-like texture, expertly rendered in a squishy silicone skin, is the most interesting feature of Hot Rod.
Hot Rod's stylized realism can be either heightened by choosing a flesh-toned peach version, or lessened by choosing a swirly brown style that looks just like chocolate cake batter. My favorite color is brown, and it's rare to come across a brown dildo that isn't trying to be highly realistic---this swirly cake-batter color makes me very happy, and blends into my bedroom better than any of my non-wooden sex toys. On top of being extremely pretty, Hot Rod is made with exceptional skill. The 6.5 insertable inches are placed atop a lovely triangular base, which is topped with the squishy silicone layer. The head of the shaft is soft and squishy, but not quite as squishy as the heads of the Lone Star and Revolution (it feels like the firm core starts closer to the head of the cock in Hod Rod)---and I really enjoy the fact that there's a little meatiness to the head. The edges of the corona are quite soft, though, so there is no insertion 'pop'. Going down the shaft, the veins along the upper wall of the vagina do a perfect job, thanks to their squish, of massaging---subtly, but not too subtly. The squishiness increases as you get closer to the base, letting your kegels (or sphincter) really go to town during orgasm, which was a fantastic design decision on Downunder's part.
My Hot Rod measures 1.8" diameter at the g-spot and 1.75" diameter at pubic bone, so it's a little bigger than your average dildo, though if your typical size is a hair under these diameters, a dual-density dildo is a good tool to move up with thanks to its flexibility.
PERSONAL IMPRESSION
As a well-established texture lover, Hot Rod has been an incredible find for me. It has all the great properties of dual density silicone (the ability to squeeze the living daylights out of it with my kegels, while still being firm enough to give my g-spot what it needs), without making me sacrifice texture. Personally, the only improvements I could suggest would be a little bit more pronounced coronal ridge (I think a cross between the Hot Rod and the
O2 Cush
would be my ideal dual density dildo), and perhaps a little bulkier of a base. The base serves its purpose for harness use an anal use, but Hot Rod's a little top heavy when it's sitting on display. That's hardly a big deal, though---I'm sure Hot Rod is going to spend more time inside me than on my shelf.
Experience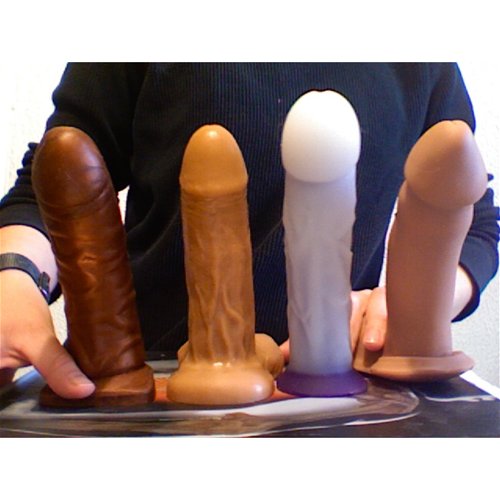 Deciding which dual density silicone dildo is best for you takes a little bit of research. There are lots of models available for most of the lines available on Eden---but still a comparison among the differences among lines is worth making. As representatives of each line, this pictures shows (L:R) the
Downunder Toys Hot Rod
, the
Vixen Lone Star
, the
Tantus O2 Revolution
, and the
Happy Valley Lucky
.
All of these dildos are similar in their body-safeness, their odorlessness, and their sterilizability (10% bleach wipe or boil for 3 min). They are all also equally more sensitive to interactions with silicone lubes and to being stored in positions other than upright, thanks to their soft outer layers being composed partly of dimethicone. However, if you care for them well, any of these dildos will last you a lifetime. Most importantly---as long as you choose a dildo that's the right size, shape, and composition for you, you'll be extremely satisfied by your choice.
To help arm you to make the best choice, I've made some drag comparisons, some outer layer softness comparisons, and some inner core firmness comparisons. Hopefully they'll help you to choose the best mix of firmness and softness for you. Even though I'm presenting graphs, these aren't really scientific results---it's just "how they feel to me."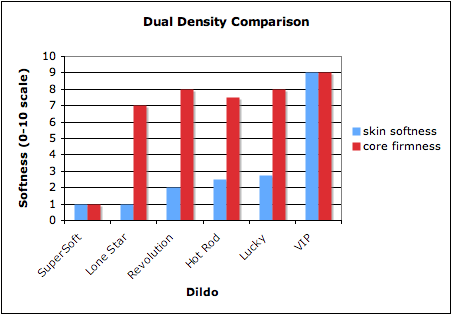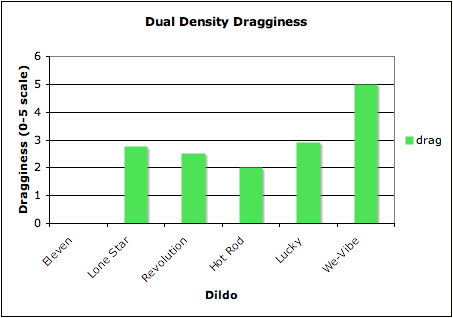 For comparison, I used the softest (
VIP SuperSoft
) and firmest (
VIP
) silicone dildos I own, and also one of the least draggy (
Njoy Eleven
) and one of the most draggy (
We-Vibe 3
).
Which one will be best for you is still your choice---but hopefully this guide will help a bit.
This product was provided free of charge to the reviewer. This review is in compliance with the FTC guidelines.

Thank you for viewing
Hot Rod
– dildo review page!