Pygmalion's Cock
Average girth, average length, average shape---don't let them fool you! The VIP achieves eudaemonia by providing everything you need in the perfect measure. Perfect firmness, artful curve, skillfully sculpted ridges to please your back wall, g-spot, p-spot, or even your clit---the VIP is the cock Pygmalion must have sculpted to match his ivory bride---and it has become my favorite silicone dildo.
Published:
Pros:
Ideal design, artful curve, sculpted features both felt and seen---my favorite silicone dildo.
Cons:
No defined 'Corpus cavernosum urethrae', but the 'Corpora cavernosa penis' feel great.
PYGMALION'S COCK
Pygmalion is the man of myth who sculpted the perfect partner of ivory, and fell in love with her in the process. As soon as I unwrapped the VIP, I was sure that Pygmalion had sculpted himself a cock to suit his ivory bride, and that Tantus had cast it in firm silicone and sent it to my home.
From a faraway photograph, the VIP is easy to overlook. It seems like an unassuming stylized realistic dildo. Its 5.5 insertable inches and 1.5 inch diameter are just a smidgen larger than the average erect penis. Its "unremarkable" size and design combined conspired to keep me from paying much attention to it--- this, my friends, was a mistake. As
Aristotelian
ethics
would demand, the way to approach excellence is to find the balance between excess and deficiency---and the VIP strikes the perfect artistic balance.
Now that I've tried Pygmalion's Cock, it has become one of the prides of my collection. If I was forced to give up all my silicone toys but one, I would bid a fond adieu to my
Wave
, to my
Jollies
toys
, my
Lelos
, and even to my beloved VixSkin
Lone Star
. VIP would be the one I'd keep by my side.
CONSTRUCTION
While the form of the VIP may be understated from afar, its function is magnificent. Simply seeing the sculpted glans up close had me swooning---it looks as though it's been sculpted with love from clay, and I can almost see a thumbprint. This level of detail excites my ardor for craftsmanship. The matte silicone is extremely firm, and while the cock looks like it was brought into being by strong skilled hands, the material is not at all pliable, and only barely bendable. The medium from which a sculpture is formed has a profound effect on the final product. Tantus' premium blend is the ideal material for a sex toy, for me---the rich black silicone is odorless and body safe, and extremely easy to sterilize (whether with boiling water or with a weak bleach solution). The matte surface does not collect lint, and the cock retains warmth, so it won't feel as cold as Galatea's ivory when you hold it close. Most importantly, the firmness allows Pygmalion's cock to apply pressure inside me, and resist the gripping of my muscles as it brings me to orgasm.
Pygmalion's cock was designed with a smidge above average girth and a hair above average length---but a glans so magnificent that you won't believe it until you see it and feel it.
The defined ridge of the glans is brilliant. It is pronounced enough and firm enough to provide undeniable sensation to the back wall of your vagina (or ass), but it does not protrude far enough to cause any unpleasant sensation. After the small valley left in the ridge's absence, the girth of the shaft quickly resumes its position so your muscles don't start to miss the girth of the head.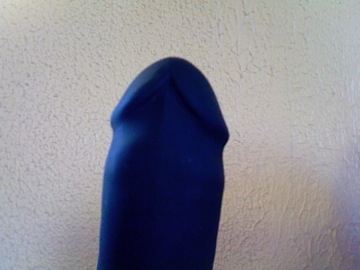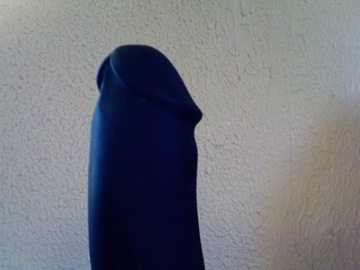 Moving inward with our thrust, we have the ideal curve of the shaft of Pygmalion's cock. Arching adeptly upward, the shaft holds (and rocks, and thrusts, and anything else you please) the cock's head directly into your g- or p-spot. A homing device comparable to the
Pure Wand
or
Seduction
, but with a non-spherical head, which feels much more organic as it pleasures you---almost human.
As the curve aims to stimulate your deeper centers of pleasure, the shaft fills out at the base, inspired by the
Corporea cavernosa penis
of the human specimen, to meet your body's contractions upon orgasm.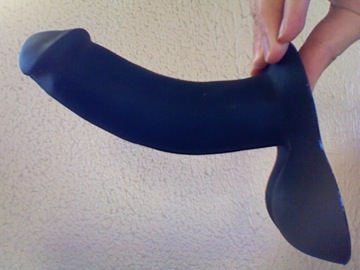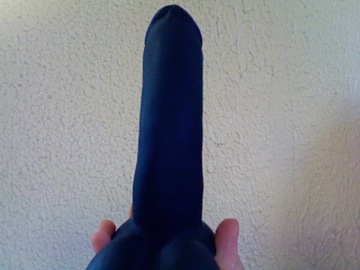 My very favorite part of Pygmalion's cock (thank goodness I'm not forced to choose) is the sculpted underside of the head. The ridge representing the urethra meets the edge of the glans with better-than-real clarity. The firmness of the silicone here makes this convergence spot a center of pleasure---I can grind this into my g-spot for orgasms in less than five minutes. Even massaging my clit with the inspired intersection can bring me to my knees in record time.
If it helps you to understand how much I love this feature---after falling in love with Pygmalion's cock, I picked up the new
Super Soft
version, hoping to love the variation on the theme. While the Super Soft VIP is nice in its own way, thanks to its firm sculpted head, the traditional VIP is far superior--a five-star cock and my favorite silicone sculpture.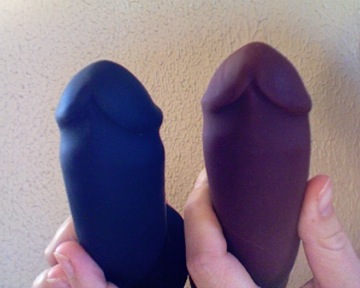 Experience
FINAL THOUGHTS

Masterful as Pygmalion was, I can hardly believe how incredible this silicone sculpture looks and feels. I don't know how one man could have such an inspired knowledge of what would make The Perfect Cock.

Or maybe Galatea was a pegger?
This content is the opinion of the submitting contributor and is not endorsed by EdenFantasys.com

Thank you for viewing
VIP
– realistic dildo review page!