A Perfect Ten, But Not Quite An Eleven.
The Mighty Eleven almost defies summarization. More than a toy, the Eleven is an experience---an experience of pressure, and of girth, and of weight. Artfully sculpted of stunning stainless steel, it will make its way to knead you, to fill you, and to strengthen you. When you set eyes on it, when you grasp it, when you are filled by it---you'll understand why the Eleven is a Perfect Ten.
Published:
Pros:
Exquisitely-crafted stainless steel. Delicious ridges compliment the head, and it won't flip over.
Cons:
Veblen pricing, heavy for missionary-style solo use.
The Mighty Eleven.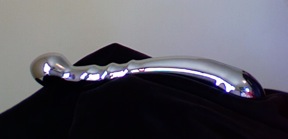 I'm not vain enough to suppose that my photography skills are equal to this stainless steel beauty (or even to the pictures that have already been uploaded). But this one is mine.
When your gaze falls upon the Eleven, you'll stop in your tracks to consider the 316-grade, mirror-finished, stainless steel magnificence that you're about to fill yourself with. When your mortal hands lift 2.75 pounds of immortal splendor, you will grasp the immensity of the experience you're about to have. When the Eleven makes its way into your orifice of choice (with your lube of choice), you'll be thunderstruck. No lesser dildo---no lesser sculpture---no lesser scepter could apply this kind of pressure to your g-spot, your prostate, your body.
The Eleven experience is a combination of pressure, girth, and weight.
The focus on the g-spot is incredible---only the
Pure Wand
and the
Seduction
compare. Unlike its C-shaped younger brother, though, the Eleven doesn't flip upside-down should your hand relinquish its grasp on the steel to tweak a nipple.
Fill yourself you will---the Eleven has two ends, the larger of which is two inches diameter, and the smaller, graced with three steel ripples, is one and three quarters inches across. Each of these heads is pronounced---the girth is worked up to and worked down from gracefully, and is followed by a neck which lets your entry muscles relax a bit as the bulk of the Eleven presses into the centers of your pleasure. The neck on the smaller end, with its ridges, is especially nice for massaging the entrance of the vaginal canal. To be quite honest, the girth of the two inch end is hard for me to take. I squeezed it past my pubic bone twice to be able to tell you how the g-spotting works (it's marvelous!), but the pleasure didn't outweigh the pain of inserting something unyielding and larger than my anatomy---especially when the smaller end doesn't hurt one bit. I did practice with more forgiving toys of large girth (like the
Lone Star
) before making the leap to the Eleven. I've been pleasantly surprised by the endeavor---I was a little worried that I'd stop feeling fulfilled by more slender toys (and---rue the day---the 'organics') but that hasn't been a problem at all. I still love my darling 1"
Gold Laced G
as much as I ever did, even if other days I'm loving something just under 2" in diameter.
The Eleven has weight. This is actually only partly a blessing. I have strong thrusting arms, so I don't get tired while using it. I also have strong pelvic floor muscles---but if I hold the Eleven inside myself while I'm on my back, the weight of the head actually pulls my back wall down, away from my g-spot. Of course, if I flip over onto my knees, the weight is forcing itself directly into my g-spot, and is a 2.75# hunk of heaven. Sadly, I only really use dildos on my knees when I have an audience, as it's slightly less physically fulfilling for me than being on my back. I'm so sad that gravity pulls the Eleven away from its natural home inside me. Not all is lost, though---the Eleven can be easily wielded by a partner. For solo use, though, I've been using it as a kegel exerciser in hopes that one day I'll be strong enough to be its equal.
Because the weight is too much for my well-practiced pelvic floor to grasp tightly, I can't quite give the Eleven the 5 stars that every other user able to handle the girth has crowned it with. Still, thanks to the body-safe sterilizability, the immortal elegance, the inspired design, the unadulterated sexiness of steel, the sheer beauty of this toy---if it has caught your eye, do not be dissuaded. The Eleven
is
a Perfect Ten.
Experience
AND NOW FOR A FEW WORDS ON ECONOMICS
Some items are status symbols. Certain brands of purses, particular models of cars, jeans produced by a designer with a fancier name than Levi Strauss... there are a few products which make the status-conscious suck in their breath at the mere mention of their names.
This status symbol effect can be the result of many things---excellent design and craftsmanship, an enlightened ad campaign (which can include the product being used by public figures or key celebrities in popular shows), lush packaging (like a pink satin-lined leather clutch with a magnetic seal) or even, interestingly enough, the Manufacturer's Suggested Retail Price. With some luxury goods (known as
Veblen goods
), a high price indicates to consumers that this good is one to be coveted. If the price were lower, it would not stand out in consumers' minds as a beacon of luxury and status.
The Eleven struck me as much more expensive per weight than other Njoy toys. I found some neat information when I was seeking the price-per-small-weight of stainless steel (including this
incredibly fascinating website
and this
handy commodities overview
, but while prices-per-small-weight of nickel are listed, I can't find a reliable figure for stainless. Luckily, Njoy has several exquisite toys available in 316 grade stainless steel, and all of their precise weights are listed on the manufacturer's website. I ran a quick linear regression on the price per weight of the small, medium, and large Pure Plugs and found the price to follow $0.137/g*(weight in grams)+$42.2. That is, for the small Pure Plug, the 140g of stainless steel cost about $19, and the remaining $41 of the small Plug's MSRP goes to the retailer and to Njoy to offset the costs of design, production, packaging, customer service. I tested this regression on the Pure Plug 2.0, whose 600 grams should cost about $82, leaving about $32 for Njoy---not a perfect fit with the model but quite good. The Eleven, on the other hand, weighs 1250g, and so its materials cost should be about $172 dollars. In keeping with the "design, manufacture, packaging, etc. require about $40" theory we'd expect the Eleven to cost about $213. Instead, it is $299---this leaves about $88 floating around, making the Eleven appear to be in higher demand than the rest of Njoy's line.
So, as an economics nerd, and somebody who's not into conspicuous consumption---it kind of irks me that I purchased a Veblen-priced good. On the other hand, I have a steel fetish. And the Eleven's a Perfect Ten.
This product was provided at a discounted price in exchange for an unbiased review. This review is in compliance with the FTC guidelines.

Thank you for viewing
Eleven
– dildo sex toy review page!