Eleven Reasons You Will Njoy Eleven
Eleven inches of pure, unforgiving, stainless steel for you to Njoy. Trust me, Eleven will not let you down. You will be the envy of all your toy collecting friends with this bad boy in your toy box.
Published:
Pros:
Everything. Stunning, gorgeous, steel.
Cons:
Not for beginners.
1.The beauty.
I cannot tell you how gorgeous this toy is. Pictures can't do it justice. The smooth curves, the shine. Totally drool worthy. There is a reason it is so lusted after.
2.The weight.
Coming in at around 3.5lbs, this bad boy is not for the toy newb. Although it is heavy, the weight works with the toy. Using a nice rock, Eleven can bring you to a mind blowing orgasm in no time flat. Just don't drop it. You are likely to break your foot, or sink.
3.The material.
Stainless steel is gorgeous. It is completely non-porous and body safe. It could last you a lifetime with the right care. It is hard, smooth and unforgiving. During use, it feels WAY bigger than what it actually is.
4.Vaginal use.
Vaginally Eleven filled me up and had me begging for more. Take your time, rock it against your G-spot, feel the ripples of the smaller end. Want more? Flip it around and feel the big side. Rock it some more. Yes it is heavy but you will get the hang of it quick. It is amazing. Just remember, he is not one to be thrusted hard, he is big and mean and can easily bruise your cervix.
5.Anal use.
Oh yes. Eleven can also be used anally. I will admit that there was no way I was getting the larger end in. After some warm up though, the smaller end slipped in and was incredible. The bulbous head fills you up and the ridges give you some great pop. Just please remember to always properly clean your toy between orifices and partners.
6.Care.
Steel can be cleaned many ways. Wash it with soap and water, boil it, bleach it, toy cleaner it. Whatever your preferred cleaning method is, it will be fine. Just avoid using any type of abrasive sponge or cleaner on it or you will ruin the lovely polished texture. It is happy with any lube you have and a little will go a long way.
7.The size.
Size Queens and Kings, this is a must for your collection. Eleven is a total length of, well, 11 inches. It has 2 perfectly bulbed heads. The smaller end has a circumference of 5.5 inches while the larger end has a circumference of 6.5 inches. The large head forms into a smooth shaft and the smaller has a few pronounced ridges right under it for added stimulation.
8.The packaging.
Oh. Man. It comes in a black leather clutch. The inside of the purse it lined with gorgeous pink satin. Eleven is happily cradled in there. Perfect for storage or a night on the town. You know you want to tell people, after they comment on your purse, that your dildo came in it. I know I do.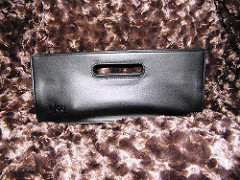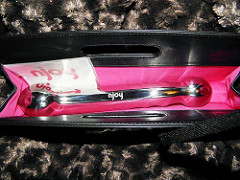 9.Temperature play.
Steel retains temperature like crazy. It was so cold when I first got it from the UPS guy that when I held it for just a few moments, my hands started to hurt from the cold. Dip it in some warm or cool water for a different sensation. Just be sure to test the temperature on the inside of your wrist or elbow. You do not want to burn or freeze your bits.
10.Weapon.
If you are asleep and you think you hear a burglar, grab Eleven and whop that bad guy in the head. Eleven can take it but the burglar will be out cold.
11. Perfection.
This is some stainless steel perfection. It is one that will be hard to beat. It is beautiful, amazing, and just incredible. This was my first stainless toy. I figured go big or go home. I saved all my Eden pennies until I had enough. Let me tell you, it was worth it.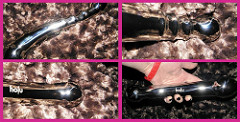 Follow-up commentary
2 months after original review
This love affair has not ended. I don't think it ever will. Eleven is a regular attendee in my play time routine. I might give myself carpel tunnel syndrome using it so much, but it is worth it.
This product was provided at a discounted price in exchange for an unbiased review. This review is in compliance with the FTC guidelines.

Thank you for viewing
Eleven
– dildo review page!