Here ye here ye, a new King has been crowned.
Ah, the Eleven. Quite possibly the Holy Grail of dildo's. Hard, large and in charge! This 11", 3.5 lb work of Stainless art demands attention from all of its subjects. Pay homage to the highly polished surface, the superb temperature play abilities and the longevity of Stainless. Prostrate yourself before the almighty Eleven and let it's Stainless, hard love bring you to orgasmic bliss.
Published:
Pros:
Its Stainless and shiny what more do you need to know?
Cons:
Price?
Behold, the mighty Njoy Eleven

Come, hear the tale of the new King.
We begin our tale almost a year ago, our hero found the kingdom that is known as Edenfantasys. In this mighty kingdom, he found a multitude of objects used for pleasure and a knowledgeable community that is willing to help the lost soul find there way to orgasmic bliss.
While looking through the products of pleasure, his gaze fell across the mighty Njoy Eleven. Immediately he knew that one day this toy would be in hand and ass. After looking through the
spec's
, he knew that it would be sometime before this object of his desire would fit in his virgin ass. Thus began his quest.
Fast-forward nine months, and many anal toys. The beloved kingdom of Eden issued a proclamation that all of its subjects would receive a discount code that would provide a significant price reduction. Lo and behold, the day had come for our hero to acquire this Holy Grail of dildos.
When the package finally arrived by brown clothed messenger, our hero was shocked by the weight of said package. At 3.5 pounds, this toy demands respect, drop it on your foot and it may very well break a few bones. Nonetheless, our hero rushed into his domicile to find a blade to open the discreet package. Inside he found a white cardboard box covering a black leather clutch style handbag. Inside the mighty Eleven shined in all its glory surrounded by deep, rich pink fabric along with a pamphlet of Njoy products and care instructions.
He was struck dumb with awe! The exquisite craftsmanship, the mirror like polished surface and the shear size of this fine tool of orgasmic bliss. The three waves on the smaller end beckon to massage your sphincters and prostate. The large end is just begging to stretch you to smooth hard pleasure.
He gently reached inside to hold in hand what had been just a dream those many months ago.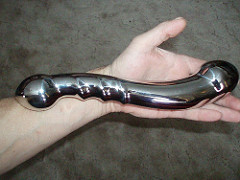 There was but one thing to do, a quick cleansing with soap and water (you can boil it, use a toy cleaner or top rack of the dishwasher with no soap) and run a warm bath. Grabbing his favorite silicone lube, any lube will work, he ventured forth to realms of pleasure unknown.
Experience
The Eleven is not for the faint of ass, it's big, heavy and demands respect when used anally. Or vaginally for that matter. There is no wild thrusting unless pounding the shit out of your ass is your thing, not for me. I find a slow thrusting works best. It also works well just sitting in my ass like a plug during sex with the wife. I lay on my back with it resting between my legs on the bed, with light pelvic thrusts into the wife the Eleven provides awesome stimulation to my Prostate.

For solo time, I use a few toys to ready my ass for the size and proceed with great care to get the Eleven in. The waves on the small end are very nice for stimulation to the anus and prostate. I was surprised that the waves felt so good. I was thinking that they would be uncomfortable due to their hard nature, boy was a wrong. My only complaint with the smaller end is I can not insert it enough to fully use the three waves, I can only use two. Still my ass enjoys it very much and with a small bit of penile simulation I can climax in no time.

The large end is very nice as well, although not as stimulating. To me it works better as a plug, this is my end of choice when the wife is giving me oral or during sex. Once again the size makes it hard to thrust, there just is not that much room in the rectum for that. It does give incredible pressure to the P-spot, if the wife simply wiggles it while giving oral I can not contain myself and have the most incredible orgasms.

One of the most amazing properties of Stainless steel is the ability to hold onto temperatures. I find that it will hold the temp twice as long a glass, hot or cold. It is so freaking awesome when after a play session when I catch my breath and I am able to move, the Eleven is still hot from my body temperature. This can be 5-10 min after. Just remember to test it on your inner wrist first if you are going for the hot side of temp play. A burnt ass will not be fun.

I can not tell you how much I njoy the Eleven. I highly recommend it to any body that can take the girth and enjoys firm, hard stimulation. It truly is a toy for Kings and Queens.

Thus I crown myself a size King. I am not sure if I will ever find a toy to top the Njoy Eleven.

I would like to say a special thanks to Kindred. His generosity during the holidays helped to make this dream a reality. Thanks Kindred, you are a great friend.
Follow-up commentary
5 months after original review
Words can not explain how much I love the Eleven. Even though I can not do a lot of thrusting with it, it is still the most stimulating toy I have for back door play. Maybe it is the coldness of it when I pull it out to use it, the very full feeling it gives or the excellent pressure it applies to my prostate. Anyway I look at it, this toy rocks my world. I am still amazed at how it will hold temperatures for so long. Even after use when I go to wash it off it is still so warm. Even better is when it is cold it takes a good long time to warm up.
This content is the opinion of the submitting contributor and is not endorsed by EdenFantasys.com

Thank you for viewing
Eleven
– dildo sex toy review page!