Ooh...shiny...
Looking for a toy that's not like any other? Take a look at the Eleven. Part G-spot toy, part sculpture, all awesome.
Published:
Pros:
Stainless Steel
Lube Friendly
Great for G-spot
Cons:
Heavy
May be too large for some
Ah, the Eleven. The most expensive toy I own. I have to say that it is simply impressive. It's made of solid stainless steel and is roughly 11 inches long. The circumferences of the heads are about 6.5 inches for the larger head and 5.5 inches around for the smaller head. Both heads are curved slightly for G-spot stimulation.
Cleaning is easy. Njoy recommends cleaning with soap and water on a day-to-day basis, and boiling or 10% bleach solution for deeper sterilizing. It's very lubricant friendly, so you can use any lube you choose.
Let's talk about packaging for a second. The Njoy Eleven comes packaged in—I kid you not—a leather clutch with a magnetic closure. Inside is lined with hot pink fabric. It may not be as easy to hide as boxes or smaller storage bags, but, I mean, it comes in a leather purse!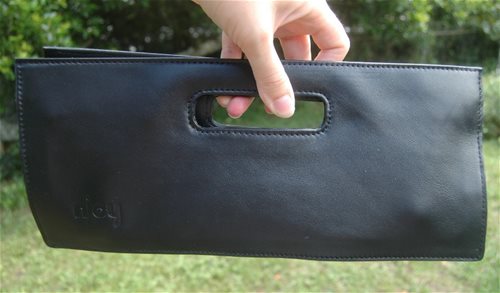 As for use, the Eleven is extremely unique. Although I can't feel the ridges behind the smaller head in use, both ends are amazing. The size and weight makes hitting the G-spot effortless, especially with the larger head. The smoothness of the steel is a completely different sensation from other toys. Insertion is both effortless and intense.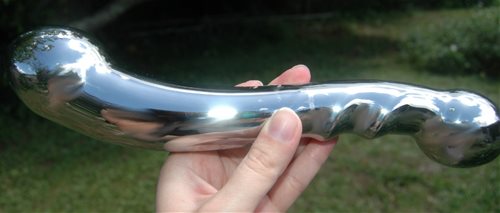 Now, I have to say that the Eleven is big. I mean, you can look at the specs, you can look at the pictures, but it doesn't quite do it justice. The Eleven is BIG. Trust me. I did all my research on it and was still surprised by the size when it arrived. Those that do not like larger toys need to stay away from this one.
The other issue that needs to be addressed is the weight. The Eleven is HEAVY. My husband joked that you could use it as a handweight. If your arms get tired easily, this is not for you. At the same time, it's partly the weight that contributes to the sensation, and you don't necessarily need to move it very far or very fast. The mere presence of the toy does a lot of the work.
In the end, I'd recommend the Eleven,
but
it is not what you'd call a necessity. It is amazing in it's own right and I love it. It's big, beautiful, smooth, shiny, and almost a piece of art. But art comes with a price tag. If you can afford it, get it. It's worth it. If you can't afford the Eleven, I suggest you opt for the Pure Wand. I'd love to see Njoy produce something in between the two.
This product was provided at a discounted price in exchange for an unbiased review. This review is in compliance with the FTC guidelines.

Thank you for viewing
Eleven
– dildo review page!