Exploring With My Blue Baller
The Blue ball explorer is a glass dildo that has a flared base. The dildo is alined with bulbous texture that some might not be a fan of. The size of the dildo is decent, but some might find it too thin. Since this is a glass dildo it can be used for temperature play, but it can also be shared with partners if proper cleaning is done.
Published:
Pros:
Temperature play, flared base, safe material, textured, decent size, and can be boiled.
Cons:
Expensive, might be too thin for some, might be too much texture for some.
Use:
Blue ball explorer is a glass dildo that can stand on its own on a flared base. Since it has a flared base it can be used anally and vaginally. This can be enjoyed by men and women alike. The flared base acts as a handle making it easily guided by a partner. When using this dildo the bulbous texture will give popping sensations for the user. Inserted anally, the blue ball explorer can be worn for extended periods, like a butt plug. When inserted vaginally the bulbous texture has the potential to rub the G-spot, but this might not hit all G-spots. There is no curve to the shaft, so G-spot stimulation is not the intention. The dildo can be used for double penetration, but this will depend on your anatomy. Glass can be uncomfortable for some since it is an unforgiving material.
Material:
The blue ball explorer is made of
Pyrex
glass. Pyrex glass is made from a mixture of boron, sand, soda and ground lime. This results in a liquid that needs to be cooled at a rate crystals can't form, so you end up with a beautiful, seamless, and flawless glass dildo. Pyrex glass has a material safety rating of a 10. It is a tasteless and odorless material that is latex free, phthalates free, hypo-allergenic, and non porous. Upon arrival, you should completely inspect all your glass toys. You are looking for any surface flaws and cracks. Don't use a flawed or cracked dildo. Eden has a great
return policy
. Should you drop your glass toy be sure to inspect it completely before use. If this type of glass were to break then the glass will not shatter or splinter, but instead break into larger pieces.
Glass is a firm and rigid material. That can change temperature to its surroundings, so, glass is great for temperature play. To change the temperature of the toy you should run the dildo under warm or cold water. You should not try to boil or freeze the dildo for temperature play, since this would be an extreme change, which could be dangerous to insert. You can boil glass for sterilization purposes allowing you to share it with partners without condoms. You can use any lube with glass because it is compatible with all lubes. Just remember glass becomes slippery when wet. This dildo is waterproof, so you can take it in the shower. However, using it in the shower you need to use caution because you could drop and break it or it could get caught in the drain.
Design and Size
Note: All glass toys are hand made, so the size can vary. And you can have unique flaws that differ your toy. However, they are all usually close.
Thew design of the blue explorer is similar to the
glass probe
. The blue explorer is marked as 7" long, but mine is closer to 7.5" long, however, insertable up to 7". It is made up of five 1" long balls that are attached to a post that has a flared base. The tip of this dildo is rounded to help with insertion, but this may not be the easiest. The top ball is blue and has the largest circumference at 4.25"(1.35" diameter.) The remanding balls are 4" in circumference (1.25" diameter.) the rest of the dildo is clear aside from the white "Phallix" symbol on the bottom of the flared base. After the balls the dildo thins out to 3" in circumference (1" diameter.) This then goes out to the flared base that is 5" in circumference (1.6" diameter.) The size is suitable for all levels of users, but girth lovers might not find this appealing. This is not a dildo for those who don't like firm texture, since there are many bulbs along the shaft.
I am excited about some of my flaws that make my dildo unique. The flaws my dildo has are not bad flaws, but instead markings that make my piece stand out. My third ball and the fifth ball have ripples in the design. These are very slight and don't effect anything. The bottom of my flared base is not flat, so it doesn't stand well on its own. This is a possibility with any glass dildo you purchase.
Standing: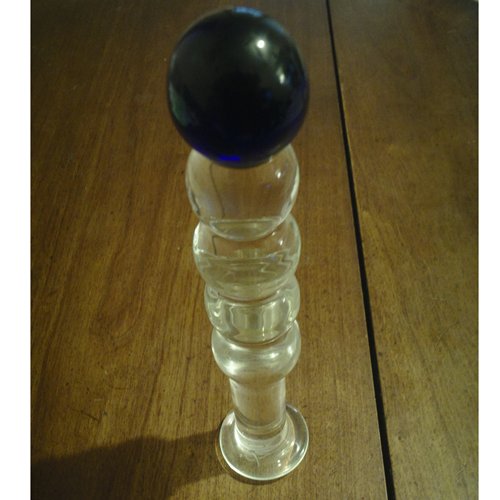 Laid flat: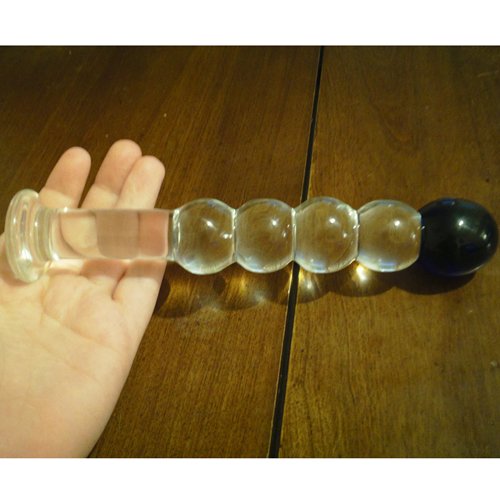 Standing next to Blue Swirl: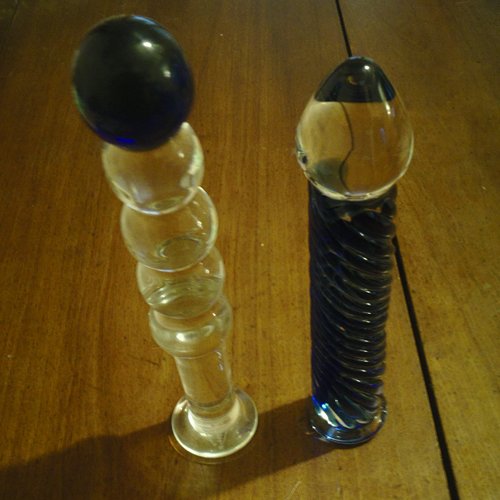 Laid next to Blue Swirl: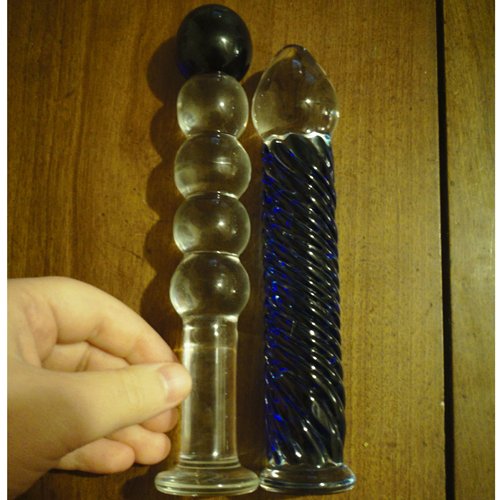 Experience
Performance:
I like to use this dildo anally and vaginally. The bulbous texture gives a lovely popping sensation. The bulbs also give firm pressure on my shallow G-spot, which give me a G-spot orgasm. When I use this anally I try to wear it like a butt plug. I really like to use it like this, but I have to be careful how I move around because the firm and rigid material scrap my pelvic bone at certain angles. I do find that I have to remain seated if I want to wear it longer because it tends to slide out. My favorite use of this dildo is combined with oral sex and the dildo is guided by my partner. Since glass is tasteless and odorless, it is great to use during oral sex.(Remember that glass can bruise you cervix with heavy thrusting, so let your partner know your limits.) The bulbous texture rubs my vaginal or anal walls so nicely, that it creates a decent amount of wetness for my partner. I can't find a flaw about this dildo, except for the expensive price.
Care and Storage
Glass is extremely easy to care for. You can wash it with warm water and soap, toy cleaner, toy wipes, or with a 10% bleach solution. However, you can also throw it in the dish washer on the top rack or boil it for 3-5 minutes. You should clean in between uses and users.
This dildo came with a purple velvet pouch with a draw string that closes with a plastic adjustor. This is what I use for storage and what I recommend storing this piece in. You should store it somewhere it can't fall or get damaged easily. I store it in my dresser with many other toys.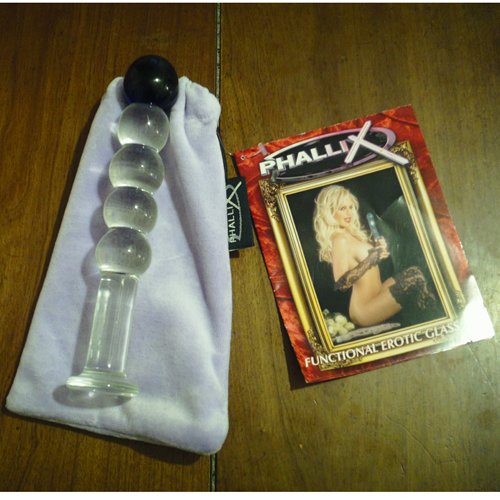 Note: Pouches for Phallix toys vary.
This product was provided free of charge to the reviewer. This review is in compliance with the FTC guidelines.

Thank you for viewing
Blue ball explorer
– glass dildo review page!