Glass is Awesome! Part 5
I absolutely love Icicles #29. With its texture and bulbous head hitting my g-spot just right, it's one of the most exciting toys that I own.
Published:
Pros:
Feels great, easy care, waterproof
Cons:
Might be too much texture for some people
If you haven't seen my other reviews, I adore glass. I love that it is low-maintenance, aesthetically beautiful and most important, pleasurable. The Icicles #29 is my fifth glass dildo, and it's no exception to the rule. I was thrilled when I found it on sale for 40% off, but believe me when I say it is worth every penny of the $40 regular price.
First things first, Icicles #29 has the best packaging I have *ever* seen. As you can see, it comes in a tasteful, albeit not discreet, box. Inside of the box is a styrofoam cutout where the dildo itself rests. This packaging not only looks nice, it keeps your dildo safe during shipping and also storage, if you choose to keep it in the original packaging.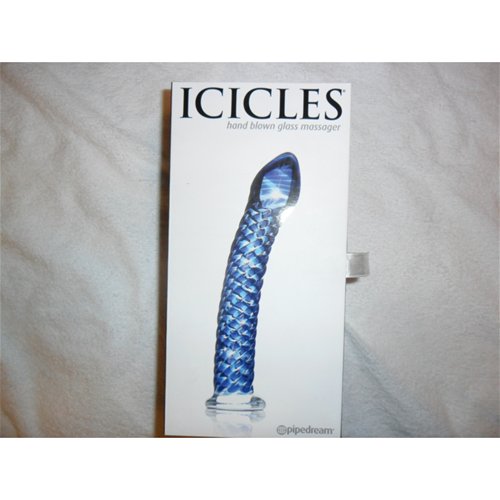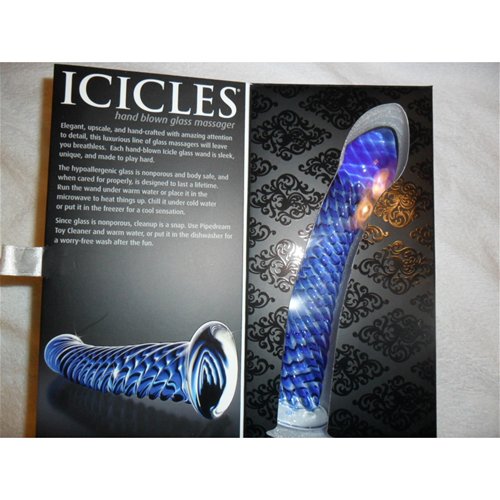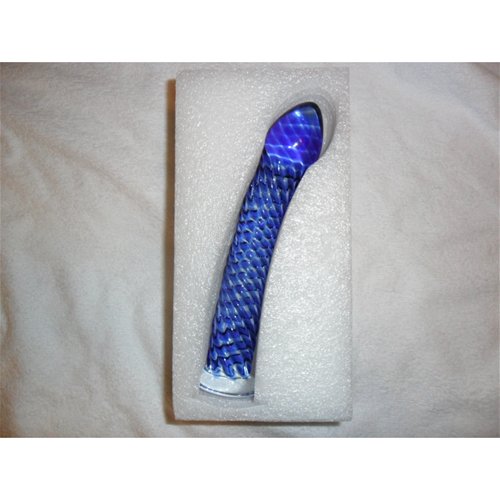 Glass is of course non-porous and free of phthalates and other nasty chemicals. It can be easily cleaned with soap and water, toy cleaner, or even run through the dishwasher. The only precaution is to handle it with care since it CAN chip. If it does break, it's more likely to break into huge pieces rather than little chips. Borosilicate glass is sturdier than regular glass and will NOT break from normal use.
This particular toy measures a tad more than 3.5" around the shaft, and 4.5" around the bulbous head. That sounds pretty small, but keep in mind that glass is rigid. Combined with the somewhat intense texture, it should be satisfying to all but the most size-hungry of orifices. #29 is just shy of 7" long. Technically you could insert the whole thing, but my vagina stops at the last inch or so before it becomes uncomfortable. Your mileage may vary.
Size comparison next to large (8.5 oz.) bottle of lube: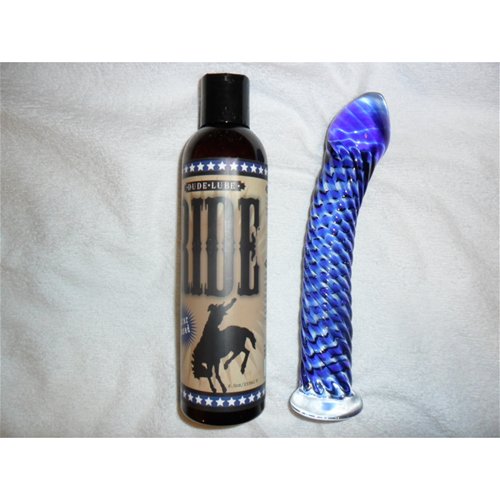 Now let's talk about texture. One of the fun things about glass toys is that they have so much variety in texture, from completely smooth to little nubs, to bulbs, to in this case, swirls. I own all of the above and I must say that, for me at least, #29 is the MOST intense dildo that I own thus far. It is almost too much, but in a good way. I love the way the swirls feel inside me, especially when I twirl it around.
Close-up of the texture: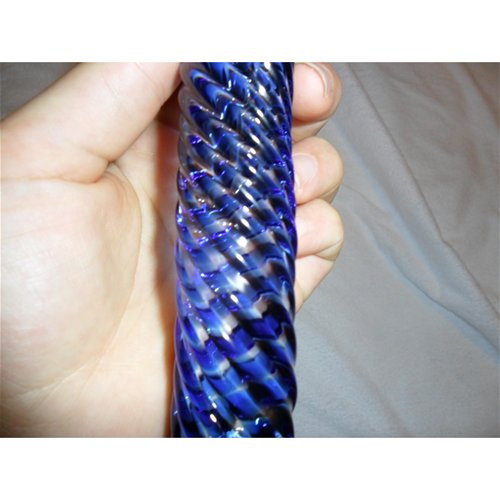 Experience
I have discovered that I love using glass toys as a warm-up for intercourse. My vagina is pretty tight, and sometimes sex is uncomfortable. If I use a glass dildo first, it can loosen things up just enough that sex is more pleasurable. I would encourage any woman who feels intimidated by glass because it's hard, to just try it. You might find that, like me, glass dildos that are smaller than a penis feel more comfortable even though the material is rigid. I would recommend a smooth toy to start out, and if you like it, maybe then try #39 or another textured dildo.
This content is the opinion of the submitting contributor and is not endorsed by EdenFantasys.com

Thank you for viewing
Icicles No. 29
– g-spot dildo review page!