Swirled Ribs- For His OR Her Pleasure
Icicles No. 29 by Pipedream is a lovely glass dildo. I'd recommend this toy to those who have tried glass before and know that they enjoy textures. The ribbed shaft is not as extreme as nubs, but the ribs can still be felt when inserted. Those who prefer no textures or have never tried glass before may want to look at other options.
Published:
Pros:
Inexpensive, has a base, tapered head, ribbed shaft, material, gorgeous, great for temperature play.
Cons:
Does not include storage pouch.
Icicles No. 29 by Pipedream arrived in a rectangular cardboard package. The front states the product name, company name, and has an image of the toy. There is a little ribbon at the front of the box that acts as a handle. The front of the packaging opens up like a book. Inside, there is a description of the toy on the left and a plastic window to see the toy on the right.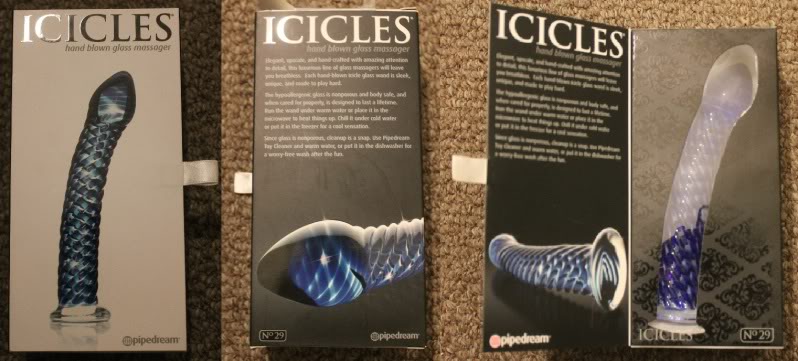 The back of the packaging states a bit of information on the toy and has an up close image of the head of Icicles No. 29. Inside of the box, the toy sits in a foam cut out. It's nice packaging and can be used for storage but it's rather large. If you want to conserve space, you may want to purchase (or make) a storage pouch for the toy. The packaging can be recycled.
The toy is made of borosilicate glass. The EF
Guide To Materials
states that the difference between borosilicate glass and regular glass is that it is less dense. This means that it is a lot more durable. If the toy were to ever break, it would break into large chunks rather than small little pieces. I own quite a few glass toys and have accidentally dropped a few of them more than once. I've never had any of my glass toys break.

Icicles No. 29 has a length of 7 inches, with 6 ¾ of those inches being insertable. The head of the toy is approximately 2 inches long. The head tapers to a point at the tip. The circumference of the head is 4 ½ inches at its largest. The head of the toy is smooth with no texture to it.
The shaft of the toy has a circumference of 3 5/8 inches. There is texture to the shaft of No. 29 and a slight curve to it. The texture is swirled ribs. The ribs stand less than 1/8 of an inch off of the shaft but can be felt when inserted. There is a base to the toy that has a diameter of approximately 1 5/8 inches. Below is a size comparison photo of Icicles No. 29 beside a 500mL bottle of water.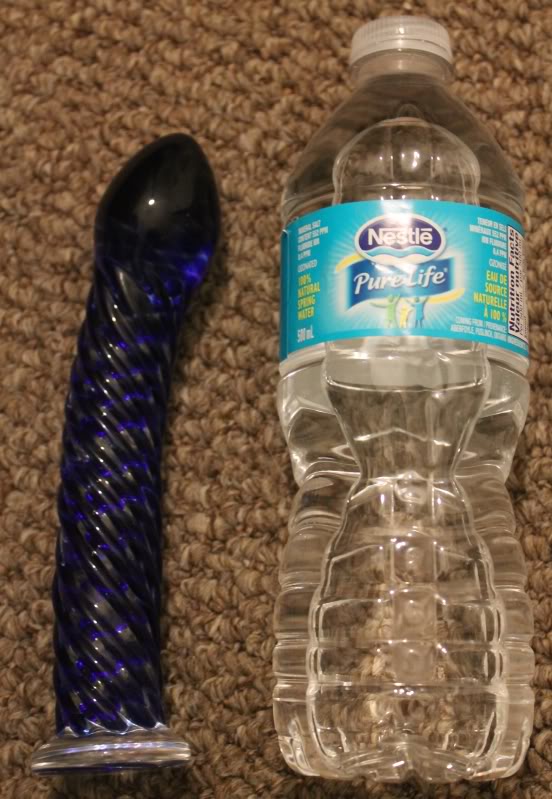 The flared base is really not that much larger than the bottom of the shaft. The very bottom of the shaft (right above the base) has a circumference of 3 ¾ inches and the circumference of the base is approximately 5 1/8 inches. I don't use toys anally but think that this base isn't flared enough to be used hands-free. Luckily, the toy has quite a bit of length. If you were using Icicles No. 29 anally, I'd recommend using the base as a handle just to be safe.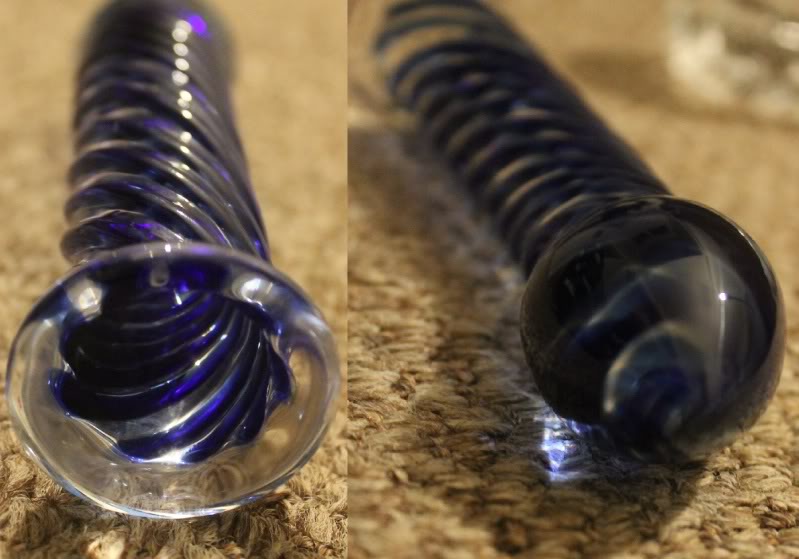 Being glass, you don't want to use the toy for hard thrusting to avoid hurting yourself. There is absolutely no give to the material- it is glass. You can use oil, silicone, or water based lubricants with the toy. One of the many nice things about glass is that you don't need to use a lot of lubricant with it. A small amount of lubricant goes a long way. The material doesn't absorb any lubricant like other materials can. If you use/purchase lubricant frequently, glass toys will save you money.
My favourite thing about glass toys is that they can be used for temperature play. You can warm the toy up or cool it down by placing it in a bowl of warm or cool water before play. The packaging states that it can be placed in the microwave but I'd recommend against that. If you like the warmer sensations, just place it in a bowl of warmer water before play. It retains the warm temperature nicely. Regardless of which direction of temperature you use, you should lay the toy against your inner arm before play. This just makes sure that you don't end up hurting your more sensitive areas.
I prefer the cooler sensations. If you've tried glass toys before and prefer the cooler sensations like I do, you know that after awhile of play the glass warms up to your body temperature. I'd recommend trying steel toys because they hold the cooler temperature longer than glass does.
Experience
...continued

I enjoyed using Icicles No. 29. I love the smooth, tapered head. I prefer this style of head compared to the bulbous heads that are just one big circle. The tapering makes it a lot more comfortable to insert. The base works nicely as a handle. The ribs, as I had mentioned, can be felt when inserted. I'm not new to glass and texture so I enjoyed it. This would not be my first recommendation to a beginner with glass. While the ribs aren't as extreme as nubs, the texture may feel a bit overwhelming to someone who has never tried the material before. There are more slender glass toys available with less (or no) texture.

The texture to the toy requires a bit more cleaning. It's not difficult to clean or anything. You just need to take a minute or so more than you would with a toy that has no textures. What's nice about cleaning No. 29 is that it can be fully submerged in water since there are no mechanical aspects to it. You can clean the toy with soap and water, toy wipes, or a toy cleaning spray. I find it easiest to get in between the ridges by just filling my sink with water and washing it with soap.

You can also sterilize the toy. This is important to do if you're changing orifices, using it anally, or sharing with another person. You can sterilize the toy by wiping it down with rubbing alcohol or a bleach/water solution, putting it in the top rack of your dishwasher, or boiling it.

Overall, I'm happy with Icicles No. 29! It's beautiful, a great price, and the texture feels great. I'd recommend this glass piece to those who have tried glass before and are comfortable with textured glass.
This content is the opinion of the submitting contributor and is not endorsed by EdenFantasys.com

Thank you for viewing
Icicles No. 29
– g-spot dildo review page!