Hit me with your best shot
The design of the Inked glass probe can be seen in several other g-spotting glass dildos, such as the Amethyst and the Bent Graduate. The reason this shape is so popular is that the strong bend makes it easier to give direct stimulation to the g-spot. The "Inked" decal doesn't look as glamorous in person as it does in the photograph, but it's still an alternative to the pink and purple choices.
Published:
Pros:
Strong bend for easy g-spot access. Double-headed for different stimulation options. Economical.
Cons:
The decal is on top of the glass rather than inside which cheapens the toy. No storage pouch
Sometimes ladies can feel like contortionists when using a straight dildo to stimulate their g-spot. Angling the base of the toy as far towards the butt as possible so it points up towards the g-spot makes for a funny arm position. In this compromised state, trying to maintain enough pressure on the g-spot is just too much sometimes.
The design of the Inked glass probe helps solve this problem in a few different ways. For one, the dildo is curved, creating a more natural angle for your hand to hold onto. It's also long enough that whatever end is sticking out serves as an ample handle. On top of this, the hard glass material makes for a stronger, more solid sensation. The glass has no give, so it won't bend into a different angle while thrusting. Like a tool, the design of this toy makes it easier to achieve a result. In our case, that result would be penetration pleasure!
There are a few other glass toys that are very similar in shape to the Inked glass probe. I've linked to these at the bottom of this review. What differentiates this toy from the others is the appearance. The colourless glass with the "Inked" decal are a departure from the pink and purple colours of the others. Also, it looks to me like the Inked glass probe has a less intense cure than some of the others. This may be a disadvantage, but consumers have to balance the aesthetic draw with the functionality and make up their own minds.
Here are some photographs of the Inked glass probe. The first is a straight-forward picture of the dildo, while the second is a view from the other side. So what you are seeing is the back of the decal through the glass.
Front View: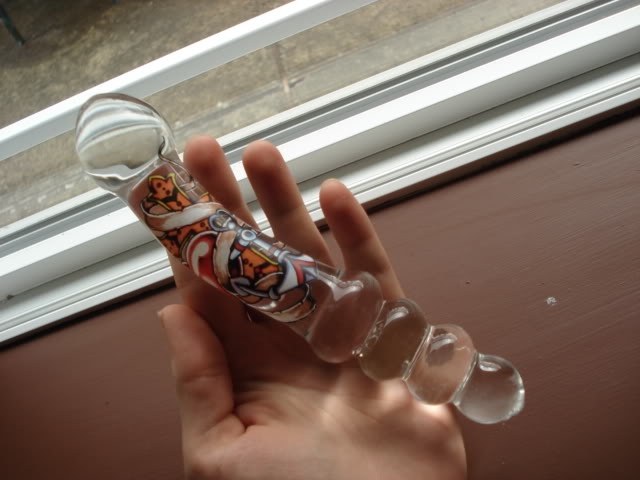 Back View: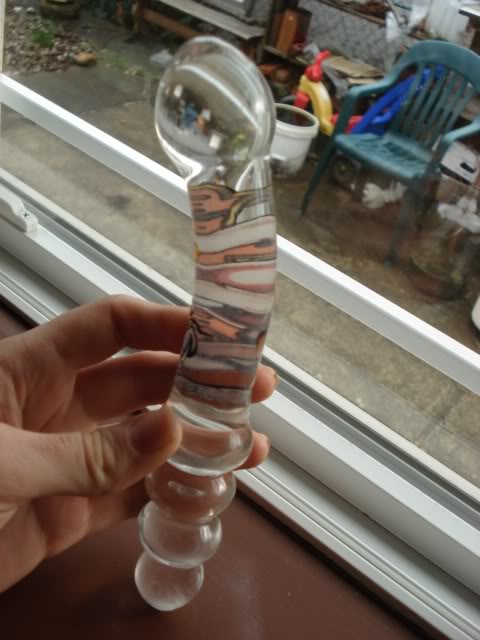 The Inked glass probe can also be used for anal play. The bumpy end of the toy is smaller in diameter than the big bulb, so it can be used for anal warm-up or all by itself. The bumps make for a fun sensation up the butt, as each one provides a little stretch and release. The larger end can be used anally as well if you are up for it.
Because the glass is completely hard, this dildo is best used with a more delicate touch. With softer material toys you can thrust away as hard as you like, but not so with this toy. Each movement you make with it will not be dissipated by the bending or squish of the material. This means it can create stronger sensations, but it also means that it's possible to be too rough with this toy. Listen to your body and communicate with your partner if you feel any discomfort during use.
Glass can be totally sterilized by boiling it in water for a few minutes, wiping it with a 10% bleach solution, or running it through the top rack of the dishwasher with no soap. This is an important step if you are switching between anal and vaginal use, or sharing the toy with partners you aren't fluid bonded with. Condoms can also be used on this toy for safe sharing. If sterilization isn't a concern, this toy can be washed with warm water and mild soap.
Pyrex glass is a totally body-safe material. It is also a breakable material, so don't drop it on hard ground or subject it to extreme temperature change. These actions can break your toy. Please check for any nicks or cracks in the material before using it. It would be best to store this toy in some kind of padded material. I like to wrap it in some nice fabric. Unfortunately this toy does not come with a storage pouch.
Here's the packaging front and back: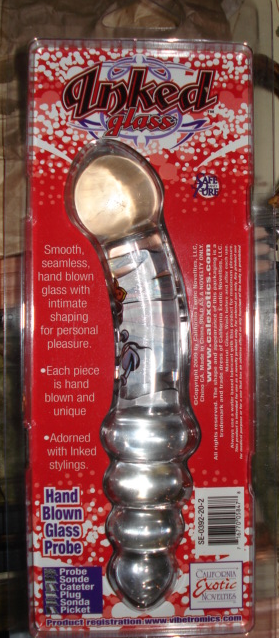 There's also a fun translation panel where you can learn different ways to say "probe":

Experience
The Inked glass probe was my first hard material toy. Really I have been lusting after NJoy's line of stainless steel insertables, but I wanted to try glass as a more economical choice before shelling out the big bucks for sexy steel.

I consider this experiment to be a total success, and am currently waiting for my Pure Wand to arrive so I can step up my game.

The price point of many glass dildos is really accessible, and honestly I have had a lot of fun with this dildo. Working with this hard material, I really experienced a whole different kind of stimulation to my g-spot and other areas in my vagina. I understand that the g-spot of most women really responds to pressure more than anything. With the unyielding glass, I am able to press as light or hard as I want to and feel that pressure directly inside my body.

I started squirting from using this toy. I got into masturbating in a standing position, slightly squatted. After doing this a few times with the intense g-spot stimulation of the Inked glass probe and clit stimulation, I squirted! It was so easy, that I wonder if I have been doing this all along, but wasn't at the right angle to see the liquid. In any case, that was really unexpected and interesting. It surprised me that squirting does not happen at the same time as orgasm necessarily.

As I said, I was a beginner going into my use of this toy, and I got a lot from it. I may try and remove the decal somehow, but will probably enjoy this toy for a long while to come.
Follow-up commentary
3 months after original review
The Inked glass probe... Well, I did get this toy as a test to see if I like hard materials dildos. Turns out I definitely do. Since writing this review I've gotten myself a Pure Wand which I love. I also bought another curved glass toy that is more aesthetically appealing than the Inked glass probe.

One thing I appreciate about glass toys is their lightness. It's true that I enjoy the heaviness of steel, but sometimes a nice light glass toy is just more relaxing. Also the glass does not get as cold as steel does from the ambient temperature in the winter.

As for the Inked glass probe itself... I'd say the main strength it still has for me is that bumpy end. Those little bumps are a feature that none of my other hard material dildos have, and I've enjoyed the bumps more now that I've moved on to other toys.

I would like to find a way to remove the decal permanently, because I don't like it anymore and I think it looks cheap. That said, I'll be keeping this dildo for a long time, I think.
This content is the opinion of the submitting contributor and is not endorsed by EdenFantasys.com

Thank you for viewing
Inked glass probe
– glass dildo review page!