Mademoiselle Elodie
The Elodie by Lovemoiselle is a beautiful, and one of a kind ceramic dildo. It is positively beautiful. Something you can curl up next too with a burning fire, and a glass of wine. Perfection is ceramic, and the Elodie is perfection. I recommended to everyone.
Published:
Pros:
Ceramic, Smooth, Beginner Friendly, sterilizable, Comes with pouch, Beautiful
Cons:
None
I've eyed the ceramic toys for a couple of weeks; I was so scared to order one because I did not know how my body would react to it. This was the only toy I had this concern about. Only because it is such an odd material to use to masturbate. I've held ceramic dolls, dishes, and other items. Putting something into your vagina is a different story. I decided to suck it up, and give it a try. I loved every moment with that toy. The feeling of the smooth ceramic sliding in, and out me made me one happy person. The ceramic can get a little cold. Nothing to worry about, you can just hold it in your hands or put it in water to warm it up.
When you see the Elodie the first thing you notice is the green rubber band. Under that band is the hole, that was the starting part of the toy. When the band is on you do not have to worry about getting anything inside the dildo. The silicone band that is on the dildo is also suitable for holding. It makes it so that the toy will not slip out of your hand when using it with lube. It can only be used with water, and silicone based lubrication. I would not recommend using this anally. I would not recommend it, because it does not have a base. I think it is not long enough. I recommend being very careful. If you are too rough it you could possibly hurt yourself, or bruise your cervix.

Measurements of the Elodie:
Length:8 1/4"
Insertable length:5 3/4"
Circumference:4"
Diameter:1 1/4"
Weight:0.4 lb

The Lovemoiselle is this beautiful ceramic dildo. Ceramic is material is made by heating selected and refined clay in the form of kaolinite to high temperatures. Ceramic is high resistance to thermal shock, so you can warm it or refrigerate it according to your preferences. It is suitable for temperature/sensory play. You can put it into the refrigerator, or some hot water to heat it up. The painted flower can be felt with the fingertips but is not when using it. The ceramic has a beautiful glossy finish. With no hard edges, just smooth. The Elodie does have a little weight. It is nothing that will you down, or feel when you have it in your vagina. I'm madly in love with the flower decoration on the Elodie. It is one of the top reasons why I wanted it.
The Elodie comes in this beautiful black box. The box does have some mild art decal. No loud colors, or naked women on it. It is an extremely stylish and elegant box. A box made for adults. The box does have a window, where you can see the toy without opening up the box. The Elodie just sits so beautifully inside. "When you open the box" your ceramic beauty is sitting in this thick padding. The padding is so thick; I had a little fight trying to remove the toy. At the end, I was glad I had that problem, because I know my toy was sitting in there, and kept from harm. When you remove the toy, and the thick padding at the bottom of the box sits the storage pouch, and a small booklet to tell you more about the other items that are offered on the same line. The Elodie is perfect for gift giving. Each women should have one of these for their own.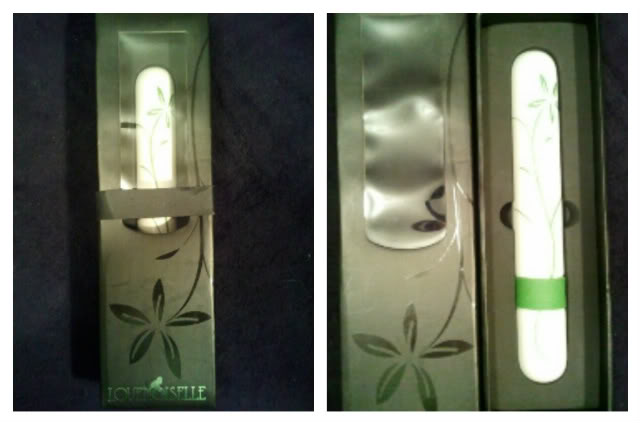 Cleaning the Elodie is extremely straightforward. Being it is made of ceramic you can bleach it. I clean mine once with mild soap, and water. I have also tried 10% bleach solution wash. I do not know how full bleach would be on it. I would not recommend using pure bleach without watering it down a little bit. When storing it, Make sure you keep it in a safe place. It is easily breakable. Make sure to keep it in a place where you will not break it, or knock it onto the floor. Traveling with the Elodie is easy. You can carry it, in a case of your own. You can carry it in the case provided. I would never recommend carrying it without any protection.
Experience
I used the dildo a couple of times, once on its own. Once with a vibrator. When used paired up with a vibrator, or bullet its pretty good. When you put the vibrator on the dildo, it sends the vibrations also through the dildo. So you have the fortune of having vibration on your clit, and some internally. I would not recommend using the Elodie anally at all. It does not have a base, nor is it long enough when you reach your arm around.
Follow-up commentary
7 months after original review
I love this dildo. I do not use it as much as I would like, but when I do use it, I alway have a fantastic time. If someone ask if they should get this, I would tell them yes without thinking twice.
This product was provided at a discounted price in exchange for an unbiased review. This review is in compliance with the FTC guidelines.

Thank you for viewing
Lovemoiselle Elodie
– dildo sex toy review page!