Not the glass Cinderella was hoping for...
I wanted to love the Nubby G Wand, by SSA glass, because I have become so enamored with their other products, however, this toys shape, color, and texture threw me off. I don't g-spot orgasm easily from this toy, and even though I love glass, I won't recommend this toy to my friends. I was one disappointed Cinderella when I opened my package and found an ugly, ill-fitting, glass product!
Published:
Pros:
Made of glass- heatable, coolable, shareable, sterilizable.
Cons:
Hideous Pink Color, Ugly Flower, Not g-spot stimulating, Boring Texture.
I am a huge fan of glass toys, and am very rarely disappointed in their quality, but this glass piece rubbed me the wrong way (literally) and is also pretty hideous. The nubs are a little boring, as the texture is nice but predictable all down the shaft. The color is a strange pink, on the sight it says "baby pink," but it real life it looks a little Pepto-Bismol. The most disappointing thing about this glass was the flower resting inside the base, I expected it to look bright and alive. Instead, it looked malnourished and pathetic. Its colors, blue and yellow, clash horribly against the pink of the dildo. Overall, I wouldn't recommend this dildo to people who want to be sexually, or aesthetically, pleased.
Glass properties
The best lube to use with this type of glass is water-based, silicone works well too but water based is generally the wettest and best for glass, especially texted glass. be sure to reapply this lube as soon as it begins to dry. Glass is amazing because you can use it anywhere, you don't have to worry about getting a motor wet, or having your vibrator run out of batteries.
Heating and Cooling
Glass is great because you can heat or cool it. I find that hot temperatures are good on cold, dreary days or for fore-play, whereas, cold glass is great to play with on a hot day, or after your already turned on and super hot down below. After all the blood pumps to your vulva, it is a great sensation to cool yourself down drastically with a "frosty" glass.
Cleaning and lubing your glass
Glass is super easy to clean, as well as share. You can clean it by boiling, wiping, or dipping. To boil glass, simply place your toy in a pot of already boiling water. Leave your toy in the water for about three minutes and pull it out to polish it a few times. The only thing to watch out for is chipping your toy, so avoid dropping your toy suddenly or boiling it alongside others. You can also wipe your toy down with a Eden Wipe or a wet soapy clothe. Dipping your toy in a bleach solution is super easy and only takes a few minutes. Get a glass, or bowl, and create a 10% bleach, 90% water, solution. Make sure to air dry your toys after cleaning, and playing.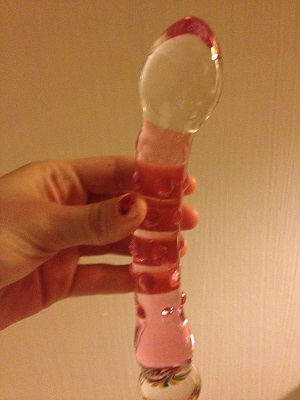 Properties of Pyrex, according to Eden-
Pyrex is a hard material with a high chemical resistance and mechanical strength. The boron in Pyrex reduces any stress caused to the material due to temperature changes. It is less dense than ordinary glass, making it much more resistant to shattering and breaking as well, if it were to break it would not shatter or splinter into tiny pieces but instead it would snap or break in large pieces. It retains temperature extremely well and requires only a little lube for a super-slippery effect.
Travel
It is probably best to invest in a well padded sleeve, if you want to travel and bring the glass with you. Slightly padded sleeves are OK, if you don't want toys to chip, but I suggest the larger bags for this glass.
Handling Glass
Pyrex is solid, but life happens. I have a huge collection of glass toys, not all are pictured below, and I have broken a few of them in my lifetimes. Here are a few tips on how to avoid shattering your lovelies:
Don't leave them in your bed: Put them in their cases when you're done playing.
Buy padded sleeves for them: This will make it so they don't rub on other toys.
Boil them separately: This is so that the glass doesn't 'clink' together.
After boiling, when they are super hot, cradle them in a towel and not tongs.
Air dry them before picking them up.
Don't place them next to other dishes in the dishwasher, or keep them out of harms way by putting them in the silverware holders.
For some reason, I break glass toys constantly. I have hard wood floors, love sleeping next to my glass, and have a habit of storing them in a big pile. Hopefully you're more responsible! Glass is certainly worth the small amount of work that is needed to make sure the toy remains safe and usable. Remember that, although Pyrex is sturdy, if your toy chips or cracks, anywhere on the insertable shaft, it is likely time to scrap it.
Experience
The Nubby G-Wand is the second from the bottom, if you would like to see reviews on any of the above toys look at my other SSA glass reviews
My Partner's Opinion-
This thing is weird, it looks like someone tried really hard for it to look pretty. But it just fell flat. The colors are really strange and don't match each other at all.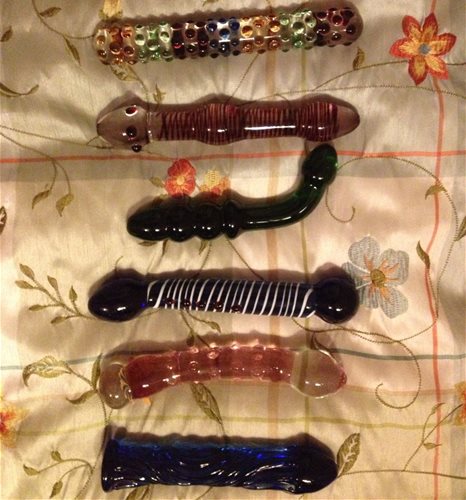 Follow-up commentary
16 days after original review
I saw this wand, in a sex toy store near my house, and it didn't look any better under their harsh lights. In fact, the store had marked down the Nubby G Wand from fifty to twenty dollars. Hopefully you can find a better glass toy somewhere on EdenFantasys' metaphorical shelves.
This content is the opinion of the submitting contributor and is not endorsed by EdenFantasys.com

Thank you for viewing
Nubby G wand
– glass g-spot dildo review page!