One Mean Green Monster Peen..
With its generous length and stimulating horror themed detailing, the Frankenstein is one beautiful beast to behold. While this may be a Monsters cock, the subtle head ridge, gently tapered shaft and soft finish mean this is far more manageable so, surprisingly, this one is not just for the size queens.
Published:
Pros:
Looks incredible, quality Silicone, firm build, soft detailing, generously lengthy, great texture.
Cons:
Needs sturdier packaging.
I'll admit that while checking out the Fleshlight Freaks collection, the Frankenstein dildo was never the one that specifically caught my eye. Other designs like the Alien and even the Cyborg with all its H.R Giger-esque detailing were originally higher on my list of preferences, but while browsing photos of the Fleshlight Freaks I spotted that the Frankenstein dildo is actually an awesome shade of green. Up until this point, having only ever seen photos of it that make it look as though it is an odd shade of grey I wasn't overly wowed by its appearance, however the moment I saw it in all its shiny and beautifully green glory I decided I had to have one.
Packaging:
The Fleshlight Freaks Frankenstein Dildo arrives in a rather large box which after seeing the size of the dildo itself in person isn't surprising. The style of the packaging is quite in fitting with the horror theme of the Freak collection, dark and using a similar shade of green to the toy in its text and in the large lettering of the name 'Frankenstein'. The box isn't the sturdiest to be holding such a large and heavy toy so mine arrived slightly torn not once but twice down the back of the box. If you pick up the box by its hanging tab it is very easy to imagine how it ended up tearing like that.
If the box had been housing a lighter toy I can't imagine there would be a problem but from the moment I had this box in my hands I knew this toy was easily going to be among the heaviest in my collection. I wasn't too concerned about the tears as inside the outer packaging the dildo sits well covered and protected between two moulded sheets of plastic.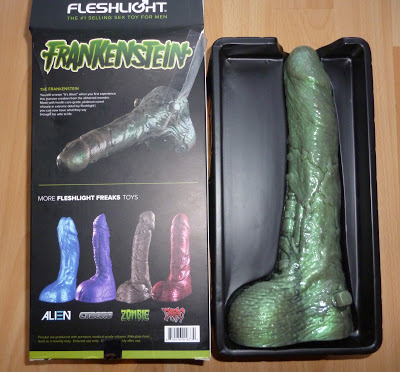 First Impression:
Seeing the Frankenstein Dildo in person it is true to photos that show it as a shiny and wet looking metallic green colour rather than the grey colouring shown on some sites. Apart from the sweet choice of colour, the first thing you will notice is the amount of weight it boasts particularly around the balls/base ( until now I thought the silicone James Deen dildo had the heaviest balls, well I think these green monsters have him beat). While the Frankenstein Dildo doesn't feature a suction cup, the heavy base and large balls to hold onto may still help to widen your options on ways to use it.
The Frankenstein Dildo has as hefty a build as you would expect from the name and product photos. The shape of the dildo is pretty realistic when you look past details like its knots and bolts, protruding inner workings like pipes and its many staples that hold its torn flesh together.
The overall appearance is nothing short of a big piece of phallic horror-esque art.
Measurements:
Total Length: 10 ½ Inches
Insertable length: 8 ½ Inches
Circumference: Ranges from 6 to 7 Inches
Base: 4 ½ x 3 ¾ Inches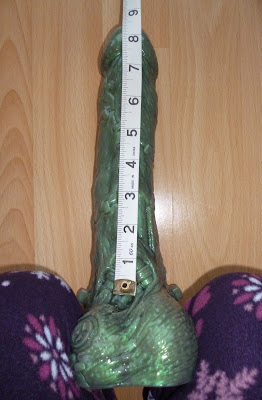 In Use:
Having recently watched a Frankenstein themed porno called Fuckenstein, which features James Deen and Frankenstein simultaneously fucking Joanna Angel, this dildo is the perfect companion to that movie and if you happen to own the James Deen dildo too, well you have pretty much everything you need for a good re-enactment of its scenes (short of having James Deen and a horror-ed up Ramon Nomar show up at your house).
So having re-watched Fuckenstein to get myself in the mood for Frankenstein (though the sight of the Frankenstein Dildo is perhaps adequate foreplay in itself!) I was ready to succumb to the unholy monster.
The realistic head of the Frankenstein is actually not as beastly in size as you may think, with the circumference of the dildo ranging from 6 to 7 Inches, the head is more modest in girth and the shaft then slowly tapers to a slightly thicker girth.
With the help of a little water based lube and a warm up toy beforehand the head of the Frankenstein is manageable while still breath taking. The realistic head ridge is subtle but can be felt with every thrust along with the series of soft staples that adorn the length of his shaft. The firm silicone feels to have a softer outer layer which makes this large and unusually textured beast surprisingly comfortable while still feeling fleshy and intimidating.
The heavy base can be tiring to hold onto but the size of the balls makes them ideal for holding onto with both hands. I can't say that's a position I've used with other toys but this really a two hands-needed or all hands on deck toy.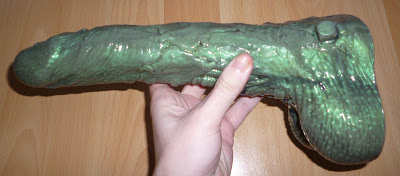 Experience
While I'm not brave enough to attempt to use the Frankenstein anally, the large balls mean that it can safely be used as such. The texture of the details on its shaft are more gentle in use than you would expect from photos so if you can manage toys of a similar size to this I can imagine this working quite well anally, even the ridged head is subtle enough to make this more manageable.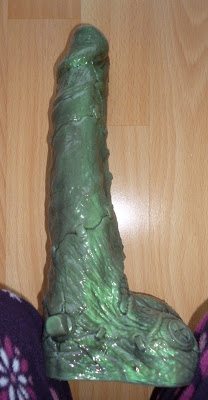 Care:
Made of high-quality health care grade, platinum cured Silicone, the Fleshlight Freaks Frankenstein Dildo is both Latex and Phthalates free, Silicone is completely non-porous meaning that it can be fully disinfected by boiling it for 3 minutes or by throwing it into the top rack of your dishwasher or it can be simply washed after use with warm soapy water or specialized toy cleaner, it is generally believed that silicone based lubricants should not be used with silicone toys. I would recommend using a generous amount of water-based lubricant with the Throb.
Particular care should be taken to make sure that the Frankensteins deatailing is fully cleaned between uses. The detailing of tears, staples and bolts can make proper cleaning more difficult so extra attention is needed around some points where the texture of the toy becomes quite uneven, for example around the base of the shaft with its protruding pipes.
-Huge photo to help show detailing-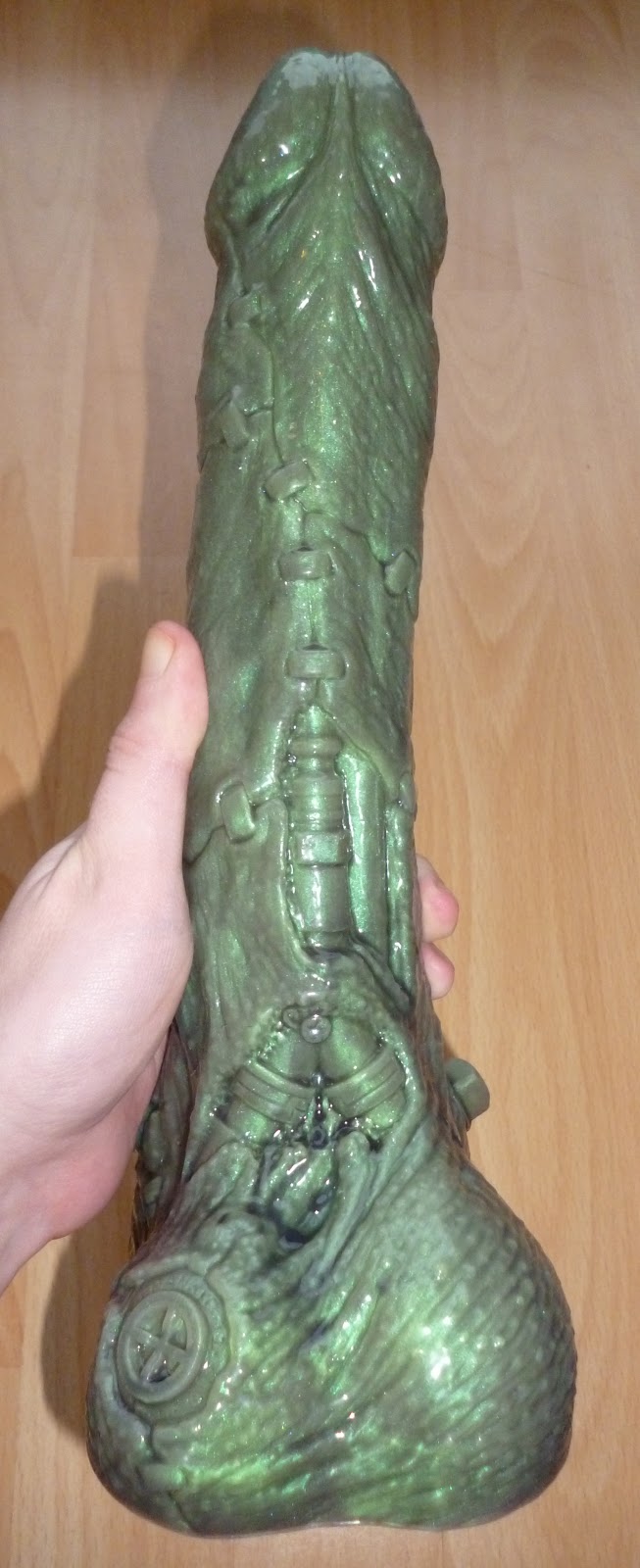 This content is the opinion of the submitting contributor and is not endorsed by EdenFantasys.com

Thank you for viewing
Fleshlight Freaks Frankenstein dildo
– realistic dildo review page!