Show me how to love, Show me where to start, Activate my heart!
The Fleshlight Freaks: Frankenstein Silicone Dildo is completely out of this world. It brings a very scary character of Frankenstein and his cock to life. It brings you pleasure in ways you don't even understand yet. It is extremely long and has the look of being "sewed" together with nails and sutures. It is a green color and is a dark kind of dildo. It makes me extremely turned on even thinking about it. I am a dark person and this is definitely one of my prized possessions in the dildo world.
Published:
Pros:
+ Frankenstein Realistic Dildo
+ Looks like it was "put together"
+ Texture, Size, Length
Cons:
- For Size Queens
- Texture for some people
- Very long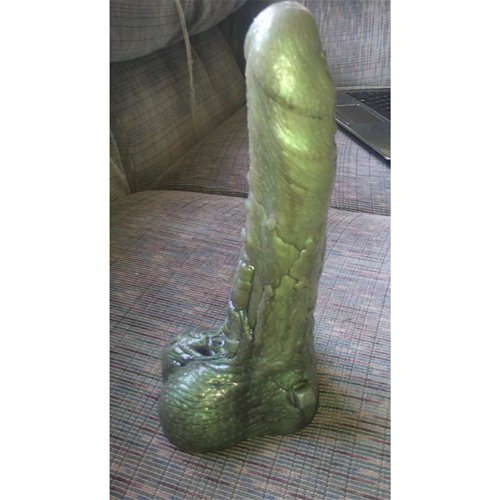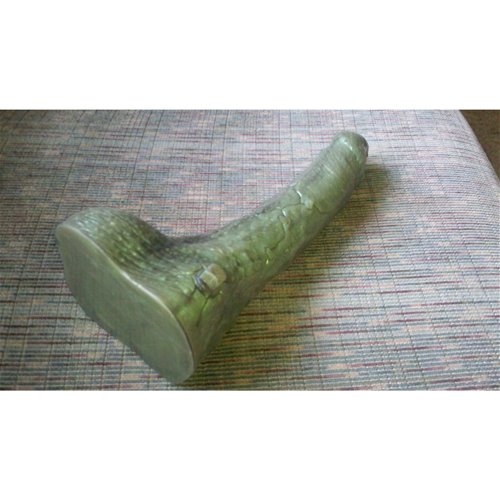 What exactly is a "Fleshlight Freaks : Frankenstein Silicone Dildo?
The Frankenstein Silicone Dildo is made by Fleshlight. It obviously looks like something dead that was put back together with staples and screws. It is in a green color and looks very Halloween. The first time that I saw this dildo when I got it in the mail, I was extremely excited. I am sick and twisted myself, and this is definitely one of my most prized possessions now. It is one of my favorite dildos and really gets me going. I don't know if that is too dark for some people, but this dildo.. it is something else and out of this world. When you pick the dildo up, you will be surprised by the weight and length. It is extremely different from anything that I've ever owned. It is the biggest and longest dildo that I own and use to bring myself some pretty intense orgasms, deep within my vagina. It gradually gets bigger in girth and is incredibly long, as I said before. You all know I am into some pretty weird things, this is going to be one of the best weird things ever for a very long time. I just want to set it in my house and keep it on display.. and casually pick it up and play with it. I almost want to have a dildo sword fight with it with someone. I know I'd win with my Frankenstein.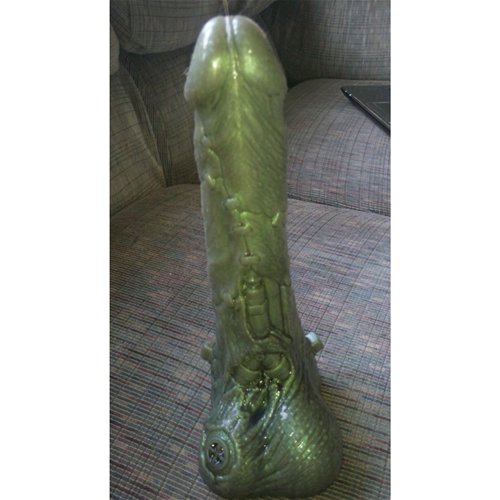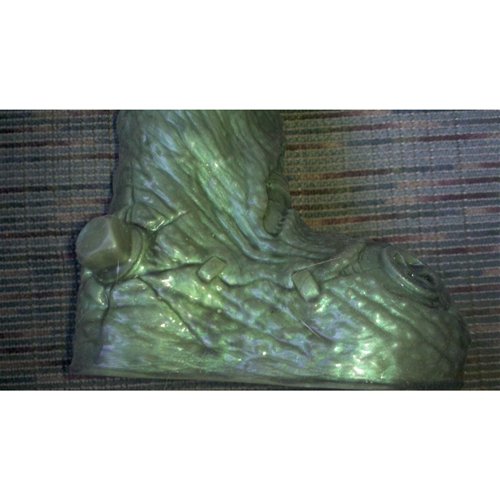 What is it made out of and what about the textures?
This dildo is made out of silicone. I really love that this is made out of such a really good material. It is non-porous and extremely smooth. It has some drag and does pick up lint pretty easily. That isn't a downfall though. The drag feels really good. The texture is the sutures that are all around the dildo, as well as the screw imprints. It looks like the dildo was apart at one time and they put it back together, just like the real Frankenstein. They did an incredible job at really manipulating the look of Frankenstein and giving a realistic dildo to suit his personality and overall look. The textures may be a little bit too much for beginners, as well as the girth of the product. It is not for beginners. You can use this vaginally or anally. I have only used this vaginally so far since my ass is too scared to try to attempt this one yet. You can use it for both since it is silicone and you can fully disinfect it in a very easy manner.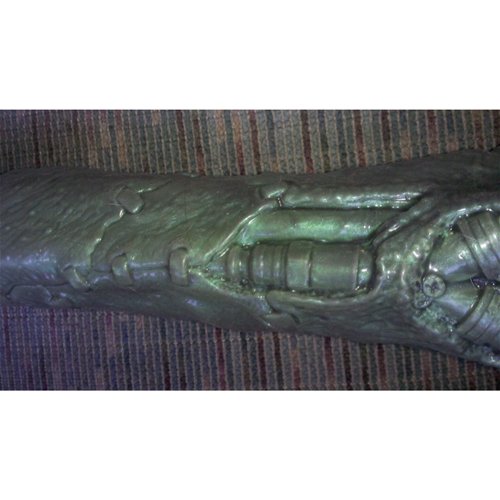 It is also Food-grade material / Hypo-allergenic / Latex free / Non-porous / Phthalates free.
Was this dildo intimidating? What are the measurements?
Frankenstein is very intimidating. At first, I didn't know what to do with it. Do I have a sword fight with someone with it? Do I throw it at someone? Do I put it on display? It does take a little bit to work your way up to something this big in diameter and length. I know that I had to warm up with my T-Rex which is pretty big itself. I started off slow and eventually, worked my way into Frankenstein's pleasure. It doesn't have much of a curve, only a slight one. It is very slight, so it is pretty much a straight and erect penis of Frankenstein.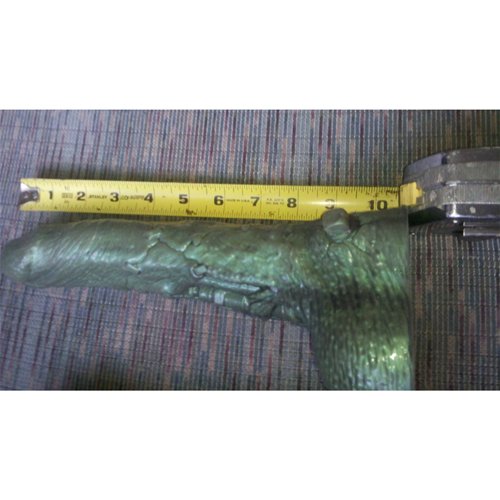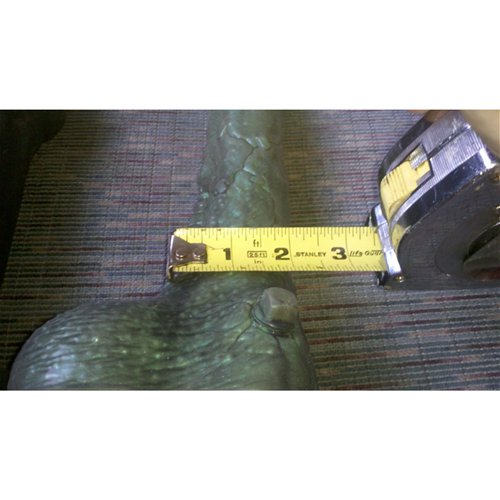 Experience
continued..
The measurements are pretty scary, honestly. It is most definitely for size queens in the best way possible. It will make you feel very full and it goes very deep. You do need a lot of lubricant for this baby, but you will honestly be able to manage if you set your mind to it.
The length is 10 1/4" long. You can insert it only 8 1/4", but that is incredible as is. The circumference is pretty crazy itself with 7 and 1/2". The diameter at the largest part is 2 and 1/4" wide and at the skinniest at the top of the dildo, about 1 and 1/2, which is pretty big for a lot of people already. It has a crazy weight of two pounds and is heavy in your hand.
Did you activate his heart?..Brain..Other brain down there?
You bet your ass that I did! Here are some pictures of enormous Frankenstein dildo! Here are some comparisons of Frankenstein and T-Rex.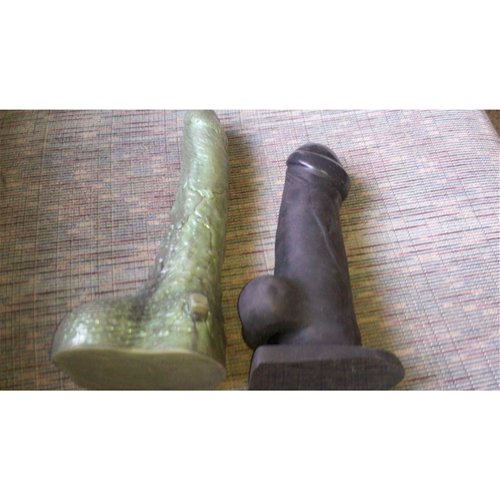 How do I clean this?
Silicone is one of the easiest materials to clean. It is also one of the safest to use. You can clean silicone by boiling it for three minutes, if you have a large enough pot. You can also wipe it down with an antibacterial wipe or use mild soap and hot water. I personally try to boil this huge dildo, I usually end up boiling one half of it, and turning it over so I can boil the other side. You can also put this in your dishwasher, how convenient I always think with silicone products! With silicone dildos, you should only use water based lubricants. You should never use silicone based lubricants with silicone products because it can massively damage your lovely toy. Always try to keep your toys in the best condition so they can last a lifetime.
Some special experiences with my Mr. Frankenstein
I have pictures of the box and the ginormousness of the Frankenstein dildo!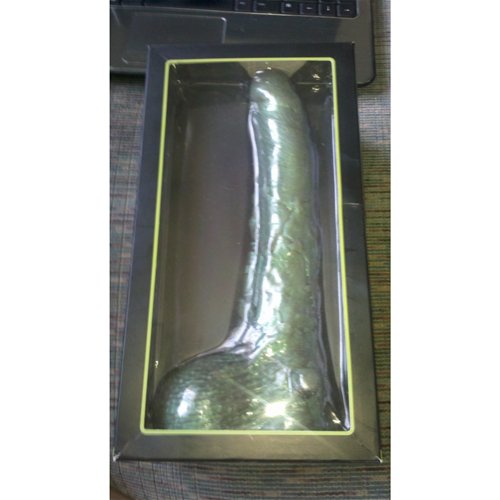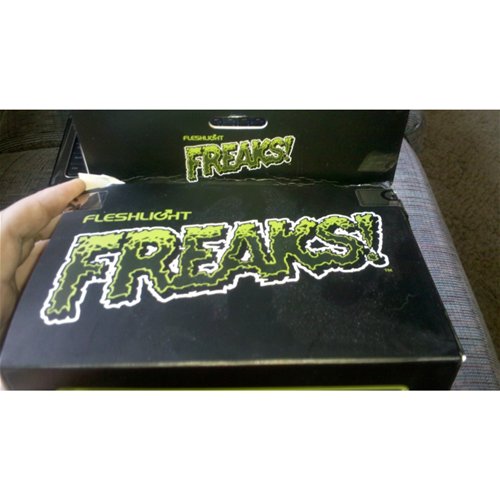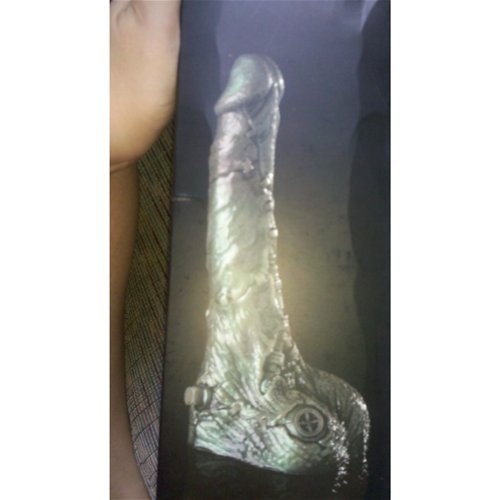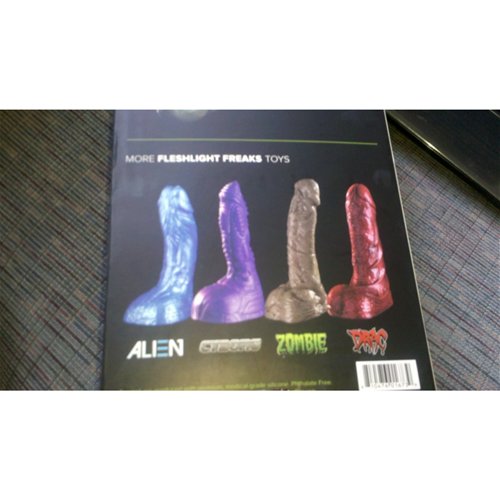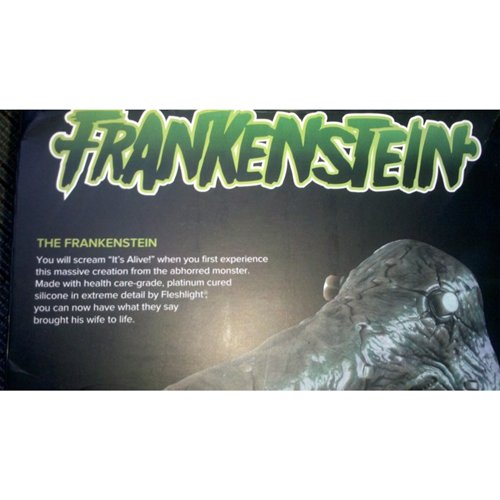 This content is the opinion of the submitting contributor and is not endorsed by EdenFantasys.com

Thank you for viewing
Fleshlight Freaks Frankenstein dildo
– realistic dildo review page!