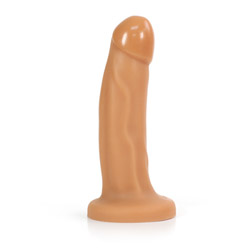 Pack 'n play No.2
Realistic dildo with flared base by Tantus
Packin' Some Power
The Pack N' Play No. 2 packs a whole lot of punch! This cock is ideal for FTMs and bois because of its realistic texture, shape and appearance, as well as its ability to pack well and play well (with practice). It's the ideal addition to any cock collection!
Published:
Pros:
texture and material, good shape, realistic, packs well, plays well, good for FTMs
Cons:
could use a sexier name, needs a harness to pack, learning curve on heavy fucking
The biggest complaint I've heard is that this cock isn't quite small enough to be a packer. While I agree, it doesn't look as realistic as a soft packer does, the Pack N' Play No. 2 is its own type of awesome. It has enough flexibility to bend any which way, and completely in half, but enough stiffness that it springs back into place. In my opinion, it's ideal for a pack n' play cock!

However, if you do plan to pack with it in public (which I have done and no one even noticed), there are some things you should know. If it's put merely under underwear and jeans, it simply won't stay down and you will have a noticeable bulge. Fun for some, not for others. Personally, I used a harness with it and tucked the tip of the cock into one of the side straps on my thigh to keep it down, then wore underwear over that to smooth out harness lines. Worked like a charm. The base of the Pack N' Play No. 2 is nice and wide, ideal for harness compatibility, but it can rub in uncomfortable ways if worn directly against the skin for long amounts of time in a packing context. Be sure to consider a harness with a padding plate or a pair of underwear underneath the harness.

As for its other intended use (play), it's a champ! Depending on how hard you want to fuck, the Pack N' Play No. 2 (really, couldn't they come up with a sexier name? SIGH!) will probably keep up with you, but only until a point. If you like to thrust like jackhammer, maybe this isn't the cock for you. It's stiff, but it ain't that stiff. The inherent loveliness of this cock is that it bends, but it therefore will obviously not be nearly as tough as some other cocks on the market. It does, however, take a lot. I'm not at all gentle with my cocks and this one held up just as well as my stiff silicone ones. Be prepared for a learning curve, though, as you learn make sure to angle your hips correctly so that it does not bend and miss the hole you're aiming for.

The other thing this cock is really good for is blowjobs or handjobs. The veined, velvety material, prominent head, and slight curve do make it not only highly pleasurable to receive (and, I'm told, make it one of the more "real-life" toys on the market, but I can't speak to that, having never experienced penile penetration), but also pleasurable to imagine as your own. I have actually managed a few times to get off with this cock from a handjob alone, something that is quite a feat if you consider that it has no nerve endings! The realistic material, shape, size, and overall feel of this toy makes it ideal for FTMs, transmen, and bois of all gender identities.
This product was provided at a discounted price in exchange for an unbiased review. This review is in compliance with the FTC guidelines.

Thank you for viewing
Pack 'n play No.2
– sex toy review page!