Pretty darn amazing (and it sure can stick!)
This cute little dildo may not be a "perfect ten", but I love it anyway. It has great color and the size is not intimidating (especially for beginners). It also has a nicely pronounced ridge which gives a nice feeling. Most importantly, I bought this dildo for solo hands-free use and it has delivered! This toy sticks to anything and doesn't move. I will be looking for an upgrade, but only if I can find one that is longer, curved and a "10" in material safety.
Published:
Pros:
Sticks to anything!
Cons:
Could be longer, material safety "6", not very durable
I was looking for my first dildo and I chose the Silicone Crystal Cote by California Exotics for its suction, non-intimidating size and cuteness (For some reason, it's less embarrassing having a pink swirly dildo than one that looks like it was molded from a porn star.)
First Impressions:
The dildo was as pretty as it looks in the picture. It has a good weight to it and the material is a bit sticky. It is squishy in texture and if you grab it, it has give. It is also very flexible and you can flex the tip to the base. I'd say this is definitely on the small side. I was looking for something around the size of my bf and I got my wish (even he can admit he's not cut out to be a porn star size-wise.) I have small hands and I can easy wrap my hand around it and nestle my fist between the head and the balls.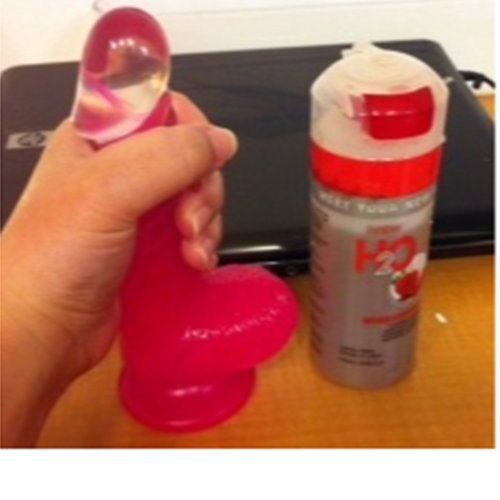 Use:
I bought this dildo in particular for hands-free use. I was thinking that maybe I'd have to stick it to things that you would typically associate with suction, like tile, glass etc. It definitely does stick to windows and the tile in the shower, but I was incredibly pleased to note that it sticks to my walls as well. I really haven't found anything you can't attach it to! I've only been using it about two weeks, but I only noticed it fall off once from anything.
Materials:
The material is a plastic that doesn't smell but definitely has a sticky quality to it. It catches any stray hairs or fuzz that is sitting around so you definitely have to clean it off before using. Per the packaging, you should wash with antibacterial toy cleaner before and after use and should only use the toy with water-based lube. I keep it in the original package it came in so it stays away from dust. While it's not a fancy place to keep it, it works although for long-term use, it would certainly be more attractive to keep it in a nice bag.
Durability:
As other reviewers have noted, I too am seeing that the suction cup and the base of the dildo are pulling apart from one another at the seams. Depending on how often you use it (and how roughly you treat it) it will probably need replacing in the next couple years.
Experience
I am definitely loving this toy, if only for the suction cup that is attached! The size and shape is nothing to write home about. Given its flexibility, it doesn't really hit the g-spot as well as it would if it were rigid, but you can get some thrust out of it and it also gives a feeling of fullness. It has a lot of texture and while I can't really feel the swirls on the base, I can definitely feel the ridge which is nice. That being said, the ability to attach it to pretty much anything in your house is the most important part of the toy for me because then you can also use it with your favorite vibrator for external stimulation at the same time. I like it best attached it to the wall or a chair but you could do pretty much the same thing in your shower as well. I would be even more excited with this toy if they kept the girth the same and made it longer. While I was looking for something petite, it definitely doesn't penetrate very deeply and I can't help wanting to feel it go a little deeper :-/

That being said, I am keeping a lookout for an upgrade. The only improvements would be if it was longer, a "10" in material safety and maybe a bit more firmness and curve to the shaft. Otherwise, it's a great toy.
This content is the opinion of the submitting contributor and is not endorsed by EdenFantasys.com

Thank you for viewing
Silicone crystal cote
– realistic dildo review page!