Pyrex Power!
The fantasy of fisting... taken to the firmest extreme. Though the pictures of The Standing Fist speak for themselves, because of the mysterious sizing and lack of any taper, I half-expected I was buying a novelty---not the case! This fist pounds on my g-spot's door like nothing I've felt before. The beautifully crafted, ~two inch fist standing staunchly on a textureless column is surprisingly insertable, and once inside the knuckles know just where to knock.
Published:
Pros:
SUPERB g-spotting, beautiful weighty glass, excellent construction, challenging insertion
Cons:
Not actual fist size, hard to clean between fingers, light refracts so it's not a periscope
USE
Fisting is something that caught my interest early in high school, but I didn't have quite such a well-developed relationship with my kegels back then, so it seemed impossible, and I let it fell off the radar for several years... until I saw the Standing Fist while browsing through Eden. This beautiful, crystal-clear creation of Phallix refreshed my memory, and had my interest piqued. Then, I read Tristan Taormino's
Take Me There
, an erotica anthology that features a fair amount of fisting. Thanks especially to "You Don't Know Jack," fisting quickly retook an active role in my fantasies, and I decided the time had come to try out the Standing Fist.
CONSTRUCTION
Borosilicate glass has long been one of my favorite sex toy materials (and was, in fact, my first favorite). It is hypoallergenic and body-safe, and can be cleaned with boiling water or bleach to ensure complete cleanliness. It is unrelentingly firm (usually a benefit, but I
was
a bit nervous about how taking an inflexible fist would go), allowing for unrivaled g-spot stimulation. It can be blown in many different colors and shapes, making this fantastically detailed fist possible. Phallix is one of my favorite glass manufacturers---despite higher-end pricing, all of their toys are blown to exceptional quality standards by hand in the USA, and they are often totally revolutionary in their designs.
This fist is a prime example (and they incorporated the fist design into the
Dual Fist
and the
Fist G-Spot
as well). There are five fingers tucked over an inside-the-fist thumb, and the fingers slope gently down from the metacarpal knuckles to the fingers.
SIZE
I often merge my "size" report and commentary with my "construction" commentary, but I'm paying special attention to size for the Standing Fist. Because there was only one review up when I decided I wanted it, and the first reviewer didn't really discuss size, I was absolutely not sure what I was getting when I ordered this. Eden's product page said there was a 1.25" option and a 1" option, and I chose the larger one, because I know I'm flexible, and I wanted my Standing Fist experience to be more similar to real fisting, rather than less. So, pretty unaware of what I was ordering, I think my vagina sighed with relief when I opened the oversized plastic clamshell and padded microfiber pouch to reveal this: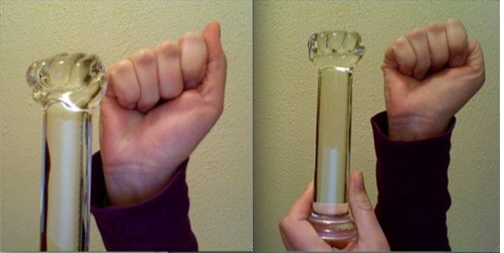 Definitely not fist-sized! (And thank goodness---glass just isn't as flexible as flesh!)
By ordering the 1.25" Standing Fist, I got a dildo whose shaft is 1.25" diameter and 5" tall. This column sits on a base a half-inch thick and wide enough for the fist to stand comfortably. The column is then topped with the fist: its diameter is 2" at the widest (from thumb to palm-that-extends-past-pinky). The "knuckle" surface is 1.75" at the widest (from metacarpal-phalanges knuckles to middle finger knuckle). The fist is an inch and a quarter high along the back knuckles, and one inch high where the fingers curl under. It's quite a bulge, and the partially flat surface makes its 6.25" circumference even more intimidating... but I was actually able to insert it without a warmup toy at all. Because of glass' slick surface, and because of the gentle slope from the back knuckles to the front, I was able to twist and rock the fist til suddenly
POP
it dove for my g-spot.
Experience
IN USE
Usually smooth shafts, especially ones with no variation in diameter, can get kind of boring for my kegels. Not so with the Standing Fist---with this fist in my g-spot, I completely forget anything else that's supposed to be going on in the world. If the classic g-spot stimulation motion is a gentle "come hither" gesture, the Standing Fist is pounding on the door telling you "Come here right now and have your orgasm, it's hot and ready and waiting for you!" It's fantastic.
I guess, due to sheer size, a practical comparison is with the two-inch end of the
Njoy Eleven
. The biggest difference, in my mind, is how very effectively the knuckles work my g-spot. With the Eleven, I feel like my g-spot is being run over by a steamroller... with the Standing Fist, it's a much more precise pounding. And it's amazing. Both toys do make wonderful warmups for one another, as well. I could see the Standing Fist being extremely hard to work in anally (cubic peg in a round hole, anyone?) but for those who are not daunted by geometrical challenges, I assume this could be a rewarding p-spot toy.

Eleven has been blurred to protect the innocent.
FINAL THOUGHTS
I'll be honest, I sort of thought I'd be getting the Standing Fist almost as a novelty. When I ordered it, I had no idea what size it would wind up being---in fact, it's very insertable with a bit of patience. It's also a g-spot dream for the lover of aggressive sensation. Even though I usually love texture, I wind up grateful that the shaft is smooth so I can focus on nothing but my g-spot. The Standing Fist holds a special place both on my dresser
and
inside me!
If I had one complaint, it would be that I typically don't choose clear toys... so I was hoping this one would serve double-duty and let me look up inside myself. Sadly, the fingers refract light, so my search for a vaginal periscope toy continues.
This content is the opinion of the submitting contributor and is not endorsed by EdenFantasys.com

Thank you for viewing
Standing fist
– glass dildo review page!