Quality Is Back
Clear Ribbed G-spot Wonder is a fabulous glass piece. It's a bit overpriced considering there are many pieces designed similar, but there really aren't any cons for this dildo. It's double ended, anal safe, and really beautiful. It's made of a quality material that is great for sharing. The only issue I have ever had with Phallix toys is that they are subject to inconsistent size changes.
Published:
Pros:
Glass, pouch included, temperature play, beautiful, and double ended.
Cons:
Price, rigid material, and subject to size differences.
Phallix's Clear Ribbed G-spot Wonder glass dildo is designed for vaginal penetration. Though, it's not limited to vaginal penetration because of it's length. The other end can act as a handle, so it becomes anal safe with caution. This means it can be enjoyed by male and female anatomy; however, it's appearance might be more appealing to a feminine crowd.
Being made of glass, it's a hypoallergenic material that is free from harmful additives such as latex and phthalates. Glass is completely body safe as it's rated 10 out of 10 on the body safety scale. Glass is non-porous, so sharing is made easy with proper cleanings. Phallix glass is called Pyrex glass, which is a the brand name for Borosilicate glass. This is made by adding boron, ground lime, soda, and sand. This results in a liquid that is then cooled at a rate crystals can't form. So, your ending piece is a smooth and seamless dildo. Pyrex glass is durable as far as glass goes. Should you drop it, it won't splinter or shatter, but break into larger pieces. You should completely inspect glass toys for flaws upon arrival. Never use a glass toy that has a flaw on the surface. Even small cracks can cause issues. Other issues from glass can be caused by it's firmness. As glass is rigid, it can be uncomfortable for some. Be careful with hard and fast thrusting because glass can bruise the cervix.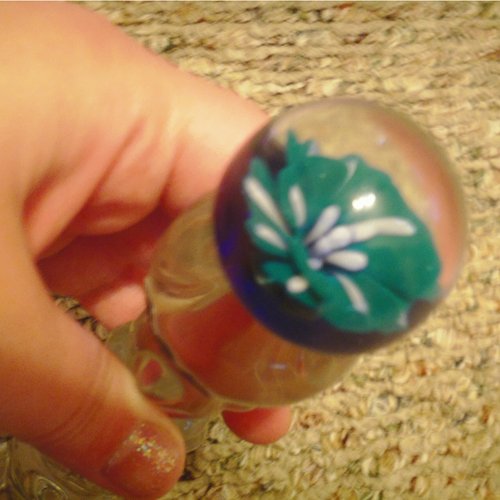 First thing to note about glass dildos is that they are handmade. This means that they are subject to human error. Therefore not every toy will be identical. They can range in size and appearance; however, they are usually close. The Clear Ribbed G-spot wonder is designed exactly as it's name describes. It's a clear dildo with ribbed (nubbed) texture that is curved for the G-spot. There are double ends to this dildo. One end is a phallic head and the other is two bulbs, but the top bulb has a beautiful flower blossoming inside. The dildo comes with two Phallix stickers on it.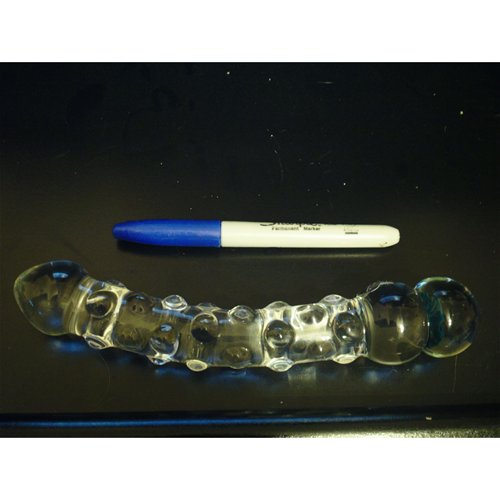 My dildo measures 7.75" total. The end with the head is insertable up to 6", but the double bulb end is insertable up to 6.5". The head is tapered for easy insert and is the fullest at 4" in circumference or 1.27" in diameter. The shaft is covered in nubbed texture. The count I have for my shaft is 8 rows of 4, which is 32 total nubs. The double bulb end is the largest girth this dildo has. The end bulb measure 4.25" in circumference or 1.35" in diameter. It's rounded, but not tapered, so insertion could be difficult at first. The second bulb measure 4.5" in circumference or 1.43" in diameter. This is the largest girth on the toy. It's well within what I call average. The size should be suitable for all users, but size queens might not enjoy it as much, but I do think the rigid material along with the texture could change their minds.
Glass can be cleaned in a variety of ways. You can put it on the top rack of the dishwasher. It can be boiled for 3-5 minutes or wiped down with a 10% bleach solution. These cleanings will make it safe for sharing as long as they are done in between partners. Should you want to play it extra safe, condoms are always a good idea! Quick cleanings can be done with toy cleaners, toy wipes, or antibacterial soap and warm water. Be sure to allow your toys to dry prior to storage.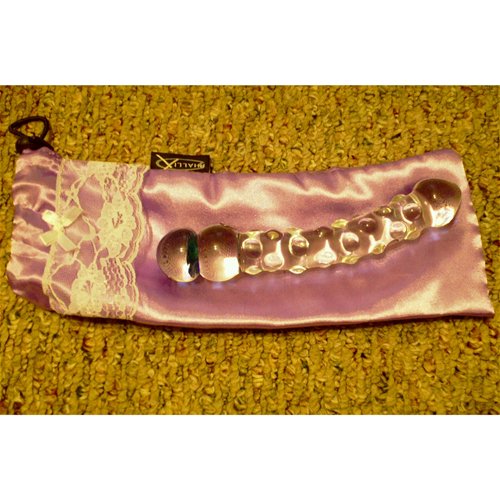 Phallix glass toys all come with a pouch. I own many Phallix toys. The pouches that come are never padded. They are usually made of silk or velvet. The colors I have received are black, white, purple, and pink. It seems like most of them are purple or pink. Sometimes they seem to match the toy, but this isn't always the case. I have received a purple silk pouch that has a white lace boarder on it and a black draw string with a plastic closure. This pouch is 12" long and 4.5" wide. It's a little big for this dildo, but works all the same.
Experience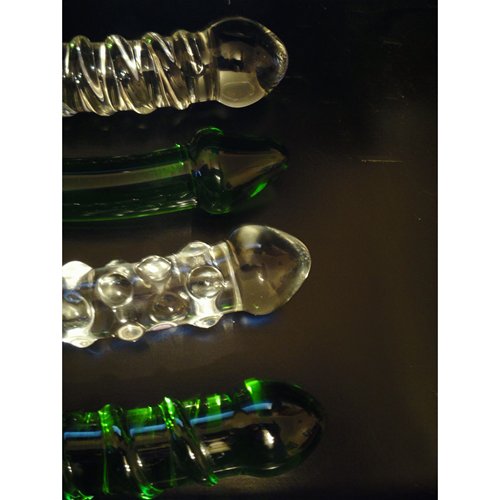 My last few Phallix experiences haven't been as nice as this one. The heads of the dildos I have been receiving aren't as pictured. I understand that glass toys are subject to differences because of how they are made, but there has to be some kind of quality control. My previous pieces all lacked in heads that had creases to create that nice pop. However, The Clear Ribbed G-spot Wonder I received does. I surely hope this means that they heard our cries and fixed this issue. Above is the image to show a few Phallix heads. From the top
Spiral and Ribbed Double Dong
,
Cobalt Blue Double Dong
,
Clear Ribbed G-spot Wonder
, and
Colorful Spiral G-spot Wonder
.
Upon arrival, the first thing I wanted to see was the head. I was excited when I saw it. The heads isn't too pronounced, but is definitely pronounced enough to give that wonderful popping!
The Ribbed G-spot Wonder is a wonderful glass piece. It's curved so slightly, that the curve doesn't rub my pubic bone, which is a common issue for me. The head is pronounced enough to pop when removed. The double bulb end also does the popping when thrusted. The ribbed (nubbed) texture is very pleasureful. It helps swell my vaginal walls. I can't orgasm with this dildo alone, but with some clitoral stimulation, I surely can. I enjoy having my Daddy use it on me during oral sex. My favorite quality about glass is that it's great for temperature play. You can soak it in warm or cold water to create warm of cool sensations. I just love to slide in cold glass.
This dildo is really great. I can't complain about anything besides the price; however, phallix glass toys all seem to be a bit overpriced. However, they make beautiful toys. I would recommend this dildo to anyone who has the means to purchase it. However, there are dildos that are much cheaper that will work just the same because they are designed the same.
Such as:
Nubby G Wand
Flower Friend
Icicles No.18
This product was provided free of charge to the reviewer. This review is in compliance with the FTC guidelines.

Thank you for viewing
Clear ribbed G-spot wonder
– glass g-spot shaft review page!