Rainbow Veins.
Phallix has yet to disappoint me. They have provided yet another detailed and gorgeous glass dildo. They really know their glass! The head is completely clear with no imperfections, and the shaft is covered in dichroic glass spirals that gives off a rainbow effect. Whether you are using this as a piece of art or as a wonderful sex toy, the Dichroic Spiral aims to please. This is another great addition to my luxurious glass collection.
Published:
Pros:
Comes with storage pouch, Simply Gorgeous, Glass, Swirled texture, Flared base, G-spot/P-spot curve
Cons:
For me: None
For Others: Too textured, Too thin, Too pricey
Use:
The Dichroic Spiral is a curved glass dildo meant to target either the G-spot or P-spot. There is a nice flared base that makes this anal safe, so play along! Glass is very slippery when lubed up so be carfeul. I also suggest that the user demonstrate caution when thrusting as glass can easily bruise the cervix and other tender tissues. If you love temperature play, this is the perfect toy for you. Simply place the toy in a bowl of desired temperature of water for a few minutes. I would not go to such extremes like freezing or boiling as this could cause some serious damage when applied to the skin. The amazing spiral texture is very raised, so I would not suggest this toy to those who are sensitive to such things. The overall size is perfect for those that like a slimmer dildo. Glass can be used in the shower, and it is one of my favorite materials to use in the shower as it does not have any drag to it. It glides over the skin like silk. One thing that I want to say is that the rigid material makes the spirals feel even larger and more raised than it looks. That isn't necessarily a bad thing, but I thought I would warn the readers anyways.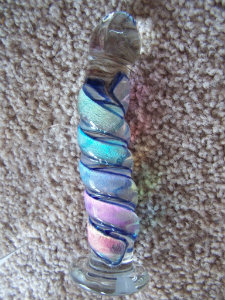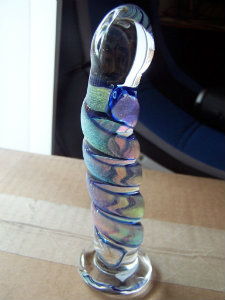 Material:
This gorgeous dildo is made of glass. Glass is a non-porous material, hypo-allergenic, and latex/phthalates free. it is a very, very rigid material. Any texture on glass toys will feel more intense and more pronounced than if it was on a silicone dildo. Glass is compatible with any and all lubricants. Phallix did a superb job at designing this beauty. The clear glass is actually clear. I have not found any bubbles or noticeable imperfections. The firm glass provides a ton of pressure on the G-spot or P-spot, so those who need it will be very satisfied. The head has two indented lines that add a little extra stimulation, and it also helps the otherwise bulbous head easier to insert. These lines tend to trap a lot of fluids, so pay extra attention to this area when cleaning.
The spiral texture is designed with dichroic glass. What in the world is dichroic glass? Well, it is glass that contains many micro-layers of metals or oxides. This helps give the glass optical properties, which means that the glass looks like a rainbow. It constantly looks like it is changing colors. It is a very difficult process, and the outcome is simply breathtaking. The color of the spirals depends on the angles in which you are looking at it, so it always looks like a new color. This would make a wonderful art piece if you are willing to leave it out for people to look at. The spirals are medium in size, and they are wrapped somewhat tightly. There is enough space between the spirals in which the user can feel each and every spiral as it is being inserted and thrusted. Again, the spaces between the spirals collect fluids very easily, so clean carefully.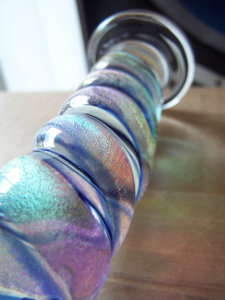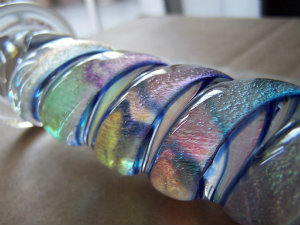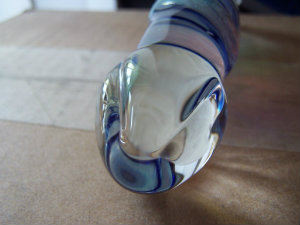 Design/Size:
The Dichroic Spiral comes in two different sizes: 1" and 1 1/2". This size difference is in the diameter of the shaft. I bought the 1" sized toy, and it is perfect for me. However, the shaft diameter measures 1 1/2", so the measurements could be off with yours as well. I can use this toy anally and vaginally thanks to the smaller size. The head is small and bulbous, and it has two indented lines on the side of the head. This provides some stimulation to the G-spot. The head gently tapers down into the shaft. There is a slight pronounced ridge, but it is very shallow. I have never had a problem with this catching painfully on my pubic bone. The shaft has two independent spirals. Each spiral measures about 1/2 of an inch wide, and there is 1/4 of an inch of space between each spiral. The spirals are very raised, and I can feel each and every one of the spirals as it enters me. This is a wonderful dual purpose dildo. It feels absolutely amazing when using anally, and the G-spot curve of the shaft feels great vaginally. The head measures 1 3/8" in diameter, and the total length is 6 3/4". Only 6" of that is insertable.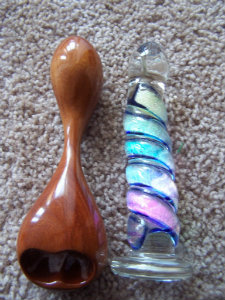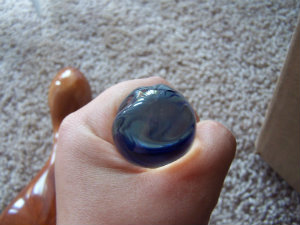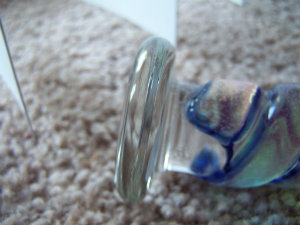 Experience
Performace:
I have had many pleasurable experiences with this glass wonder. It has yet to make me squirt, but it has come very close. I use this as a warm up G-spot toy to get my body prepared for the Fling. After about two or three orgasms, I become very sensitive and the texture becomes too much. That is when I know that I am ready for the smooth touch of my beloved Fling. I think this toy could make me squirt if the shaft was just a bit more curved. My body isn't usually this picky, but there is something about this toy that doesn't add up to a huge squirt. I love the texture, and the dichroic glass gives a wonderful show as I watch it being thrust in and out. Not only do the spirals feel amazing inside of me, but they also work wonders for stimulating my clit. My hubby loves to tease and torture me this way!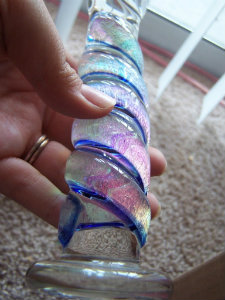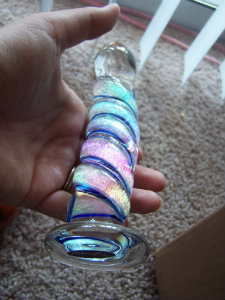 Packaging:
This toy comes in the typical Phallix packaging. This includes a huge plastic tube, a Phallix catalog of some of their glass toys, the toy itself, and a storage pouch. Their storage pouches vary with each toy, and I love this. Granted they aren't padded, but they add a nice extra surprise. I have received black and white satin pouches all the way to a hot pink velvet pouch. This one came with a lavender velvet pouch. This keeps my glass drawer very colorful! Each pouch has a hefty drawstring complete with a plastic fastener to help keep the bag closed and the toy secure.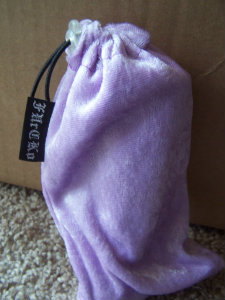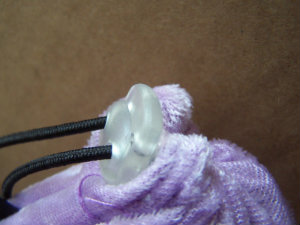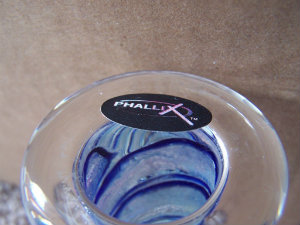 Cleaning:
Glass is one of those awesome materials that is super easy to clean and care for. Warm water and antibacterial soap, toy cleaner, or toy wipes are the simple methods that can be used to clean this toy. It can also be sanitized by boiling for 5 minutes, wiping it down with a 10% bleach solution, or sticking it in the top rack of your dishwasher without any soap. I would not suggest using an abrasive cleaning method, like a scratchy sponge, to clean the toy with as it could create some scratches and possibly ruin the toy. As said before, pay extra attention to any divets and the spaces between the spirals because these areas tend to trap fluids. I use a nice, soft cloth to dry this toy after it is clean. Then, I place it in the pouch that was provided by Phallix.
This content is the opinion of the submitting contributor and is not endorsed by EdenFantasys.com

Thank you for viewing
Dichroic spiral
– glass g-spot shaft review page!