The Goddess of All Dildos!
Finally, the best of both worlds collide when the most wonderfully textured toy also happens to be more beautiful than photos can do justice! This stunning glass dildo is breathtaking in more than one way. I hereby deem the Dichroic Spiral the Goddess of all dildos!
Published:
Pros:
+ Your g-spot's sexy new best friend.
+ Most versatile piece of artwork available.
Cons:
- Your partner will suffer justified feelings of inadequacy.
- I cannot afford to buy you all one.
Product Overview
Behold, the Goddess of all dildos: the Pyrex Dichroic Spiral! This fantastic glass dildo is a sight to be taken in and cherished for the beautiful spectacle it is. Don't let the high price tag turn you off to perfection--it more than makes up for those long nights saving up EdenPoints for this one!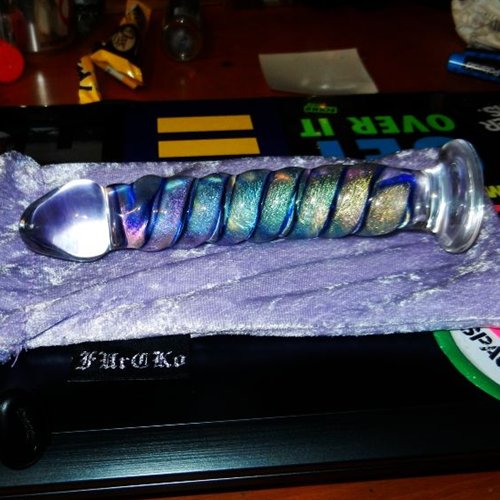 Size
Length: 7"
Insertable length: 6 1/2"
Circumference: 3 1/2"
Base Diameter: 1 1/2"
Shaft Diameter: 1"
Normally, I am a fan of toys larger than 1" in diameter, but there is nothing lacking with this. I do not believe its size would be a negative aspect for anyone who normally uses toys less than 2" in diameter. Don't let its size deceive you, it more than makes up for a lack of extreme girth, and it is available in a 1 1/2" diameter if you really think it's going to be a problem.
Material
Pyrex glass is the most amazing thing a dildo can be made out of. Honestly, I don't know if I'd trade this for one made of gold. However, the thing with glass is that you usually either love it or hate it. If you are new to glass I
highly
recommend you try a different starter dildo. Try something like
this
or
this
if you're a glass-virgin. I recommend other products over this for financial reasons only. Learn to appreciate glass before investing in something of this price. Plus, you wouldn't want to jump right in and spoil yourself!
Glass is extremely hard and smooth. There is no flexibility with this material, which can be a good thing or not, depending on your preferences. Glass is compatible with any lubricant, is easily cleaned (I will cover this further in the "Cleaning & Storage section"), and has the highest possible safety rating. The only warning to note with glass is to be careful when thrusting as to not bruise the cervix and to always check the product for chips if you drop it.
Pyrex glass is also excellent for those who enjoy temperature play. For an energizing sensation, try soaking in cold water for a few minutes before using, or for a more sensual feeling, warm water. Glass retains temperatures easily, which you will notice after using. This product will retain heat for a few minutes after vaginal use, for example.
Texture
The Dichroic Spiral mainly consists of--you guessed it--a spiral texture. Two ribbons of dichroic glass twist around the shaft of the dildo to create subtle, but amazing-feeling sensations. The spiral is noticeable, but is not overpowering to those sensitive to textures.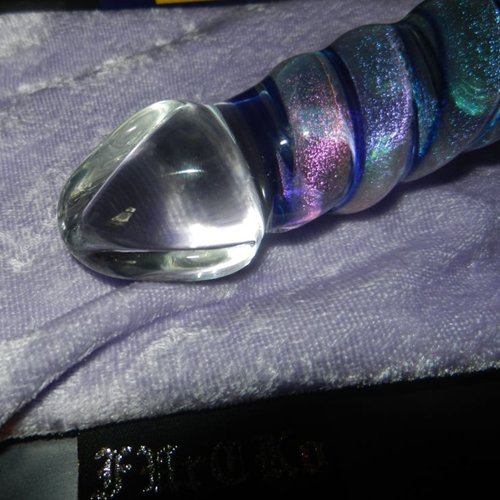 There is also a V-shaped texture to the head of the dildo. I own several glass products and I have never seen this before, but it is fantastic. With the curve to the shaft, this is a great way to stimulate the g-spot!
Cleaning & Storage
Pyrex glass is the easily thing in the world to clean. You can boil it, soak it in a 10% bleach solution, put it in the dishwasher, wash it with soap and water, use toy wipes, or wipe it down with toy spray. The spirals aren't difficult to clean, just be sure to get in all the crevices--especially the V-shaped groove on the head.
This product comes with a pouch for storage. However, note that this is
NOT
the red lacy one pictured on the product page, but a purple silky velveteen-like pouch with the same elastic drawstring as pictured. As nice as this pouch is, I feel it definitely should have been padded for the protection of this high-quality glass dildo. I switched this pouch for one of my toys that was in the
medium Don Wands pouch
and I feel much better about storing this. If you have the money to invest in this product, I urge you to also invest in a padded pouch that will keep it safe.
Packaging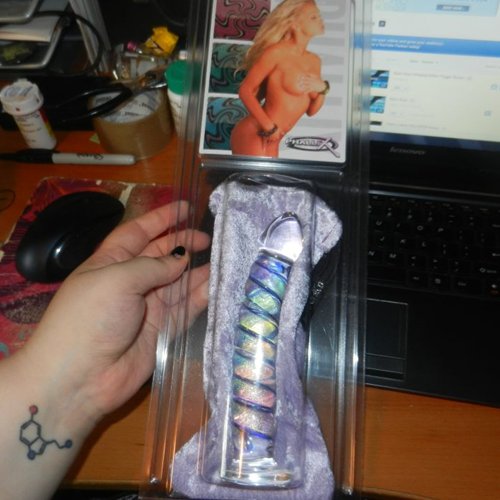 The Dichroic Spiral comes in a fairly large plastic package. I was disappointed to see that there is no bubble wrap or padded protection to keep the product safe while in the package, especially since my UPS driver decided to toss my package onto the concrete. Luckily, Eden had packed enough paper in the box to keep it safe.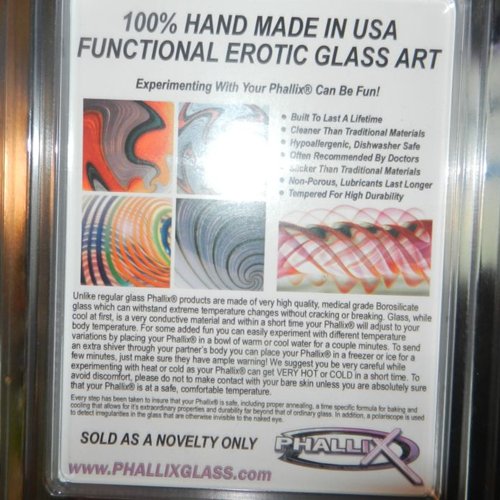 At the top of the packaging there is a naked woman, so this is not discreet packaging in the least. On the back, there is some information about Pyrex glass. I found the packaging to be way too bulky and inconvenient to keep around and promptly threw it out. It's disappointing that Pyrex can't package their nicer pieces in something more elegant.
Experience
I noticed the Dichroic Spiral upon joining EdenFantasys and always dreamed of being able to afford it. During their 10-year Anniversary, Eden hosted a double points week that allowed me to save up enough to finally purchase my dream dildo. While the price may seem steep, I fully endorse this product as a magical, breathtakingly orgasmic gift from the Pyrex Gods.
This product was provided at a discounted price in exchange for an unbiased review. This review is in compliance with the FTC guidelines.

Thank you for viewing
Dichroic spiral
– glass g-spot shaft review page!