Sergeant Will Earn Those Stripes.
Sergeant is a firm, girthy dildo with a no-nonsense texture. If you can handle the girth anally or vaginally, you're in for a stimulating massaging treat as Sergeant makes his way. If the girth is a stretch for your body, you might wind up crying for your mother before boot camp is over, because these ridges are unforgiving. If girth puts a spring in your step, g-/p-spot pressure makes you giddy as a fresh recruit, and you feel like a challenge today, Sergeant might be just the dildo you need!
Published:
Pros:
Beautiful firm silicone, ridges give a great massage, perfect g-/p-spot attention.
Cons:
Ridges on this girth can act like stay-awake rumble strips.
Picture a peaceful country trail leading from a small town to a farmer's meadow. Now picture a squad of Civil War soldiers trooping down the trail on their way to battle, and another squad, and another. Ten squads pass through---two whole platoons. After they've made their way and the echoes of their marching songs fade off into the distance, look at your path again. Look at the compacted ground, the twigs and branches snapped off the formerly arching trees. The trail doesn't look the same after Sergeants have led their troops through---and that's how my vagina has felt after each rendezvous with the Tantus Sergeant.
Made in the same mold as the
Rascal
but without the bullethole, and rough-and-tumbler cousin of the
Rascal O2
, Sergeant is marketed as an anal probe. I was expecting, thanks to the fact that silicone can be sterilized by bleaching or boiling, to use Sergeant both vaginally and anally. When I opened the discreet box that Sergeant was shipped in, my jaw dropped. Anally, I'm quite comfortable with 1.5", but 1.75" needs to be gradually built up to---and Sergeant's tip is designed to dive right in. So despite the fact that I was really looking forward to feeling these ridges anally, I've only had the guts for vaginal use.
Sergeant is textured---but that's great! I love texture. One of my favorite dildos is the
Pikilo
---and after that, the light ribbing on Sergeant promised to be a stimulating walk in the park---sadly, combined with almost incompressible silicone and the hefty 1+3/4" girth, masturbating with Sergeant turned out to be a crawl across a battlefield.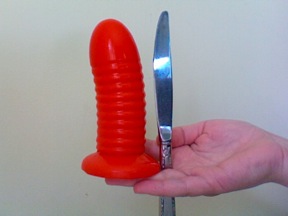 (No, the knife is not representative of my agony---it was just the quickest reference-sized object at hand.)
Sergeant is a wonderfully crafted dildo. Tantus has made it, as they do all their toys, by hand in the US of the finest platinum-cured silicone. Hypoallergenic, odorless, body-safe, and sterilizable for switching among partners of from orifice to orifice---there's no finer material for a sex toy than Tantus silicone. The particular blend that Sergeant boasts is incredibly stiff, glossy, and does not attract lint. It's the stiffest silicone I've ever come across---I think this is a combination of a stiff blend and a thick girth. If I set Sergeant on a windowsill and press from the top down, it hardly gives at all---even though the shaft has a gentle g-/p-spot curve. I can't even come close to compressing it by squeezing it with my fist. Sergeant is what he is---and he won't take any back talk. The design is really smart---a moderately quick, smooth tip adjusts your orifice of choice to the full 1.75" diameter, where it meets the first of ten ridges.
These ridges---I really want to be able to feel them anally, but I'm just not up to the girth yet. Vaginally---they feel wonderful... all except for one. I want to tell you how Sergeant
would
feel if my pubic bone were just a smidgen less protrusive. All across the back wall of my vagina (PS spot, for those who like to name their spots) the ridges of Sergeant feel like ripples. It's a wonderful massage going in and out, and the side walls bathe in the glory as well. The 5 insertable inches mean the smooth shiny tip proudly rubs the g-spot, exactly in the way you want it to. If it weren't for my anatomy being 1/32" too small, Sergeant would be a perfect short textured dildo. If I was able to take it anally, I think the experience would be blissful, as well.
Experience
But here's the sad truth---my pubic bone is a little too narrow to let Sergeant go about his business. It's not that I can't handle the girth---
Lone Star
is an eight of an inch bigger, and I can handle a 2" diameter wooden dildo on a good night. It's a combination of girth and texture. One of the ridges (maybe it's the eighth?) grabs the skin of my pubic bone, and grates it. It feels like the vaginal equivalent of the rumble strips that keep interstate drivers from dozing off and driving off the road. Or maybe, more aptly, like the country road rumble strips before stop signs---reminding you that the road doesn't go on forever and you need to
slow down
.
But I slow down and I still feel like I'm being scraped. I can't win with Sergeant. So as he commands his troops along the paths of my interior, when you stop to check out the scenery the next day you'll know he's been through.
I do really want to try this anally, because the ridges feel wonderful across my PS spot, and I know that they would be unencumbered if I could fit the girth through the first ring of muscles. I hope to try this use out and include the information in my follow-up review.
If you know that the girth won't be too much for you anally or vaginally---that is, if you regularly seek out dildos girthier than 1+3/4", instead of using the big guns as an exception---then Sergeant's textures will be heaven for your insides. But if you're only flirting with girth, or if texture's not your best friend, it might be better to not enlist. (You could try Sergeant Junior, the Tantus
Purr
...) I'm still hoping I don't get flunked out of boot camp!
This product was provided free of charge to the reviewer. This review is in compliance with the FTC guidelines.

Thank you for viewing
Sergeant
– dildo review page!