An Ego-Boost in Elastomer, or, Now I Know My Vagina's Hardcore!
Do you love the satisfying feeling of tackling a foe and coming out on top? SinFive's Pikilo dares you to take it on. This hardcore dildo is daunting, but once you hop on, you'll find that you will win every round. Elastomer is more forgiving than glass, so while the nubbins look daunting, they can do you no real harm. The elastomer construction is matte, though, so you'll feel the sensation of unlubed, rough sex. The Pikilo is a worthy opponent, and it feels so nice to win.
Published:
Pros:
A challenge that can be won: thrilling texture, daunting appearance, feels "rough," suction cup.
Cons:
Can't be sterilized, slope is better for riding on than thrusting with.
USE
Pikilo is here to intimidate you. It's girthy, it's textured. It looks like one badass dildo, and other reviewers have called it "rough sex in dildo form," and told you that "every sadistic Dom should own one." SinFive dubbed it Pikilo---in Esperanto, that's sting, spike, or quill.
Just look at this shaft of elastomer.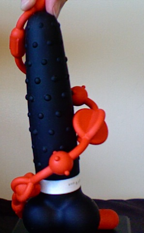 Can you hear it growling at you, daring you through your computer screen?
I bought the Pikilo because I like a challenge. I've handled a lot of texture in glass dildos, but glass dildos look like they were made to be your orifice's friend. Pikilo is here to be
Your Best Fiend
.
While I like a good challenge, I also have a bit of an ego. I like to be able to face a foe and come out on top---and the Pikilo allows me to do just that. Despite its daunting peaks, it lubes up very well, and feels fantastic. You know the sensation of starting to have penetrative sex before you've produced any lube? Even after your vagina summons muster (and mine musters buckets of lube within minutes), being fucked with Pikilo feels like you're dry the whole time. Still, the texture is less intense than glass bumps of the same size, so I have not been rubbed raw despite very vigorous thrusting. The WTP material creates a unique experience---and I really enjoy it. When I look Pikilo in the whites of its eyes, I have no trouble walking away from the battle victorious. What an ego boost!
All the same, I have not tried Pikilo anally yet---that's a battle for another day, friends.
CONSTRUCTION
Pikilo's most obvious feature is its
namesake
texture. These are actually small rounded nubbins, 1.5mm high, which are symmetrically distributed across the whole shaft except for the rounded tip. It also has a distinctive base. The handle is made of three firm balls, and they're extremely comfortable to hold and thrust with for solo use. At the very bottom are nickel or stainless threads (I can't tell which) for the ultra-heavy-duty suction cup. The suction cup works very well on any smooth surface, and unlike cheap dildos, it's not going to separate from the shaft.
Slightly under 6 inches of Pikilo are insertable, and the shaft can be thought of in two parts: the lower three inches are all equally broad (1 7/8" at the widest including the nubbins), but starting at the three inch point, there is a gradual shrinking slope. Pikilo is 1 1/4" in diameter at the top row of nubbins. Pikilo doesn't feel quite as girthy as it looks, though, because it gives a bit when you squeeze. This shape didn't make much sense to me when thrusting---how do you hit your g-spot with a taper? When I use Pikilo with a suction cup, though, the taper starts to make a lot of sense. You can easily center yourself on-the-fly for your downstroke.
Pikilo is my first dildo in
WTP
---a nonporous, but non-sterilizable elastomer. The material feels a little less dense than silicone. The surface is matte, and when it gets wet, it stays really wet (which is important, given the Pikilo's texture). I can squeeze it (as shown in the picture---that's with as much pressure as I can exert), and I can bend the tip to about a 40° angle. The dildo seems to be made of this elastomer skin, which feels 3/8" thick, over a semi-flexible core. There is another 3/8" air space between the skin and the core at the slanted top of the dildo, but less air space (and thus less squeezability) the closer you are to the base.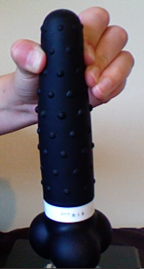 CARE AND STORAGE
My Pikilo came in a cardboard and plastic package, which is nice enough for storage but bulky for my tastes, so I store mine in the included satin drawstring pouch. The package I received did not come with the lube vials pictured on EF, but I ordered it from the manufacturer, so your mileage may vary.
SinFive's WTP is said to contain an antibacterial agent which is activated when rinsed with water. I'm on the cynical side, though, and because Wolwin (SinFive's parent) does not disclose the name of the antibacterial agent, and doesn't describe how it works, I am not putting any faith in it. I wash my Pikilo and
Alterno
with warm water and antibacterial soap. Because WTP will degrade over time if it is bleached or boiled, I won't share these, nor will I switch them from anal to vaginal use. Oil-based lubricants should be avoided, as well.
Experience
PERFORMANCE
My only original complaint about SinFive's Pikilo was the slightly disappointing taper at the top of this dildo, but that more than redeems itself during suction cup play.

I think some of the most fun aspects of this dildo are mental. Everything about Pikilo makes it appear to be a daunting foe, and I can see this dildo appealing to lovers of challenges, like myself, and also to Doms in relationships who are looking for something that makes a good threat, but which is still entirely pleasant for the person they're threatening. The "rough sex" sensations of Pikilo are completely manageable for anyone who's experienced with glass texture, but they still manage to make you say "Wow! Look how hardcore my vagina is!" no matter how many times you use it and come up triumphant.

This is a great dildo for anybody who wants to simulate rough sex, or for anyone who wants an ego boost. Make yourself a laurel crown while you wait for this one to ship---Pikilo is a worthy opponent, so you'll deserve it.
This content is the opinion of the submitting contributor and is not endorsed by EdenFantasys.com

Thank you for viewing
SinFive Pikilo
– dildo review page!