Sinfive Burgono has a suction cup of DOOM!
The burgono is a beautifully odd dildo with an amazing suction cup, although, mines did not come with one. The burgono comes with its own storage pouch, and sample lubricants. Perfect, for men and women, and can be used virginally, and anally. The odd balls of the dildo make a wonderful handle.
Published:
Pros:
Strong suction cup, Easy to hold on to, Can be used anally,
Cons:
My be uncomfortable for some
I'm not a dildo person. I prefer vibrators, and I've fallen in love with glass dildos. Most of the dildos I've been buying lately have been glass. I've eyed the sin five collections for about two weeks. I love the way there dildos look. I wanted to order the Pikilo, but after reading the reviews, I decided against it. The texture seemed to be too much for me. I decided on the Burgono, and I was not disappointed. After using mine, I realized that mine did not come with what is listed on the page. My burgono did not come with the lube, or the storage pouch that it said it was going too. At first I did not think to look for it because I was not expecting it. When I went to inspect the page, I noticed that mines did not come with it. I'm a little depressed about that.
The Burgono is made by a company based in Germany. The burgono is a beautiful dildo; It has a twist compared to the normal, traditional dildo. It has this very odd but attractive shape about it. It looks almost like a butt plug to me. I do not know how to explain it, but I'm very much so in love with the way this dildo is shaped.
When you receive the burgono in the mail, it comes in quite a large box. The box is in a sleeve. The top of the sleeve has a picture of the toy itself. Which may not be too good, for gift giving, it would be okay if you do not mind people knowing what is in the box. On the back, of the box is some, information in English. Along, with a few other languages. When you remove the outer sleeve, the box is all white no writing on it or anything. When you open up the little door, that allows you to view the toy without taking it out. You see the beautiful burgundy toy. When you open the box, you see this thick, cut white sheet of plastic container. When you pull that out the toy, is sitting in it along with three manuals.

The three manuals that come with the dildo are mostly in germen, with English sections. One booklet tells you about the burgono and other toys that are also on the sinfive line. The second booklet is about what the burgono is made up of. The third booklet has information on how to attach the base and care for your sinfive item. You also get an extended 5 year guarantee registration card. You also receive velvet storage pouch and a simple set of lubricants.
The measurements are:
Length:7 3/4"
Insertable length:6"
Circumference:5"
Diameter:1 1/2"
Weight:0.5 lb

The burgono does not vibrate what-so-ever. At first sight, I thought it did, because of the odd balls that are at the bottom. It did not, it is just a creative base. The ball like base makes it perfect for anal. You can use it with a partner and you can use it hands free alone because of the suction base. The suction cup that comes with the toy is STRONG! So when you stick it to something you never have to worry about it coming loose on you. To remove and apply the suction cup, you just screw it in and off. To remove the suction from the wall, all you have to do is slide your nails under it and gently lift.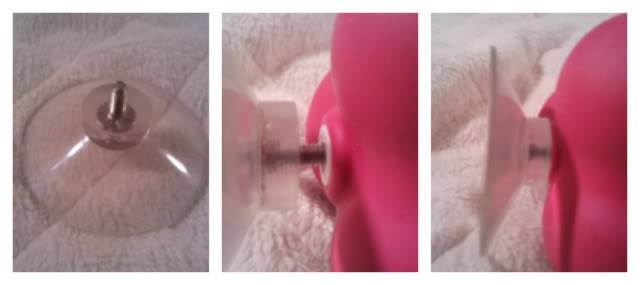 The sinfive itself is soft and smooth to the touch WTP is used in children toys manufacture. It is completely nonporous, odorless, phthalate and latex free. It does not collect lent or hair. You can use it with all lubricants except for oil based ones. When using you should wash it before and after. If sharing I would recommend using a condom, when washing you can just wash it with mild soap and water. You can use your favorite toy cleaner also. The sinfive has no real texture just an odd shaped head, ran across the skin it does have a lite drag. It may require you to use more lube. The size makes it perfect for beginners. When storing you can put it in your drawer or favorite toy box. When and if you plan on sharing you should use a condom with every use.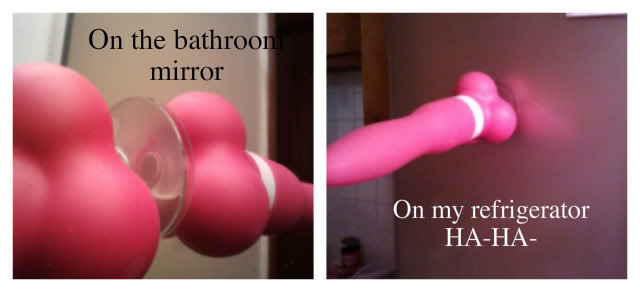 Experience
I do not have that many suction cup toys, so that means I do not have a lot of suction cup play in the shower. I was excited about having something that I could use with having to hold on to it. Just to see how good the suction was, I stuck it onto my bathroom mirror, and it held strong. The next step was the bathroom tile. I placed the dildo onto the tile and enjoyed some hands free fun. I must admit it did feel a little odd when I was inserting it, but after some time, it started to feel good.
Here, is where things went WRONG!
I got out of the shower and was cleaning everything up. I want to take the dildo off the tile, and you will not believe what happened. The dildo pulled off two of my tiles off my bathroom wall. I was in shock! I just stood there and looked at the wall for about 5 minutes. I did not know to be pissed or what. I decided I was not going to be pissed because it is something that we could fix. It just caught be off guard.
So I'm warning just to be careful, I did not just pull it off I lifted it off.
The suction cup on this toy is
NO JOKE
.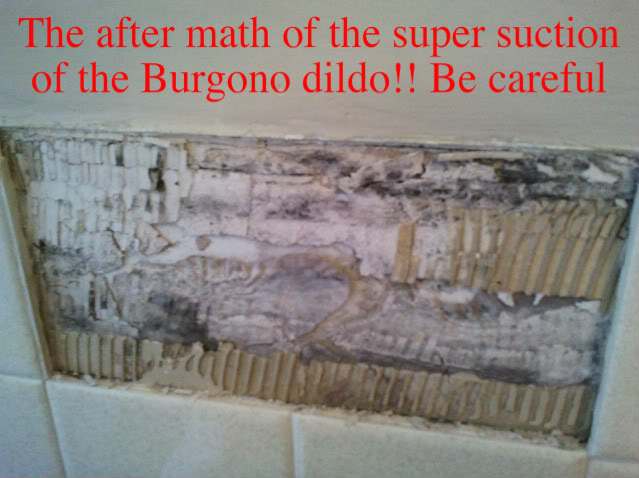 Follow-up commentary
7 months after original review
I really liked this when I first started using it, but not so much anymore. For some reason, I find myself poking myself over and over again. No matter how I handle it, I always poke myself. It's made me not like it too much anymore. I blame my body not the toy.
This content is the opinion of the submitting contributor and is not endorsed by EdenFantasys.com

Thank you for viewing
Sinfive Burgono
– dildo sex toy review page!