Size-Queens With Avatar Fetishes Rejoice!
Ballsy's generous length and girth, combined with his flexibility, means that he will be capable of pleasing not just size-queens... but size-princesses as well. If you can get past his fruity odor, that it.
Published:
Pros:
Filling, yet pliable, Body-safe material, Raised veins add stimulation
Cons:
Odor that does not dissipate
PACKAGING
When the large brown package arrived in the mail, I really wasn't sure what would await me. I tore open the box without expectations. Inside, wrapped in a clear, nondescript, shrink-wrapped plastic mold, was the largest Avatar blue dildo I have ever anticipated putting inside of me. I believe I sat and just looked at this stallion for about 5 minutes before working up the nerve to get the scissors out and actually open the package. Of course, once I did, the first thing I noticed was that my Super Softee Ballsy seemed to have brought me flowers… or ripe fruit. At least it smelled like he did. Honestly, I can't complain that the odor was unpleasant, it was just a strong combination of fruity and flowery that even transferred to my hands. It continues to emit this smell even after being washed many times and left out to dissipate. Not overly sensitive to odors, this isn't really a problem for me. For those who are, this may be a deal-breaker.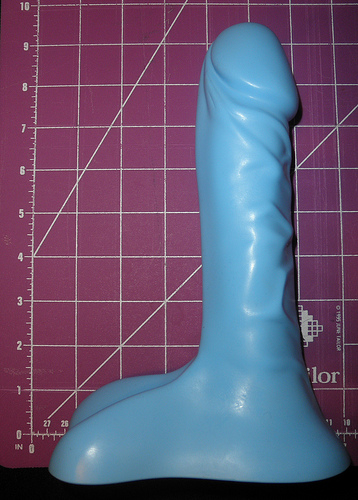 USE / DESIGN / SHAPE
No one is going to accuse Ballsy of being discreet. While he may initially appear to be a smurf dildo, it is obviously too large to belong to such creatures that live in small mushrooms. He is clearly a semi-realistic Avatar dong. And at 9 ½ " long (8" insertable), with a just over 2" diameter, he is not going to be laying around unnoticed either. In fact, due to his size and soft material, I can't really recommend him as a travel buddy either. However, I do believe he would be a great bedroom accessory for ladies who like to feel filled, and those who are very, very anally adventurous. While I think that those who prefer slim-lines should probably beware, I do think Ballsy would be a good starter for those who are interested in trying a larger dildo because he has a lot of give.
MATERIAL / TEXTURE
Ballsy is made from a PVC composite called Sil-A-Gel. The unique thing about Sil-A-Gel is that it is phthalate-free, latex-free, and non-toxic. Although the material is semi-porous, it is made with a bactericide that inhibits the growth of these little buggers. Ballsy is very squeezable and flexible, giving him a sway when he is held by the base. Yet, not enough to be floppy or hard to insert. With minimal effort, I can bend his shaft right down to his base. Now, this makes angling this fellow up to hit the g-spot near impossible. But, (and this is a big but!), it is the fact that he is so pliable that makes it possible to tolerate his advanced size. To the touch, Ballsy feels similar to jelly toys. The material is almost sticky with a lot of drag unless lubricated, in which it becomes silky-soft and slippery. Ballsy is completely smooth, with noticeably raised veins, which are located predominately over the topside of the shaft. He also boasts an engorged mushroom head and… balls, which are too oddly shaped to look realistic. I was surprised, however, that the balls carried enough sway to actually slap against my ass with each thrust.
PERFORMANCE
The base of Ballsy is flat, rather than having a suction-cup. Not only is the base easy to hold while thrusting, it would likely sit comfortably when used with an O-ring harness. However, I do not own a harness, as was unable to test this. As I mentioned above, I had no expectations before I received Ballsy. However, what I did find is that he makes a wonderfully filling thrusting partner, even though I initially doubted my ability to accommodate him. The veins are raised enough that they are felt internally and help to stimulate the g-spot and other internal pleasure spots, even without a curve. Yet, at the same time, they are silky enough that they don't drag and create an unpleasant friction feeling. The head, which is slightly larger in diameter than the shaft, is tapered to help ease insertion. And once it is inside, allows the shaft to be easily and comfortably inserted as well. I did find that my body simply cannot take all 8 inches of Ballsy, no matter how horny or excited I am. Even with the personally excessive size, I never felt an uncomfortable feeling against my cervix while thrusting. I attribute this to his soft, pliable nature. As an alternative to plain thrusting, I find it feels amazing to tuck the balls just slightly under my bum (when lying on my back) and wiggle my pelvis up and down to create movement. Now this may seem like it would be uncomfortable, but again, because he is so long and flexible, it works.
Experience
CARE / MAINTANCE
Sil-A-Gel is compatible with both water and silicone-based lubes. To cleanse, simply wash with mild soap and warm water or toy-cleaner. Ballsy can be a total lint magnet, so be sure to store in a toy pouch, carefully protected from objects that might injure his soft material.
Follow-up commentary
2 months after original review
I found the Ballsy to be an unexpected delight. The more I used him, the more I like him, and he has made his way (surprising) into my regular rotation. I really enjoy the flexibility this toy affords, and all the positions I can use it in.

The smell I described, well, it never completely went away. Its been airing since I got him, washed... well, I won't say how many times... but I've actually come to start associating the smell of plastic blueberries with multiple orgasms. So what more can I say?
This product was provided free of charge to the reviewer. This review is in compliance with the FTC guidelines.

Thank you for viewing
Softee ballsy super cock
– realistic dildo review page!