Sorry, Silicone. I Ain't NEVER Comin' Back Again.
Oh. My. God. I just fell in absolute SEX with this toy. Beyond love. Beyond lust. This toy is beautiful, it grabs my eye, my breath, and my G-spot in one fell swoop. It appeals to my rougher side with the bumpy end and swirls in and out of me, gracing my G and A spot with the other. It will last a lifetime and comes with a sweet carrying case. I'm never going back to silicone. Glass for life!
Published:
Pros:
G-spotting, beautiful, temperature play, compatible w/all lubes, long life
Cons:
Hard textures may prove painful in tight spaces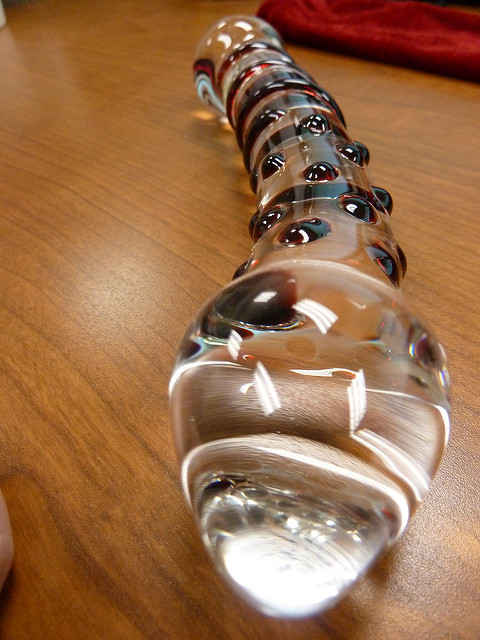 It only makes sense that one gets wiser as they age. Hence why my first dildo was jelly. It off-gassed like a mother and attracted every dust bunny in the tri-state area. And that thing burned my insides up like chemical neon fire before I had the heart to throw it away.
After a bit of research and some helpful EF reviews, I found silicone. Oh beautiful, boilable, bendable, forgiving silicone! How I loved thee so. How I loved to lube up your matte or satin finish and thrust away till my heart was content. But little did I know, my heart was not
completely
content. Something was missing.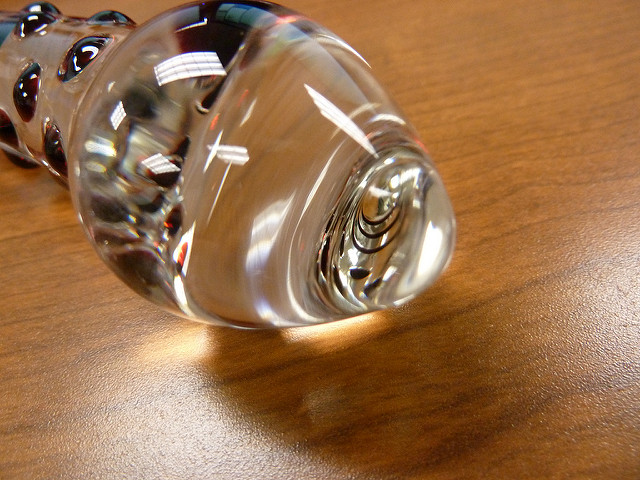 It was this. The end-all be-all to dildos. The holy grail of sexual pleasure. This fucking
beautiful
work of art is SSA's Bumpy Spiral Double Dong dildo. My new lover.
My boyfriend is jealous. Though I was initially unimpressed by the toy's smaller stature (I'm a bit of a size queen), I was proven wrong the instant I slid the delightfully cool hard glass into my awaiting abyss. The bumpy textures on one end and the raised red swirls on the other lend a generous extra pair of centimeters to the Bumpy Spiral's girth. And the delightfully realistic bulbous head popping in and out of my kuka as it hunts for and captures my G-spot over and over... is divine. I was so pleasantly surprised! Somehow this all-intimidating sex toy material has become my new best friend.
I'll never have to worry about prolonging yeast infections again. This beautiful work of art cleans up so nicely with hot water and a bit of soap, and shines like new. I can wrap it in a cloth and boil it in between uses to ensure no bacteria or doubts remain. I can use it with any lube I choose (but since I'm prone to yeast infections, I only use water based), but since it's so freaking
dead sexy
it turns me on, mingles with my own juices and holds on to them for such sweet dear life that I
don't even need lube!
It's like the first time with that coveted sexy young chick you've had your heart set on for months. Your flower is
salivating
before you even lay a finger on her.
Experience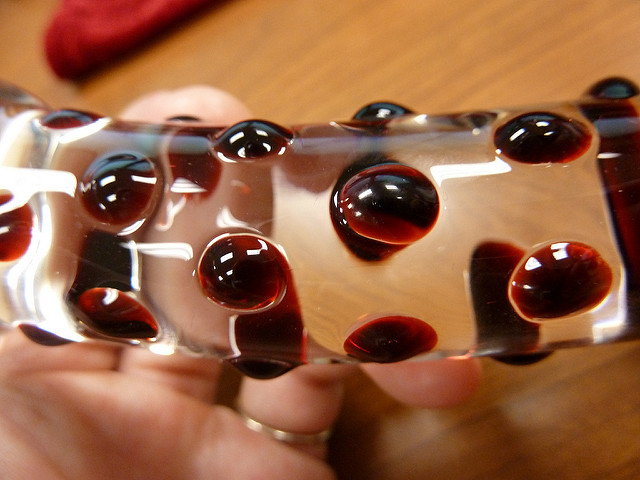 The bumps raise the girth about 2cm on either side.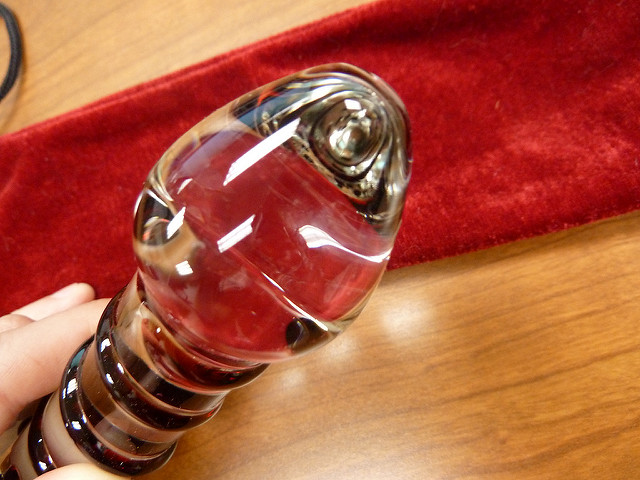 The swirls are also raised about 1.5 cm.
The raised red bumps prancing across one end allow my pain princess to come out, and when she's had enough of their poking and prodding, I switch to the smooth side and glide and slide and smile my way through orgasm after orgasm. Really! Did I mention that my boyfriend is jealous?!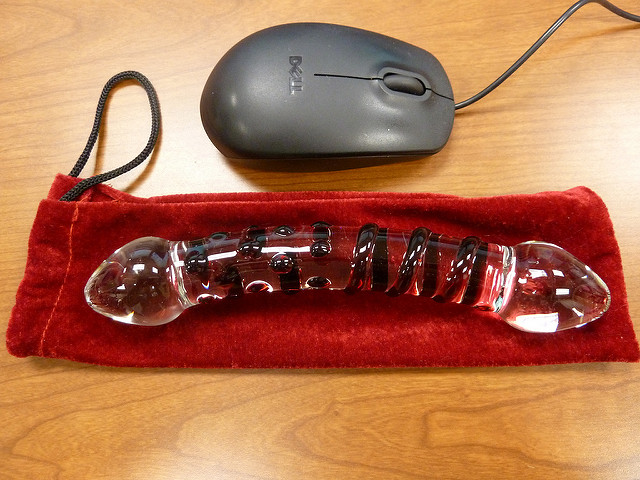 At a sleek and sexy 8" long and 10.5 oz, this work of art feels good in the hand. It feels great to glide cool of the smooth slick glass across your skin. The cool of the air in my apartment was enough to surprise my lips as it passed through the thick Pyrex and hit my warm awaiting insides. If I get ambitious enough, one day I can certainly try icing this down in icy water, even freezing it, and boiling it as well for hot/cold temperature play. One should always be sure to test the toy on the inside of the wrist before using it on sensitive parts and proceed with caution, as burns or freezer burns can happen this way.
The toy came in bubble wrap (which you can bet your ass I had some cowboy heel-stompin' fun with after my O-fest) and placed gingerly, lovingly inside this adorable red velvet travel pouch.
With what I've heard from DWTim's myth-busting videos (check them out
here
, this 1 1/4" wide Pyrex piece ain't gonna be shattering on you anytime soon. Whether you drop it on a steel floor from a height of 5 feet or move it from freezing to boiling temps and back again. Though mine did come with 2 small faint scratches on one end, I'd still say this will outlive me by at least 100 years. If not possibly forever. And ever. And ever...
As turned on as you may get with this piece, be sure not to thrust too vigorously against your cervix, or you may bruise yourself internally. Glass is hard and unforgiving, unlike your bendier, squishier silicone toys.
I don't recommend the toy for anal, as the flared head isn't quite enough of a flange to be sure the toy will never get sucked into the black abyss. I did notice while using this vaginally and being penetrated anally, however, that the toy's hardness became much more intense. Every curve and bump could be felt, and the lines became ridges. It was a bit too uncomfortable and I switched out for my silicone Bandito by Fun Factory. Alright, Silicone. I lied. This is still my favorite masturbation dildo though!
Follow-up commentary
4 months after original review
As amazing as this was for me at first, I got over it pretty quickly when I couldn't use it for double penetration. It pinched and poked me and just turned me right off.

It is a marvelous glass toy for those who enjoy glass, but as for me, I'm so sorry, silicone! I lied! Please, take me back. I promise I'll be faithful this time.
This content is the opinion of the submitting contributor and is not endorsed by EdenFantasys.com

Thank you for viewing
Bumpy spiral double dong
– glass g-spot dildo review page!