Spirals and Nubs, It's Like 2 For The Price Of 1!
The Bumpy Spiral Double Dong made by SSA Glass is a double ended dildo with a different texture on each side. It really is like getting two dildos for the price of one! Though keep in mind, Mr. Bumpy Spiral has a larger circumference. If you're new to glass or prefer slender dildos, this would not be my first recommendation to you. Mr. Bumpy Spiral satisfies me and I'm very happy with him!
Published:
Pros:
inexpensive, attractive, double ended, textured, safe material, easy to clean, can be sterilized.
Cons:
may not be the best choice for beginners or those who prefer no textures or slimmer insertables.
The Bumpy Spiral Double Dong is a double-ended glass dildo made by SSA Glass. It arrived wrapped in bubble wrap inside a red drawstring storage pouch. The red drawstring pouch is not padded so you will want to invest in a better storage option or just do what I do- keep the bubble wrap that the toy comes wrapped in.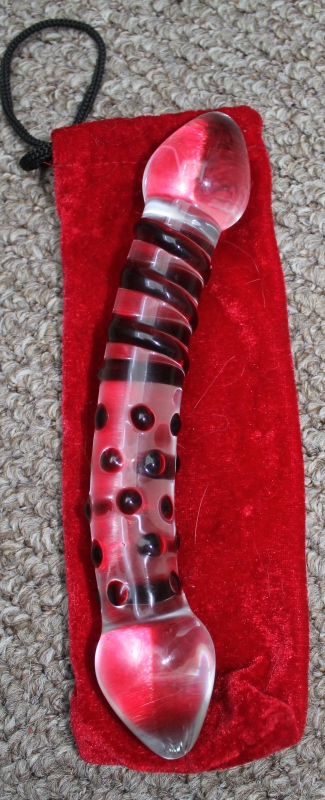 The dildo is clear in colour with the nubs and swirls being a deep, dark red colour. The dildo is made of Pyrex glass and has absolutely no flexibility to it. The difference between regular glass and Pyrex glass is that Pyrex is less dense. If the dildo ever were to break, the glass would not shatter but would instead break into larger chunks. I've dropped a few of my glass pieces in the past and have not experienced any breakage/chipping to the product. The glass is quite durable.

I've taken a few measurements of the Bumpy Spiral Double Dong but if you need additional measurements, please let me know and I will get them for you.
Length: 8 ¼ inches
Tapered bulb (head) length: just a tad beneath 2 inches
Tapered bulb (head) circumference at largest point: 4 ½ inches
Circumference of shaft (textured area): 3 ½ inches
The dildo is double-ended, which means you can insert the dildo from either side. Each end has a tapered bulb that acts as the head of the dildo. The tapered bulbs are smooth with no texture. Beneath the head is where the texture sits. Half of the dildo has a raised swirl texture while the other half has raised nubs. The texture is raised approximately 1/8 of an inch off of the dildo, though some of the nubs are just slightly higher than this. The width of the swirls is approximately 2/8 of an inch and the nubs have a diameter of just a tad over 2/8 of an inch. I love that this dildo has a different texture on each side because it's like you're getting two dildos for the price of one!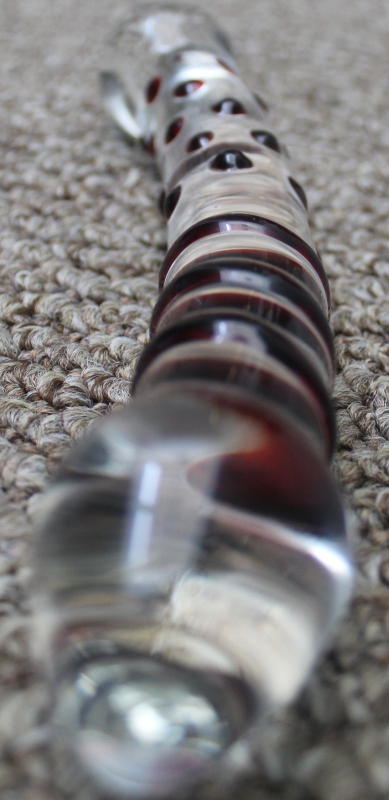 The dildo does have a slight curve to it. I'm unsure of how well it works for g-spot stimulation because sadly, I've never experienced a g-spot orgasm in my life. The dildo still feels amazing though. My favourite end to use is the swirled textured end. I prefer the swirls to the nubs but they both feel great. The tapered bulbs at the end of the dildo make for a great handle too. I wouldn't recommend this for anal play, simply because the dildo lacks a flared base.
What I really love about glass is that it can be used for temperature play. The dildo can be placed in a bowl of warm or cold water and will hold the temperature well during play. I really love the cooler sensation but many people enjoy the warmth of glass too.
If you're new to glass, prefer very subtle texture, and/or a more slender dildo, I'd highly recommend the
Gold Laced G
. The Bumpy Spiral Double Dong can be used by beginners but the larger circumference and raised textures may be a bit much at first. I'd be more likely to recommend the toy to those who have tried smooth glass insertables but would now like to experiment with different textures to their glass, or those who are looking for a glass piece with a bit more girth. Below is a comparison photo that I had used for my Gold Laced G
review
. The Bumpy Spiral Double Dong is the fourth piece from the left (second to last). You can see that this dildo has a larger circumference than the other pieces and the tapered bulbs are larger as well.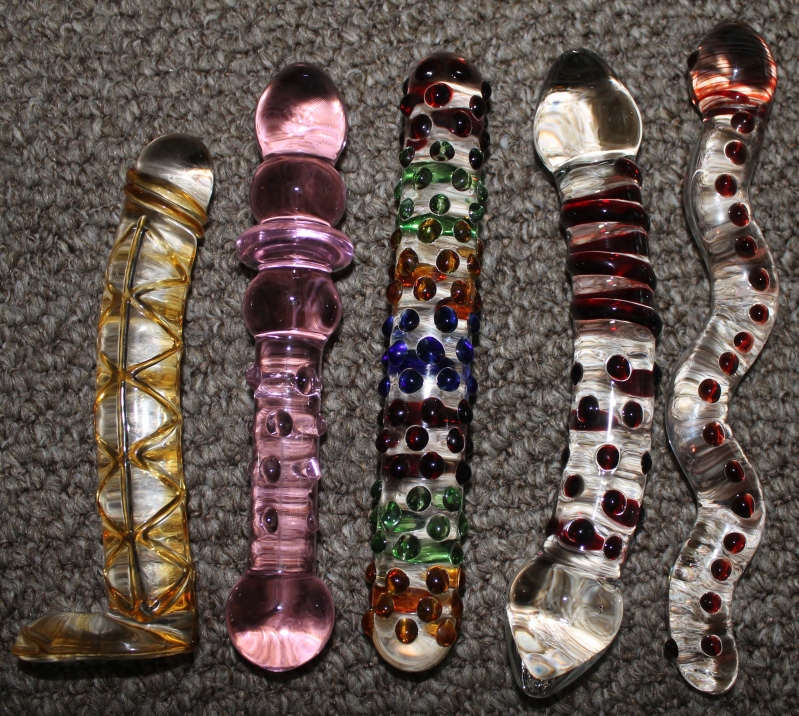 With glass you can use water, oil, or silicone based lubricants. The material does not absorb the lubricant so a little goes a long way. Glass should not be used for hard thrusting to avoid hurting yourself.
To clean the toy you can use soap and water, toy spray, or toy wipes. Since the toy can be fully submerged in water, it makes cleaning the toy that much easier! The toy can also be disinfected by wiping it down with rubbing alcohol, a bleach/water solution, boiling the toy, or throwing it onto the top rack of your dishwasher.
Overall, I love my Bumpy Spiral Double Dong and the fact that it's like getting two insertables in one. It's easy to use, easy to clean, and feels great. I would definitely recommend him to those looking for a new glass toy.
Follow-up commentary
3 months after original review
I still love my Bumpy Spiral Double Dong! I love that fact that I can use either side for a completely different experience. I still prefer the spiral end but will sometimes switch during the same solo session. I'd definitely still recommend this toy for those who know they like texture. It'd be a good toy for those who are new to texture as well. It's quite pronounced but you can to try two different types of textures for the price of one.
This content is the opinion of the submitting contributor and is not endorsed by EdenFantasys.com
Thank you for viewing
Bumpy spiral double dong
– glass g-spot dildo review page!