This toy makes me hot.
This vibrator is firm, of decent length and girth, has a bit of a curve, and a killer head/ridge that digs into the g-spot like mad. It's great. It doesn't deliver intense vibrations, but the shape more than makes up for that. It is very, very hot.
Published:
Pros:
- amazing g-spot pressure, silicone, brilliant colours, harness compatible
Cons:
- weak vibrations
The Hottie is a 100% silicone vibrator made by Happy Valley Silicone. They're a Canadian company, which makes me beam with Canadian pride. How is this my first Happy Valley toy?! One thing's for sure: this isn't a company I'm going to be overlooking any longer. The silicone is gorgeous and the design is spot-on. The flared base of the toy makes it both anal safe and perfect for use in an o-ring harness. It's got a good length for thrusting, and a solid bulb of a head for g-spot or p-spot stimulation. Because of the Hottie's moderate size, this is an intermediate toy for either vaginal and anal use.
The vibrating aspect of the Hottie is not built into the toy directly. Rather, the base of the dildo has a hole where a bullet can be inserted in order to add vibration. Because the vibrating mechanism can be removed, you can completely sterilize this toy by removing the bullet and boiling the dildo for 3-5 minutes, or else wiping it down with a 10% bleach solution. This gives you the option of sharing the toy with a partner, or switching between orifices without having to use condoms (not within the same session though, obviously). For general cleaning, warm water and soap before and after use will suffice.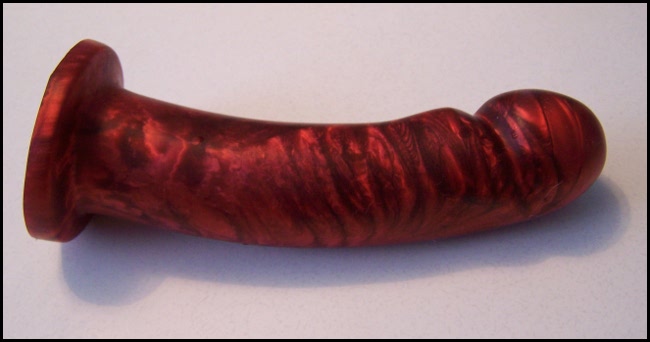 Ohh, the colours! This is some gorgeous marbled silicone. The red colour is decidedly deep and orangey, with a gorgeous shimmer that's almost golden. Companies should make more toys in colours like this. When wet, the colour brightens up even more, making this a super sexy shower toy (although you may want to skip using the bullet in the bath).
There is quite a bit of drag to this silicone when it's dry, which gives it some dust-collecting tendencies. It's nothing a good rinse before playtime won't fix, though. The silicone is also quite firm. There's a bit of squish to it when pressed and its flexible when bent, but it's really very solid and holds its shape completely during use. The quality is awesome, and with a minimum of care this can easily be a toy for life.
Generally the rule with silicone toys is is to avoid silicone lubes, but I spot tested the base with Wet Platinum Silicone, System JO Premium silicone and Pjur Med Premium Glide and all were compatible. Water-based lubricant is the fool-proof choice, but my experimenting so far has shown that silicone-based isn't totally ruled out for the Hottie.
FUNCTION
The bullet that comes with the Hottie is pretty standard. It's silver, runs on three watch batteries (included with the toy) and has one speed. It's very comparable to the bullets that come with Tantus toys, although it might be a tiny bit stronger when used by itself. Outside of the Hottie, I'd say it's about 3 vrooms and SUPER buzzy, as well as being a bit louder than I'd like. I much prefer to use it in the toy, where the bullet adds a nice little extra spice to an already awesome dildo.
The bullet hole in the Hottie is 3" deep, with six little vertical ridges at the deepest inch, while the bullet measures only 2¼". This is great for use in a harness – that bullet is right in there and not at all interfering with the flatness of the base. However, the first thought I had after inserting the bullet all the way was, "Damnit. How am I ever going to get that back out?" Through trial and error I found that the answer is to twist the dildo back and forth like you are giving it the most violent Indian sunburn of its life. Wring it right out. The bullet will work it's way back up to the surface after the fifth or sixth twist. Lubing up the bullet before popping it in will help this process immensely.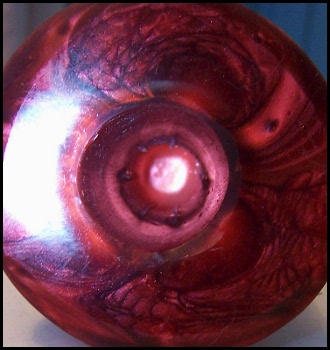 When inserted, the vibrations are dulled pretty thoroughly by the thick silicone. It's about 2 vrooms at the base/shaft, and only 1 at the tip. The sound isn't dulled at all when in the dildo. However, if you're wearing the Hottie in a harness (or covering the hole at the base in some other way), it's much softer. Covering that hole is key for quieter vibration. Although you can use any standard-size bullet in the Hottie, I haven't found much difference in power. All the bullets I've tried are dulled down to pretty much the same buzz by the silicone.
Experience
I haven't yet used the Hottie in a harness, but I did wear it around the house a bit to check how it fits. The base is good and solid (½" wide and just over ⅓" thick), and the Hottie sits nicely with a minimum of drooping. The first word that comes to mind when wearing it is 'righteous'. It could be that I'm just new to harnesses and so any dildo is kind of exciting and powerful to strap on, but there really is something about the Hottie's shimmery red sexiness.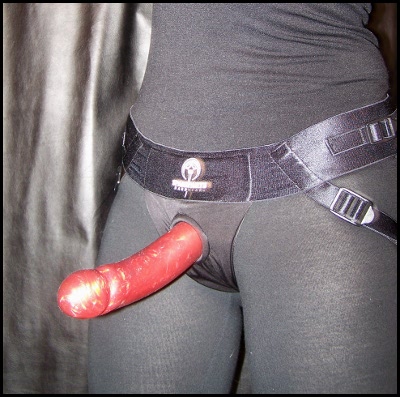 Once mounted in a harness, the Hottie transforms into a Firecock of Glory
As for the Hottie's shape, I have three words for you: holy g-spot ridge. The curve and pressure of this toy is sometimes intense to the point of discomfort, but mostly it's just really awesome. Being semi-realistic, the Hottie has a defined head and a slightly raised vein ridge along the underside of the shaft. I want to say that this feels good along the lower wall of my vagina, but to be honest I can't really focus on much but the g-spot pressure while I'm using this. It takes over the whole show.
While clearly a phallic object, this doesn't have any too-real aspects that could weird anyone out. It's just a beautiful hunk of silicone with a few penis-like aspects. Nothin' too crazy.
The size is, for me, perfectly filling. If I need any warm-up, it's more for the g-spot stimulation than the size. Because the Hottie is so firm, it really does feel like a solid 5" around. I wouldn't recommend this to beginners because it does have some girth to it, but those familiar with toys will find the Hottie to be a dependable addition to the toybox. With an insertable length of 6½" (7" total), there's adequate length for thrusting. The base of the toy is easy to hold when playing solo. The smoothness of the shaft facilitates an easy in-and-out while the bulbous head bulldozes everything in its path. This is a winner, folks.
PERSONAL NOTES
I love this dildo. What with the Hottie's curve and firmness, I did foresee some good g-spot action, but I didn't expect it to be quite so killer. It means business! It hasn't happened yet, but I feel that there's some serious squirt potential with this toy. No toy has ever given me such a strong "need to pee" feeling so instantly. I'm pretty excited to experiment more with the Hottie and see where it leads. I wouldn't be surprised if it's the toy that graduates me into the Ladies Who Squirt category, and that pleases me greatly.
This product was provided free of charge to the reviewer. This review is in compliance with the FTC guidelines.

Thank you for viewing
Hottie
– strap-on dildo review page!