Tiger stripes purr
Tiger is a great dildo for those who like added texture and ridges. So if you are looking for a body safe dildo that has ridges, the Tiger is worth the price.
Published:
Pros:
100% silicone
Ridges
Cons:
None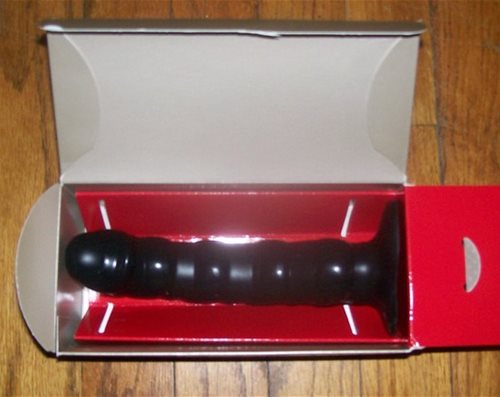 I am enamored with Fun Factory. Maybe it is because they are a German company (I have a thing for Germans and Germany in general) Or maybe it is because of the quality of their products which never disappoints.
Tiger is a gorgeous dildo. Being 100% silicone, Tiger has no odor, no taste and is body safe and easy to clean. Beautiful in design with pronounced ribbed stripes along the shaft and a tapered head that allows for easy insertion. The flared base helps secure it in while being used with either a harness or the Liberator BonBon toy mount. It can also be comfortably held in hand for those who enjoy hands on play or having it used upon them with a partner.
I own a few other dildos that have a ribbed texture. Usually, there is the fatal flaw that the ribs cause so much drag that extra lube is needed, which in turn lessens the friction. This does not appear to be the case with Tiger. I was able to insert and use it with just the normal amount of lubricant that I would use with a less textured dildo.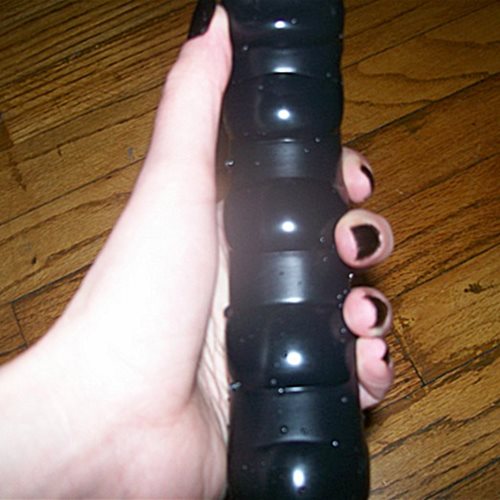 The ribbed stripes can be felt on the vaginal/anal walls yet don't provide enough drag that it distracts from actual use. I needed very little lube for play. This may be because of the smaller girth. I usually choose dildos with a sizable girth, but Tiger is 1.75 inches in diameter (almost 5.5 in circumference) at its widest. Its total insertion length is about 7.25 inches. I normally do not enjoy insertion toys that have a girth of less than 2 inches wide, but the stripes combined with the length more than made up for the lack of thickness.
The curved head allowed for easier G Spot stimulation. It was interesting to be able to feel the actual stripes against the G Spot. The silicone is flexible. While it is not soft and supple, it can be bent and therefore allows for easier reach and movement with your body or if being used with a toy mounts would allow the user to bend forward for easier double penetration with a partner. Or if being used with a harness, one could engage in the missionary position or spooning positions (either front facing or rear entry). It doesn't feel lifelike, with the material having a tacky like feel to it. I wouldn't describe it as fully sticky, but it would be extremely difficult to slide your hand up and down it without the aid of lubricant.
The silicone causes it to be a complete and utter lint/hair/fur/etc. magnet. I've just set it out for the few minutes that it took for prep, and it was covered, and that was right after I washed it. To combat this problem there are a few solutions, the one that I use is a damp lint free cloth that I use to wipe down toys with before applying lube. Also, keep this in mind while storing Tiger. While it is not really necessary to store good quality 100% silicone toy in a manner that keeps them from touching, I find that simply storing them in individual plastic baggies or in a lint free storage pouch keeps them a little more lint free.
I used Tiger two different ways: hand held and inside a toy mount. It hit the G-spot during some of them better than others. The base can act as a suction cup, but I found it to be insufficient for use, enough so that I was unable actually to use it in that manner. So if you are looking for a dildo with a suction cup to stick a wall or the floor this toy might not be such a great idea.
Experience
Hand Held:

The base was easy to grip, lying firmly against my palm while my fingers came up over the flared edges. This holding style allowed for the doggy position (on knees bent forward) While I did try it out while laying on my back, I found it more comfortable to grip around the base of the shaft which decreased the insertion length. Weight wise is fairly light, and I didn't have to have my wrist contorted into strange angles to use. While I had pretty good G Spot stimulation in both positions, I did find that the thrust was somewhat lacking. So if you like vigorous thrusting, it is best to hold the toy by the base of the shaft, but keep in mind that insertion length will be diminished. This might not be an issue for users who enjoy less vigorous thrusting when it comes to play with penetration toys.

Toy Mount

I recently invested in a toy mount. I really enjoy riding cocks, and this toy mount seemed perfect for me. Tiger fit securely in it, staying put even during the hardest of rides. This also allowed me to better adjust my angle giving me direct G Spot stimulation when I wanted it. And G Spot stimulation did give. I had a better sense of the ribbed stripes against G Spot. While Tiger is not the perfect toy for G Spot stimulation, it does the trick just fine when coupled with the toy mount. I could lean forward, pressing down against the toy. The flexibility of Tiger made this more comfortable as it moved with my body. Unlike the unyielding material of glass or silicone that was firmer or more rigid and fought against movement.

Cleaning and storage:

Cleaning is fairly simple and straightforward. All sex toys should be cleaned both before use and after. Silicone is nonporous and easier to clean and maintain. This can be achieved by either using a hand soap, dish soap or toy cleaner. Tiger can also be tossed in the top rack of a dish washer or sterilized by either boiling or with a 10% bleach solution. I find the ability to sterilize a toy a major plus in the case of toys that may be shared between various partners or used for both vaginal and anal play. Always remember to thoroughly clean and sanitize a toy that was used anally before using it for vaginal play to decrease the odds of harmful bacteria being introduced into the vagina. Make sure to dry completely before storing to keep mildew from growing on the toy.

Storage is also simple. I personally use various methods of storage, but keep all my silicone toys either in individual plastic baggies or wrapped in lint free cloth. Tiger also can be stored inside the original box. While the outer box is not discreet, two of its sides have pictures of the Tiger. The inner box is ideal for semi discreet storage in either a dresser drawer or on a closet shelf.
This content is the opinion of the submitting contributor and is not endorsed by EdenFantasys.com

Thank you for viewing
Tiger
– g-spot strap-on dildo review page!