Wasn't the "Remedy" I Required!
This is a cute vibrator, but it's petite and not very powerful; however it's a big improvement over cheaper vibrators, as the sleeve is made of silicone and the shaft is semi-flexible. A few tweaks here and there could have made this a better remedy for a larger audience.
Published:
Pros:
Silicone sleeve, waterproof, slight initial odor, flexible shaft.
Cons:
Not very powerful or thick enough.
The Remedy Rider from NMC Ltd is a small, discreet vibrator that leaves much to be desired in terms of power and size; however the realistic penis appearance is nicely detailed and may provide some pleasant stimulation. Other than that, it's nothing special except for the fact that it has a silicone sleeve, is waterproof, and has a somewhat flexible shaft. It's primarily for solo use, external stimulation and vaginal penetration, but if EXTREME caution is used, it could be used around the anus and for shallow anal play. Just don't do insert anything more than a few inches, as there's no flared base to keep it from getting lost in the butt.

The materials are part plastic, with a neon pink silicone sleeve covering the insertable portion. The latter is shiny and somewhat sticky, so it will grab quite a bit of hair and lint. Silicone is very safe and naturally smooth, but the veins on the surface give it some texture. The upper half of the shaft is somewhat flexible, allowing for more comfort during use. Odorwise, there is a slight smell, even though silicone is supposed to be odorless, but this goes away quickly with a few cleanings. There's also little to no taste.

The size would be good for someone new to adult toys, and this one would certainly be a great choice because it's not intimidating and is very safe to use. For me though, 5 inches of insertibity with a thin diameter of under 1.5 inches just isn't enough to be filling. For thrusting, it's like throwing a hotdog down a hallway, at least in my vagina. I need some girth, and this baby just doesn't have it.

The sleeve design is beautifully crafted to look like a realistic penis, even though its color is blindingly bright. The veins and nice mushroom head will allow the user to feel something during penetration. It fits tightly over the length of the toy and won't slip off or allow water to seep in to the internal components. The handle portion is the last inch of the toy. Twisting off the black portion opens the battery compartment where 1-AA battery is required for operation. This could be used safely in the shower or a bathtub.

To power the vibrator on, simply turn the lavender-colored dial to increase the vibrations from low to high. The vibration isn't very intense nor is the frequency too high and/or buzzy; it's just moderate overall. This isn't a very loud vibrator, which some may find convenient.

Since it's waterproof and silicone, it can be cleaned numerous ways: warm water and anti-bacterial soap or even in the top rack of the dish washer. Store in a plastic bag or lint-free cloth, away from high temperatures and light. Use only a water-based lubricant with silicone toys.

VERDICT
Remedy isn't a bad vibrator, it just wasn't a good fit for me. The price is very reasonable, especially for an introductory silicone toy. My only suggestion would be to make this one thicker, a bit longer and require 2-3 AA batteries for more power.
Experience
The following picture shows my favorite vibrator next to this one. As you can see, there's a BIG difference, and my fave isn't even all that large! In fact, the insertable length is about the same, but the rabbit is a wee bit thicker and takes 3-AAA batteries as opposed to one in the Remedy. Needless to say, I could not get off using this one, even if I just rubbed it over my clitoris. I have a hard time using a plain vibrator anyhow, since I cum the easiest with rabbits, but I'm sure if this one were much thicker, I would have rated it four stars instead of three.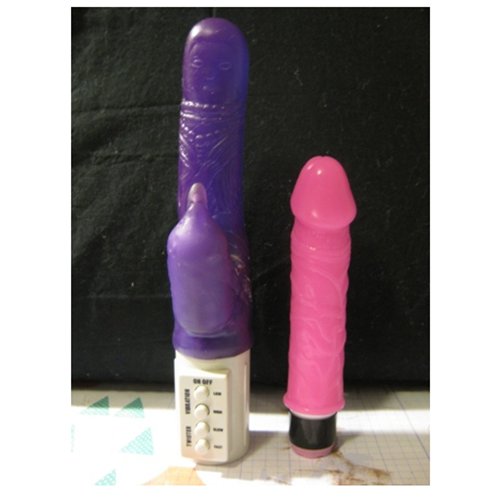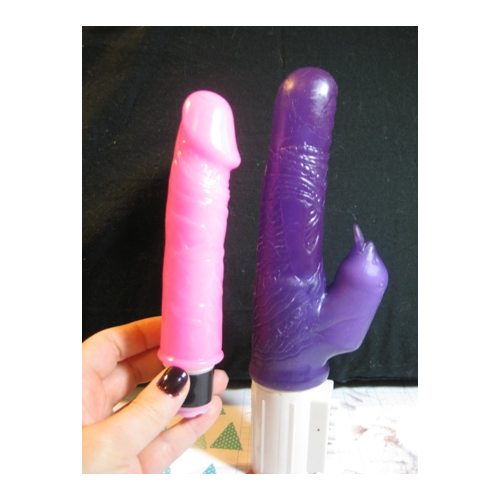 Follow-up commentary
7 months after original review
Just like my review on the "Mono", this is another so-so toy that is much too small for an experienced user. There are much better vibes out there.
This product was provided free of charge to the reviewer. This review is in compliance with the FTC guidelines.

Thank you for viewing
Remedy rider
– sex toy review page!