Way Better than Outback's
So not only is it way better than Outback's awesome blossom, this dildo will help you BURN calories as opposed to packing them on! I give this toy a 4/5 due to the fact that it comes with absolutely no storage and the fact that the phallic head is not overly stimulating to my G-spot. The swirls are divine!
Published:
Pros:
Swirls, Glass, Pretty flower!
Cons:
No storage, A little wobbly when left standing.
The Awesome Blossom is a beautiful, textured glass dildo. It's got a beautiful pansy in the phallic head of the dildo that makes this not only delightful to use, but beautiful to look at too. If you are fairly uninhibited or have no need to hide your toys, this would be beautiful to display.
This dildo can is designed for vaginal use with it's lovely curve for G-spot stimulation; however, since it has a flared base, it can be used anally though we haven't tried that. The swirls on the shaft of this toy feel amazing on the vaginal walls, U-spot, and clit depending on how you're using this. I love that the texture is simple, but stimulating. I wouldn't recommend this toy to someone who's never used glass because textured glass can be a little much. Since I have three other glass dildos that are not textured, I was excited for the opportunity to try this.
This dildo is made of tempered glass. I've only had Pyrex glass toys so I wasn't entirely sure if there would be a difference. Apparently, there's not. According to Eden's materials page it's also known as Pyrex! This gives it all the safety components that Pyrex offers with it's resistance to breaking; it will also break into chunks if it does actually break. Glass is probably my favorite dildo material. It's hard, can be heated up or chilled for temperature play, it's easy to clean, and you can use any kind of lubricant you want. It's a great material if you share with partners that you're not fluid bound to because it can be sterilized. You can boil it for 3-5 minutes, you can sterilize it with a 10% bleach solution... Hell, you can put it in the dishwasher (without soap) if you want! If you're not needing to sterilize this, just warm water and toy cleaner (or a mild antibacterial soap) will do just fine! Be sure you check your glass toys for chips or cracks before using them. OUCHIE! Another potential for ouchies with unyielding glass: don't thrust glass too hard as it can bruise tender flesh like your cervix or hit your pubic bone.
Two things. One is not a big deal, one is. Since these are all hand-blown and each are different, I did notice that my base is not very sturdy. Combine this with the fact that the base is a little small and the fact that the head is a little heavy, and it's curved... well, basically it can topple. Not a big deal unless you want to display this, since it will likely be lying down in a toy box or dresser. The base isn't so small to make it unsafe for anal, just not a big enough circumference to counter the top-heaviness. The other thing, and this is a big deal to me, it does not come with storage at all. Granted, I can make a
toy pouch
, or buy a great
super padded pouch
here on the site; but
personally
, I think it's bad business for toy companies to not provide storage for toys that can break as easily as glass can. So, I made a pouch for this one.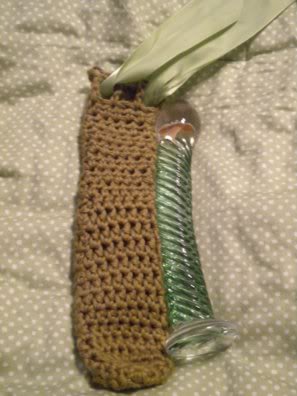 Experience
I was nervous to try a glass dildo with so much texture. Just the bubbles on the handle of my
Amethyst
was overstimulating for me. I was
very pleasantly
surprised! I have used this dildo several times and I really enjoy using the shaft to tease my clit, but mostly, I like rubbing it against my U-Spot. It helps relax my urethra for G-spot orgasms. I did find that the head was not big enough to fill me up, nor the curve quite sharp enough for pinpoint G-spotting, but it did decently on my G-spot. I tend to control the toys when I'm using glass because My Mr isn't always sure how hard or deep he can thrust my glass toys. This isn't a big deal because it provides him with a helluva show! He loves to watch me use my toys!
This product was provided free of charge to the reviewer. This review is in compliance with the FTC guidelines.

Thank you for viewing
Awesome blossom
– dildo sex toy review page!