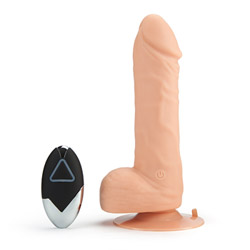 Playmate
Realistic vibrator with suction cup by EdenFantasys
What happens when an unstoppable force meets an immovable object?
This is a good toy, maybe even great toy but it is still lacking something which keeps me from giving is a better overall rating. It comes with a variety of vibrations and is waterproof and has a good remote control, but it is too rigid and I believe this takes something away from the overall fun. If it was less rigid, however, it may lose some of its vibration strength. With some good positioning, however, it can be fun.
Published:
Pros:
Includes 10 versatile vibrations, controlled via wireless remote or button on side of dildo.
Cons:
Too stiff and inflexible. Would still like stronger vibrations
There are definite good and bad things about this Playmate. It is a wireless, waterproof thick vibrating dildo.

One good point is the wireless remote which allows one to turn on/off the vibrations or toggle through the variety of vibrations. Yet it does not require the wireless remote to use because it also has a button near the base. It lights up whenever the batteries are in and the light follows the pattern of the vibrations. There are 10 versatile vibrations, ranging from steady to pulsating to escalating vibration each with varying degrees of intensity - from "Subtle" to "WHOA MAMMA!"

My partner used the vibrations for clitoral stimulation and while it got the job done, she noted it wasn't as strong as other vibrators she has used and it took longer to achieve orgasm than with other vibrators but that could have been because she was wanting to get to the destination fast. She was intimidated by the stiffness of the dildo's shaft and girth and elected not to penetrate. The remote has a decent range, maybe about 10-20 feet so one partner can control the remote control while the other reaps the benefits.

In my own use for anal stimulation, I thoroughly enjoyed the various vibrating patterns which were strong enough make me want to keep using it. Personally, I enjoyed the escalating waves of stronger vibrations which send pleasurable waves through my body during each revving up. It is very stiff and unyielding, which makes for the somewhat uncomfortable ride in that it doesn't bend in the least bit - it doesn't contour to the inside of your body at all. So positioning it into more pleasurable zones (G-spot and P-spot) takes more finesse with angles and body positions. It is stronger than any vibrator I've previously used and feel I could achieve a hands-free orgasm via my P-spot if the angle was just right. Yet, despite my "WHOA MAMMA!" rating in the stronger vibrations, I still would like more strength. I am hoping for an entire body quake.

I tried using it briefly for oral stimulation, colloquially-speaking a "deep-throat" or "blow job" practice. While I can get it fully down, it isn't very long and the inflexible nature makes it more uncomfortable.

It comes with a suction cup. It is decent enough but not as strong as the suction cup on other dildo's I own.

It is silicone, waterproof and has no odor. So clean up is easy with warm water and soap.

Measurements of the toy:
Overall Length: 7 and 1/2" (including suction cup base)
Insertable Length: 5 and 1/2"
Circumference: 5"
Diameter: 1 and 5/8"
Suction Cup: 3 and 1/4" wide by 3 and 1/4" long

Measurements of the remote:
Length: 3"
Width: 1 and 1/2"

Batteries: 2 AA batteries inside dildo shaft - not included.
1 A23 battery for the remote control - 2 are included
This product was provided free of charge to the reviewer. This review is in compliance with the FTC guidelines.

Thank you for viewing
Playmate
– realistic vibrator with suction cup review page!